Biography
Elizabeth Goodyear Aspinwall was born circa 1606 in England and died circa 1650 England of unspecified causes. She married William Aspinwall (1602-1663) 1628 in England.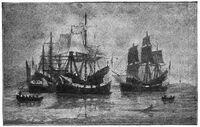 This family were some of the 700+ Passengers of the Winthrop Fleet which sailed from England to settle the Massachusetts Bay Colony at Salem in 1630 under the guidance of Gov. John Winthrop. It is reported that during the first year nearly 200 of these colonists died and another 100 returned to England. The remaining settlers either stayed in Salem or moved on to Boston or Watertown.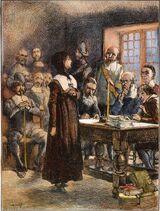 In 1636-1638, Massachusetts Bay Colony, this family were Free Grace Advocates (AKA: Antinomian Controversy) which caused great religious and political strife in the colony. It pitted most of the colony's ministers and magistrates against some adherents of the Free Grace theology of Puritan minister John Cotton. The most notable Free Grace advocates, often called "Antinomians", were charismatic Anne Hutchinson, her brother-in-law Reverend John Wheelwright, and Massachusetts Bay Governor Henry Vane. In the summer of 1637 their opponents led by Gov John Winthrop won back political control of the colony. The following trial led to the banishment many of the leaders of this movement.
William Aspinwall joined himself with the adherents of Anne Hutchinson and John Wheelwright (1593-1679), aided in drafting their famous petition, and departed with them to Rhode Island. He was at Portsmouth NH in 1638, where he signed the covenant of formation, but he moved to the New Haven Colony in 1641.
Children
Siblings
Residences
Footnotes (including sources)