OVERVIEW
[
]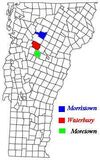 Vita
[
]
Born: 26 May 1847, Ireland. Census records for 1870, 1880 and 1890 indicate a YOB of 1847/1848, and a POB of Ireland. Her gravestone shows a YOB of 1857, and is thought to be in error. Two of Ellen's children , Mararet Mariah, and Thomas Martin, indicate that their mother was born "at sea", indicating that she was born during the immigration from Ireland.
Married: James S. Morrow (1846-1902) c1866, based on DOB's of children
Died: 16 November 1901, Based on gravestone.
Burial: Riverside Cemetery, Spencer, IA.
Ancestry
[
]
Ellen's parents are not known. They are believed to have immigrated to America in 1847, at the start of the Irish Potatoe Famine. There is a Henry Stackpole (1828-?) in Waterbury in 1860 who could conceivably be Ellen's father. He was, however, born in Maine, and is presumed to be unrelated.
Child List
[
]
Family History
[
]
References
[
]
Contributors
[
]