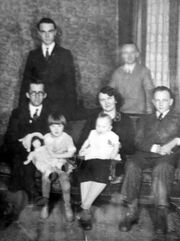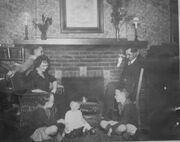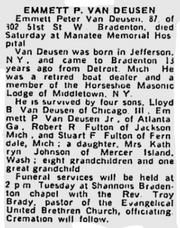 Emmett Peter Van Deusen I (1878-1965) was a car salesman. (b. May 20, 1878, Jefferson, Schoharie County, New York, USA - d. November 1965, Manatee County, Florida, USA) Social Security Number 374077223.
Birth
[
]
Siblings
[
]
Jefferson, New York
[
]
The family appears in the 1880 US Census living in Jefferson, Schoharie County, New York. Emmett is indexed as "Emmet P. Van Densen".
Detroit
[
]
He moved to Detroit, Wayne County, Michigan.
Marriage
[
]
Emmett married Margaret McKenzie Barton (1885-1963) around 1925. Margaret was previously married to a Fulton and had the following children: Lloyd Fulton (1912-?); Robert Fulton (1913-?); and Stewart Fulton (1913-1984) who may have been a twin of Robert.
Children
[
]
Detroit, Michigan
[
]
Emmett appeared in the 1930 United States Census indexed as "Emmet Vandusen" and he was living at 1189 Calvert Avenue in Detroit with his wife and step-children. He owned his own house valued at $11,000 and he listed his age as 50. he said he was married at age 41, and was working as a car salesman, while Katherine was working as a teacher.
Death
[
]
He is listed in the Florida Death Index as dying in Manatee County and his death certificate number was "52898". The Social Security Death benefit was sent to Mercer Island, King County, Washington at the time of his death.
Burial
[
]
He may have been buried in Manasota Memorial Park, 1221 53rd Avenue East, Bradenton, Florida.
Memories of Emmett Van Deusen
[
]
Sally Swantz wrote: "Peter and Catherine's son Emmett (b. circa 1878) married Margaret Fulton. I'm told he went to Michigan, remained a bachelor until he was in his 50's, married a widow with three teenage boys, then had a son Emmett, Jr. and a daughter Catherine."