Biography
Enoch Ephraim Dodge was born 3 September 1838 in Caldwell County, Missouri, United States to Erastus Dodge (1793-1843) and Melissa Morgan (1798-1845) and died 16 February 1916 Huntington, Emery County, Utah, United States of unspecified causes. He married Harriet Elizabeth Young (1844-1929) 1859 in Utah. He married Louisa Frances Clark (1827-1916) 14 December 1864 in Endowment House, Salt Lake County, Utah.
He was the fifteenth child born into the Dodge family. Eight children died before their first birthday, only seven matured to adulthood; of those seven Enoch is the youngest. Enoch's father is Erastus Dodge, born 10 May 1793, in Jefferson, New York, USA, to George and Sally Dodge. Enoch's mother is Melissa Morgan Dodge born 28 October 1798, Jefferson, New York, USA, to Nathaniel Towner Morgan and Mary Wheeler. Erastus and Melissa were married 16 August 1818, in Jefferson, New York, USA. Erastus died 8 August 1843, Nauvoo, Hancock, Illinois, USA. Melissa died 10 December 1845, Nauvoo, Hancock, Illinois, they are both buried in the Old Nauvoo Cemetery. Erastus and Melissa were baptized in 1832; their entrance into the church was dramatic. Melissa, who had been blind for thirteen years, received a blessing from the prophet's father, Joseph Smith Sr. and was healed of blindness. Elder Warren Parish healed their son Augustus' crippled left elbow instantaneously as well. In 1838, the year Enoch was born; life was turbulent for the saints in Caldwell County. Life for Erastus and Melissa was an intense struggle and they stood with those who were willing to sacrifice all for their beliefs. In October 1838 at the surrender of Far West, Enoch's father Erastus and older brother Augustus were jailed for ten days. Once reunited, the Dodges were driven out of Missouri in the dead of winter and suffered much. Melissa recounts in a letter to her brother, William T. Morgan; "We were driven out by cruel mobs onto the prairie in February, for nothing but the religion of Jesus Christ".
The Dodge family crossed the Mississippi river to Adams County, Illinois, where the family lived until they moved to Nauvoo. In Nauvoo, they resided four blocks from the prophet, Joseph Smith. Enoch's oldest brother Seth was a mason on the Nauvoo temple. The rest of the family assisted in the construction of the temple and the Masonic hall as well. Enoch's father died when he was five years old, and his Mother passed away when he was seven. Life must have been difficult for the Dodge children after the death of their parents. However, the siblings obviously had a very strong bond. Enoch's oldest brother Seth and wife Lovina were responsible in a large way for keeping the Dodge children true to the gospel and bringing them or providing ways for them to make the journey west. As a young boy, I imagine Enoch had a happy childhood, regardless of the turmoil surrounding the saints at the time. I imagine he sang and danced a jig, ate Johnnycake and mush, learned to hunt wild game and other skills that would someday help him become one of the bravest of men in his new home, the rugged Utah Territory.
Enoch recounts in the "Young Woman's Journal". "I was personally acquainted with the prophet Joseph Smith, and I know that he was a good man in every respect. I can bear testimony that he was a Prophet of God and that he was ordained and set apart by the hand of God to come and do the great and mighty work which he did. I know that he was what he claimed to be. I also know that this is the true Church of God, which has come down to us by the great work of Joseph Smith, the prophet. I have heard him preach many times and he was truly a great speaker. Everybody felt and recognized the great power and influence he possessed and every saint who knew him loved him, and would have been willing to lay down his own life for him if it had been necessary. I have seen him run jump and pull sticks many times, and he was always winner. He has played ball with other boys many times and when they had played a reasonable amount of time he would say; well I must go to my work." He would go and all the boys would stop playing and go home as he did. This showed his great influence. He was a dear friend of my father's, and came to our house many times. We lived about four blocks apart. I was about fifteen at Joseph's death. The last time I saw him was the night before he was taken to prison for the last time. I have lived to see some results of his great work, and hope I will be worthy to dwell with him in the world to come."
Enoch E. Dodge After arriving in the Great Salt Lake, Enoch lived in Davis County, Salt Lake City and Lehi, before settling in Southern Utah, and eventually Huntington. According to early records, it appears that Enoch lived with his sister Mary Margaret Jacobs and her family until he reached adulthood. Enoch married Harriet Elizabeth Young about 1859. Harriet was born in1843 to William Alma Young and Leah Holland Smith, in Camp Creek, Hancock, Illinois, USA. According to Enoch's obituary, he and Harriet were blessed with three children; there is record of only one son named William E. Dodge, born Jan 1861. Prior to 1861, Enoch and Harriet made their home in Virgin City and Grafton, then moved to Toquerville, where the entire Dodge family Seth, Augustus, Mary Margaret, Sarah Melissa, Nathaniel and Zenos settled together with their families for a while. Augustus made Toquerville his permanent home, and still has many descendants who live there. The other Dodge siblings along with their families were sent to settle other places. Seth and Sarah went to Arizona and Mary Margaret spent her last days at Panguitch. Nathaniel moved to Glenwood, where he died in 1873. Zenos spent many years in California, moved back to Utah and spent the last years of his life in Altonah. Enoch fought in the Blackhawk Indian War that began in 1865. It was the longest and most destructive conflict between pioneers and Native Americans in Utah's history. He was mustered in at Virgin City, 20 February 1866. Enoch also fought the Navajo Indians in 1865. An account by Ammon M. Tenney from the "Mormon Settlement in Arizona." There were as one of the three Americans from Toquerville, the elder Tenney, the narrator, and Enoch Dodge. The last known as one of the bravest of Southern Utah pioneers. The three were surrounded by sixteen Navajos, and with backs to the wall, fought for an hour or more, finally abandoning their thirteen horses and running for better shelter. Dodge was shot through the knee cap, a wound that incapacitated him from the fight hereafter. The elder Tenney fell and broke his shoulder blade and was stunned, though he was not shot. This left the fight upon the younger Tenney, who managed to climb a twelve-foot rocky escarpment. He reached down with his rifle and dragged up his father and Dodge. The three opportunely found a little cave in which they secreted themselves until reasonably rested, hearing the Indians searching for them on the plateau above. Then, in the darkness, they made their way fifteen miles into Duncan's retreat on the Virgin River in Utah.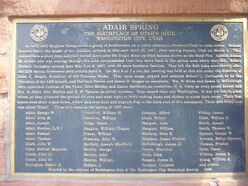 The Adair Spring Monument commemorates the 1857 group of about 38 southerner families were called by Brigham Young (1801-1877) on to settle the Virgin River area of Southwest Utah and to crow cotton, to decrease the saints reliance on expensive product from back east. The first group was led by Samuel Jefferson Adair (1806-1889) and a second group led by Robert Dockery Covington (1815-1902) who was appointed president of the newly formed branch at Washington, Utah. Other pioneer families joined them in 1861 but this ambitious endeavor came to an end after the close of the Civil War and cotton prices collapsed.
Enoch was one of 57 men called by President Brigham Young to the cotton mission in Washington City. He and Harriet were among the first settlers of Washington City, which was founded in 1857. Their son, ten-year-old William E. attended school in Washington City according to the school census of 1871. Enoch and Harriet divorced 12 September 1864 in Washington City. After Harriet and Enoch went their separate ways, Harriet became the plural wife of her half sister Poly Ann's husband William Lewis Penrod. She along with another plural wife, Hannah Waggle moved with the Penrod's to Pinetop Arizona. However, Harriet and Hannah became unhappy with Poly, they said she worked them too hard, so they left the Penrod family, moving back to Utah. Hannah Waggle later married Valentine Carson, it is unknown what happened to Harriet.
Enoch married Louisa Francis Johnson, widow of Henry Johnson in 1867. Louisa Francis Clark was born in 1827 to Charles C. Clark and Charlotte Powell in Ohio, USA. It does not appear that Louisa had any children from either marriage. Enoch moved with Louisa to Holden (originally Spring Creek) where he built a house and farmed his plot of land. His older brother Nathaniel and family also lived in Holden. Nathaniel and Duritha had a baby daughter who they named Louisa Francis Dodge, after her aunt Louisa. In the 1880 census, nineteen-year-old William E. is living with his father Enoch E. and Stepmother Louisa, in Holden, Utah. No further information has been found about William E. Dodge and the two other children of Enoch and Harriet remain a mystery. In 1896, Enoch swapped his property in Holden with George Gull of Huntington. It was here in Huntington on their three-acre plot of farmland on the southeast end of town, that Enoch and Louisa lived out the remainder of their lives. I recently walked on Enoch's property and although there are newly built homes occupying a portion of the land, looking to the southwest gives a glimpse into the past of how un-tamed it was when Enoch and Louisa resided there, as there is nothing but sagebrush as far as the eye can see. In Huntington, the Dodges were active in community, church and political circles. Enoch gave a speech about the history of the nation, at Huntington's twenty-fourth of July celebration in 1909. He was an election judge for Millard and Emery Counties for many years and he argued a hotly contested case in court at Fillmore in the case of Dodge vs. Johnson in 1895. Enoch was a stonemason. He helped build many of the early homes, schools and churches in Southern Utah. Most of the shoes worn by the early settlers were hand made and the men who made them were Enoch Dodge, William Marshall, Andrew J. Allen. Henry A. Fowler, Samuel Grange, George W. Johnson Jr., Ernest J. Grange and Samuel Knight. Enoch had a leather bound volume of the "Times and Seasons", a paper published in Nauvoo about 1842 and 1843. He left the book to his grand niece Vella Riddle McMillan, granddaughter of his sister Mary Margaret Jacobs. Vella donated the relic to the Daughters of Utah Pioneers in 1929. Enoch had a friend; his name was Noah T. Guymon. Guymon was also an election judge and a very prominent Mormon pioneer, who lead a group of saints across the plains after the death of wagon train leader Captain Jacob F. Secrest. Noah lived in nearby Orangeville. Enoch died 16 February 1916, Louisa died 3 June 1916. Enoch and Louisa are buried side by side in the Huntington City Cemetery; headstones were recently placed on their graves courtesy of Huntington City. Enoch was a great patriot, who had strong religious convictions; he was a rugged man and one of the bravest of Southern Utah Pioneers. I feel honored to write what I have diligently researched about uncle Enoch Ephriam Dodge, brother to my great grandfather Nathaniel Morgan Dodge. Written by a great grand niece, Ellen Dodge Mallinson, 3 September 2010 Great granddaughter of Nathaniel Morgan Dodge Granddaughter of Reuben Alexander Dodge Daughter of George Arthur Dodge Addendum: Enoch was definitely born in 1838 not 1830. We know this from Dodge family records and early church records. He began using the year 1830 as his birth year around the same time he married his second wife Louisa, who was eleven years his senior. Enoch was five years old at the time of Joseph Smith's death not fifteen as stated in The Women's Journal After Enoch and Harriet separated, they each stated the other had died, however they were divorced instead.
Children
Siblings
Residences
See Also
Enoch Dodge

Dodge Family

Dodge in Caldwell County, Missouri

Dodge in Washington County, Utah

Dodge in Emery County, Utah
References
Sources: Dodge family records History and journals of Augustus Erastus Dodge Letter from Melissa Morgan Dodge to her brother William T. Morgan, in possession of church archives Testimony and Exhortation in Early Mormon Women's Letters, thesis by Janiece Johnson Early church records Utah state archives I Was Called To Dixie, Andrew Karl Larson The Red Hills of November, Andrew Karl Larson Mormon Settlement in Arizona, James McClintock Young Women's Journal An Oasis in the Desert A History of Toquerville, Cherrie Gubler Naegle Dixie College Special collections Castle valley- A History of Emery County, Emery County Co. Daughters of Utah Pioneers Utah Digital Newspapers Emery County Archives Emery County Progress Historian Val Young, Huntington, Utah William Lewis Penrod family, Benla Hunt, Snowflake Arizona
Footnotes (including sources)