Esther Ann Davison was born 24 June 1853 in Jefferson County, Indiana, United States to William Davison (1807-1893) and Clarissa Sithens (1809-1892) and died 20 May 1920 Kane County, Illinois, United States of unspecified causes. She married Franklin Bake Doty (1850-1935) 17 January 1871 in Union County, Indiana, United States.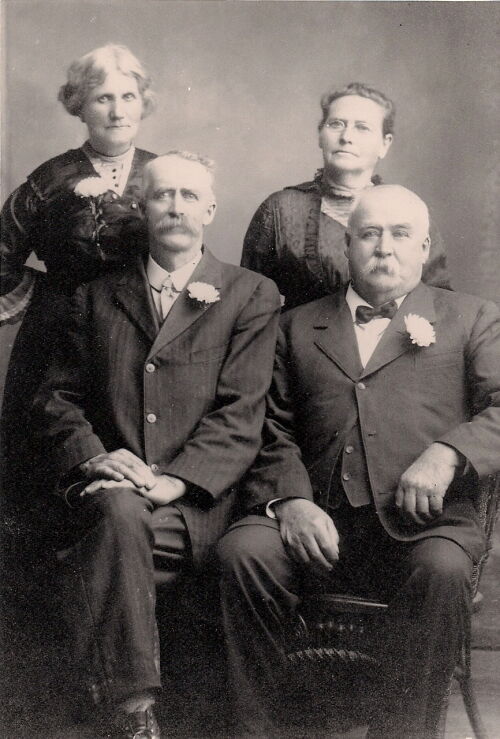 On the left is Esther Ann (Davison) Doty standing behind her husband Franklin Bake Doty. The couple on the right are unidentified.
According to a Davison family genealogy,[1] Franklin married Esther Ann Davison January 14, 1870. However, there is a record of a marriage between Franklin Doty and Esther Dawson January 17, 1871 in Union County Indiana.[2].
Children
Offspring of Esther Ann Davison and Franklin Bake Doty (1850-1935)
Name
Birth
Death
Joined with

Irene Josehine Doty (1872-1883)



Lulu Rebecca Doty (1874-1950)
26 July 1874 Oxford, Butler County, Ohio, United States
13 January 1950
Nathan C. Ellithorpe (c1874-) 

Nathan C. Ellithorpe (c1874-)

 

John M. Johnson (c1874-)



Clinton Alfred Doty (1876-1936)
13 August 1876 Oxford, Butler County, Ohio, United States
20 May 1936 Sycamore, DeKalb County, Illinois, United States
Ethel M. Perry (1877-1951)

Olive Eva Doty (1877-1933)
6 December 1877 Oxford, Butler County, Ohio, United States
1933

Battle Creek

, Iowa, United States
Alfred E. Peffer (1870-?)

Viola Zulema Doty (1880-1964)
12 November 1880 Oxford, Butler County, Ohio, United States
29 November 1964 New York, United States
Henry Wirth (?-?)

Elmer Stephen Doty (1882-1973)
16 February 1882 Oxford, Butler County, Ohio, United States
22 November 1973
Nellie I. Crossland (1880-1964)

Harry Asbury Doty (1883-1969)
10 September 1883 Burlington, Kane County, Illinois, United States
28 October 1969

Sara C. Ashelford (1887-1958)



Sylvester Sylvanis Doty (1885-1953)
16 June 1885 Kane County, Illinois, United States
27 September 1953 Dorr Township, McHenry County, Illinois, United States
Emma Augusta Kiel (1890-1983)

Jessie Doloras Doty (1886-1941)
17 July 1886 Burlington, Kane County, Illinois, United States
17 April 1941 Sycamore, DeKalb County, Illinois, United States
John B. Nesbitt (1876-1922)

Flossie Maud Doty (1891-1972)
8 October 1891 Burlington, Kane County, Illinois, United States
13 May 1972
George H. Miller (1890-1942)


Winifred Doty (1893-1895)



Daisy Esther Doty (1895-1971)
18 March 1895 Burlington Township, Kane County, Illinois, United States
4 November 1971

Oscar Gallois (1893-1974)



Dewitt Fay Doty (1897-?)
3 January 1897 Burlington, Kane County, Illinois, United States

Ethel A. Smith (?-?)



Nina May Doty (1897-1990)
3 January 1897 Burlington, Kane County, Illinois, United States
1990

Floyd L. Eliott (1896-1979)
References
Footnotes (including sources)
‡ General

Davison, Arthur Henry, History and Genealogy of Davison, Davisson, Davidson Families Cedar Rapids, IA: The Torch Press, 1935.
US Census, 1880, Oxford, Butler, OH
US Census, 1900, Plato, Kane, IL
US Census, 1910, Burlington, Kane, IL