Eugenia Filotti was born 1880 in Batogu, Brăila County, Romania to Constantin Filotti (1849-1911) and Sofia NN (1852-c1815) and died 1968 Bucharest, Romania of unspecified causes.
Children
Footnotes (including sources)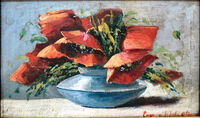 Eugenia Filotti was born in She graduated from the Bucharest School of Fine Arts in 1904 and is mostly known for her still-lives. Some of her works are presented in the Museum of the City of Bucharest.
Bibliography
10000 лучших художников мира (xviii–xxi вв.) - Номинация художников осуществляется по принципу наличия в Международном художественном рейтинге
Siblings