We're Getting Mutants in the MCU - The Loop
Play Sound
Eva Braun


Eva Braun & Adolf Hitler with

Blondi

in 1941 or 1942
Born

Eva Anna Paula Braun


1912
Munich,

Bavaria

, German Empire
Died
30 April 1945 (age 33)
Berlin,

Nazi Germany

Cause of death
Suicide (

cyanide poisoning

)
Other names
Eva Hitler
Occupation
Model
Known for
Partner and wife of Adolf Hitler
Political party

National Socialist German Workers' Party

Religion

Roman Catholicism

Spouse
Adolf Hitler
(29 April 1945 – 30 April 1945)
Eva Anna Paula Hitler née Braun[1][2] (6 February 1912 – 30 April 1945) was the longtime companion of Adolf Hitler and, for less than 40 hours, his wife. Braun met Hitler in Munich, when she was 17 years old, while working as an assistant and model for his personal photographer and began seeing him often about two years later. She attempted suicide twice during their early relationship. By 1936, she was a part of his household at the Berghof near Berchtesgaden and by all accounts lived a materially luxurious and sheltered life throughout World War II. Braun kept up habits which met Hitler's disapproval, such as smoking, wearing makeup and nude sunbathing. Braun enjoyed photography and many of the surviving colour photographs and film of Hitler were taken by her. She was a key figure within Hitler's inner social circle, but did not attend public events with him until mid-1944, when her sister Gretl married Hermann Fegelein, the SS liaison officer on his staff.
As the Third Reich collapsed towards the end of the war, Braun swore her loyalty to Hitler and went to Berlin to be by his side in the heavily reinforced Führerbunker beneath the Reich Chancellery. As Red Army troops fought their way into the neighbourhood on 29 April 1945, she married Hitler during a brief civil ceremony: she was 33 and he 56. Less than 40 hours later, they committed suicide together in a sitting room of the bunker, she by biting into a capsule of cyanide.[3][4] The German public was wholly unaware of Braun until after her death.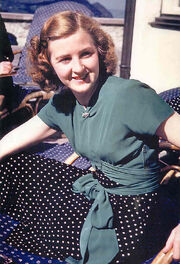 Background
[
]
Born in Munich, Eva Braun was the second daughter of school teacher Friedrich "Fritz" Braun, a non-practicing Protestant, and Franziska "Fanny" Kronberger, who came from a respectable Bavarian Catholic family. Her elder sister, Ilse, was born in 1909 and her younger sister, Margarete "Gretl", was born in 1915. Braun was educated at a lyceum, then for one year at a business school in a convent where she had average grades and a talent for athletics. She worked for several months as a receptionist at a medical office, then at age 17, took a job as an office and lab assistant and photographer's model for Heinrich Hoffmann, the official photographer for the Nazi Party.[5] She met Hitler, 23 years her senior, at Hoffmann's studio of Munich in October 1929.[5][6] He had been introduced to her as "Herr Wolff" (a childhood nickname he used during the 1920s for security purposes). She described him to friends as a "gentleman of a certain age with a funny moustache, a light-coloured English overcoat, and carrying a big felt hat." He appreciated her eye colour, which was said to be close to his mother's.[5] Her family was strongly against the relationship and little is known about it during the first two years.
Relationship and turmoil
[
]

Hitler saw more of Braun after the apparent 1931 suicide of his half sister, Angela's daughter Geli Raubal, with whom, it was rumoured, he had been intimate.[7][8] The circumstances of Raubal's death in Munich have never been confirmed. Some historians suggest she killed herself because she was distraught over her relationship with Hitler or his relationship with Braun, while others have speculated Hitler played a more direct role in the death of his niece.[9][10] Braun was unaware that Raubal was a rival for Hitler's affections until after Raubal's death.[11] Meanwhile, Hitler was seeing other women, such as actress Renate Müller, whose early death may also have been suicide.
Eva Braun first attempted suicide on 1 November 1932 at the age of 20[11] by shooting herself in the chest with her father's pistol. She attempted suicide a second time on 28 May 1935 by taking an overdose of Phanodorm (sleeping pills).[12][13] After Braun's recovery, Hitler became more committed to her and arranged for the substantial royalties from widely published and popular photographs of him taken by Hoffmann's photo studio to pay for a villa in Munich. This income also provided her with a Mercedes, a chauffeur and a maid. Braun's sister Gretl moved in with her. Hoffmann later asserted Braun became a fixture in Hitler's life by attempting suicide less than a year after Geli Raubal's death, as Hitler wished to avoid any further scandal.[14]
When Hitler became Chancellor of Germany, Braun sat on the stage in the area reserved for VIPs as a secretary, to which Hitler's sister Angela strongly objected, along with the wives of other ministers. She was banned from living anywhere near Braun as a result.[11] By 1936, Braun was at Hitler's household at the Berghof near Berchtesgaden, whenever he was in residence there and her parents were also invited for dinner several times. In 1938, Hitler named Braun his primary heir, to receive about 600 pounds yearly after his death.[15] Nonetheless, Braun's political influence on Hitler was apparently minimal. She was never allowed to stay in the room when business or political conversations took place. However, some historians have inferred she was aware of at least some sordid details concerning the Third Reich's inner workings. It is not certain whether Braun was a member of the Nazi party.[16] According to biographer Angela Lambert, Braun was neither a member nor ever pressured to join.[17] By all accounts, she led a sheltered and privileged existence and seemed uninterested in politics.[14] The only known instance in which she took any interest in policy and politics was in 1943, shortly after Germany had fully transitioned to a total war economy. Among other things, the transition meant a potential ban on women's cosmetics and luxuries (as was already the case in the Allied countries). According to Albert Speer's memoir, Inside the Third Reich, Braun immediately approached Hitler in "high indignation", to which an "uncertain" Hitler instructed Speer to simply and quietly cease production of women's cosmetics and luxuries rather than an outright ban.[18]
Hitler and Braun never appeared as a couple in public and there is some indication that this, along with their not having married early in their relationship, was due to Hitler's belief that he would lose popularity among female supporters.[11] The German people were wholly unaware of Braun's relationship with Hitler until after the war.[19][20][21] According to Speer's memoirs, Braun never slept in the same room as Hitler and had her own rooms at the Berghof, in Hitler's Berlin residence and in the Berlin bunker. Speer also wrote:
Eva Braun was allowed to be present during visits from old party associates. She was banished as soon as other dignitaries of the Reich, such as cabinet ministers, appeared at the table ... Hitler obviously regarded her as socially acceptable only within strict limits. Sometimes I kept her company in her exile, a room next to Hitler's bedroom. She was so intimidated that she did not dare leave the house for a walk. Out of sympathy for her predicament I soon began to feel a liking for this unhappy woman, who was so deeply attached to Hitler.
Speer later said, "Eva Braun will prove a great disappointment to historians."[22]
Lifestyle
[
]
Even during World War II, Braun apparently lived a life of leisure, spending her time exercising, reading romance novels, watching films and early German television (at least until around 1943), along with later helping to host gatherings of Hitler's inner circle. She reportedly accepted gifts which were stolen property belonging to deposed European royal families.
Traudl Junge, Hitler's youngest secretary, wrote in her memoirs Until the Final Hour:[23]
She was very well dressed and groomed, and I noticed her natural unaffected manner. She wasn't the kind of ideal German girl you saw on recruiting posters for the BDM or in woman's magazines. Her carefully done hair was bleached, and her pretty face was made up — quite heavily but in very good taste. Eva Braun wasn't tall but she had a very pretty figure and a distinguished appearance. She knew just how to dress in a style that suited her and never looked as if she had overdone it — she always seemed appropriately and tastefully dressed, although she wore valuable jewelry. ...Eva wasn't allowed to change her hair style. Once she appeared with her hair tinted slightly darker and on one occasion she piled it up on the top of her head. Hitler was horrified: 'you look totally strange, quite changed. You are an entirely different woman!' ...and Eva Braun made haste to revert to the way she looked before.
Unlike most other Germans, she was reportedly free to read European and American magazines and watch foreign films. Her affection for nude sunbathing (and being photographed at it) is known to have infuriated Hitler. Braun had a lifelong interest in photography and their closest friends called her the Rolleiflex Girl (after the well-known camera model). She did her own darkroom processing of silver (black and white) stills and most of the extant colour stills and movies of Hitler are her work.
Otto Günsche and Heinz Linge, during extensive debriefings by Soviet intelligence officials after the war, said Braun was at the centre of Hitler's life for most of his 12 years in power. It was said that in 1936,
He was always accompanied by her. As soon as he heard the voice of his lover he became jollier. He would make jokes about her new hats. He would take her for hours on end into his study where there would be

champagne

cooling in ice, chocolates,

cognac

, and fruit.
The interrogation report adds that when Hitler was too busy for her, "Eva would often be in tears." Speer remarked that she had told him, in the middle of 1943, that Hitler was often too busy, immersed, or tired to have sex with her.
Linge said that before the war, Hitler ordered an increase of the police guard at Braun's house in Munich after she reported to the Gestapo that a woman had said to her face she was the "Führer-whore". He stated in his memoirs that Hitler and Eva had two bedrooms and two bathrooms with interconnecting doors at the Berghof and Hitler would end most evenings alone with her in his study before they retired to bed. She would be wearing a "dressing gown or house-coat", drinking wine while Hitler would have tea.[24]
Hitler is known to have been opposed to women wearing cosmetics (in part because they were made from animal by-products and he was a vegetarian) and sometimes brought the subject up at mealtime. Linge (who was his valet) said Hitler once laughed at traces of Braun's lipstick on a napkin and to tease her, joked, "Soon we will have replacement lipstick made from dead bodies of soldiers".[25]
Braun was very fond of her two Scottish Terrier dogs named Negus and Stasi (this dog is labeled "Katuschka" in Eva Braun's photo albums[26]) and they feature in her home movies. She usually kept them away from Hitler's German Shepherd "Blondi".[27]
In 1944, Braun invited her cousin Gertraud Weisker to visit her at the Berghof near Berchtesgaden. Decades later, Weisker recalled that although women in the Third Reich were expected not to wear make-up, drink, or smoke, Braun did all of these things. "She was the unhappiest woman I have ever met," said Weisker, who informed Braun about how poorly the war was going for Germany, having illegally listened to BBC news broadcasts in German.
On 3 June 1944, Eva Braun's younger sister Gretl married SS-Gruppenführer Hermann Fegelein, who served as Reichsführer-SS Heinrich Himmler's liaison officer on Hitler's staff. Hitler used the marriage as an excuse to allow Braun to appear at official functions.[14] When Fegelein was caught in the closing days of the war trying to escape to Sweden with another woman, Hitler ordered his execution.[28] Gretl was nine months pregnant with a daughter at this time and after the war named the child Eva Barbara Fegelein in remembrance of her sister (Eva Fegelein committed suicide 25 April 1975).
After learning about the failed 20 July plot to kill Hitler, Braun wrote to him, "From our first meeting I swore to follow you anywhere even unto death. I live only for your love."[15]
Marriage and suicide
[
]
See also:
Death of Adolf Hitler
In early April 1945, Braun travelled by car from Munich to Berlin to be with Hitler at the Führerbunker. She refused to leave as the Red Army closed in, insisting she was one of the few people loyal to him left in the world. After midnight on 29 April, Hitler and Braun were married in a small civil ceremony within the Führerbunker.[29] The event was witnessed by Joseph Goebbels and Martin Bormann. The bride wore a black (some accounts say dark blue) silk dress. Thereafter, Hitler hosted a modest wedding breakfast with his new wife.[30]
With Braun's marriage, her legal name changed to Eva Hitler. When she signed her marriage certificate she wrote the letter B for her family name, then lined this out and replaced it with Hitler.[31] Although bunker personnel were instructed to call her Frau Hitler, her new husband continued to call his wife Fräulein Braun.[32] There was gossip among the Führerbunker staff that she was carrying Hitler's child, but there is no evidence she was ever pregnant. Indeed, Eva Braun is reported to have suffered from Mayer-Rokitansky syndrome (MRKH) which prevented her from ever becoming pregnant.[33]
After 1:00 pm on the afternoon of 30 April 1945, Braun and Hitler said their farewells to staff, and members of the "inner circle".[34] Later that afternoon at approximately 3:30 pm, several witnesses reported hearing a loud gunshot.[35] After waiting a few minutes, Hitler's valet, Heinz Linge, and Hitler's SS adjutant, Otto Günsche, entered the small study and found the lifeless bodies seated on a small sofa. Eva had bitten into a cyanide capsule.[3] Hitler had shot himself in the right temple with his own pistol, a PPK 7.65.[36][37] The two corpses were carried up the stairs and through the bunker's emergency exit to the garden behind the Reich Chancellery where they were burned.[38] Braun was 33 years old when she died.
The charred remains were found by the Russians and secretly buried at the SMERSH compound in Magdeburg, East Germany along with the bodies of Joseph and Magda Goebbels and their six children. All of these remains were exhumed in April 1970, completely cremated and dispersed in the Elbe river.[39]
The rest of Braun's family survived the war, including her father, who worked in a hospital and to whom Braun sent several trunks of her belongings in April 1945. Her mother, Franziska, died at age 91 in January 1976, having lived out her days in an old farmhouse in Ruhpolding, Bavaria.[40]
Film portrayals
[
]
Eva Braun has been portrayed in many films about Hitler's life. She was portrayed by Zoe Telford in Hitler: The Rise of Evil, Juliane Köhler in Der Untergang, Angelika Waller in Liberation and Denica Fairman in the controversial sitcom Heil Honey I'm Home! She also appears in the performance of "Springtime for Hitler" in the 2005 remake of The Producers, portrayed by Ulla (Uma Thurman). She was portrayed by Cheryl Hines in the 2009 short film, All in the Bunker.
In 2010, Michael Simon de Normier a producer of The Reader optioned the film rights of Heike Gortemaker's new biography Eva Braun: Life with Hitler. de Norier is planning on an English-language adaptation with a production budget between $20 million and $30 million.[41]
Ancestors
[
]
Ancestors of Eva Anna Paula Braun (1912-1945)
{{{16}}}
{{{8}}}
{{{17}}}
4. Phillip Braun
{{{18}}}
{{{9}}}
{{{19}}}
2. Friedrich Braun
{{{20}}}
{{{10}}}
{{{21}}}
5. Christina Heyser
{{{22}}}
{{{11}}}
{{{23}}}
1. Eva Braun
{{{24}}}
{{{12}}}
{{{25}}}
6. Franz Kronberger
{{{26}}}
{{{13}}}
{{{27}}}
3. Franziska Kronberger
{{{28}}}
{{{14}}}
{{{29}}}
7. Josefa Winbauer
{{{30}}}
{{{15}}}
{{{31}}}
References
[
]
^ Hitler's last days: "Hitler's will and marriage" & "Preparations for death" on the website of

MI5

.
^ "cite to use of 'Eva Hitler' by Braun in marriage documents". Shoah.dk. 29 April 1945. http://www.shoah.dk/Braun/new_page_4.htm

. Retrieved 25 October 2010

.

 

^ a b Linge (2009), With Hitler to the End: The Memoir of Hitler's Valet, Frontline Books-Skyhorse Publishing, Inc. p. 199.
^ Beevor, Antony (2002), Berlin - The Downfall 1945, Viking-Penguin Books, p. 359. ISBN 0-670-88695-5.
^ a b c Robert George Leeson Waite, The Psychopathic God: Adolf Hitler. Consulted on 14 August 2007.
^ Giblin, James; Payne, Robert. The Life and Death of Adolf Hitler. New York, Praeger [1973]. p. 54. ISBN 0-395-90371-8.

 

^ spartacus.schoolnet, Geili Raubal, retrieved 12 May 2008
^ theage.com.au, Hitler's lovers, and much more!, 31 July 2002. Retrieved 12 May 2008
^ spartacus.schoolnet.co.uk, Geli Raubal consulted 14 August 2007
^ news.sawf.org, Geli Raubal & Hitler consulted 14 August 2007
^ a b c d Guido Knopp, Hitler's Women. Consulted on 14 August 2007.
^ Gun, Nerin E. (1974) (in Spanish). Hitler Y Eva Braun: Un Amor Maldito (2nd ed.). Barcelona: Bruguera. p. 44. ISBN 978-8402038067.

 

^ Goeschel, Christian (2009). Suicide in Nazi Germany. New York: Oxford University Press. p. 150. ISBN 0-19-953256-7. "However, her diary entries from 6 February to 28 May 1935 have been questioned by at least one source as a forgery."

 

^ a b c Alan Bullock, Hitler: A Study in Tyranny. Consulted on 14 August 2007.
^ "The Eva Braun story: Behind every evil man...". IOL. 27 February 2000. http://www.independent.co.uk/news/world/europe/the-eva-braun-story-behind-every-evil-man-469532.html.

 

^

Lambert, Angela

(2006). The Lost Life of Eva Braun. London: Century. ISBN 978-1844135998. http://books.google.com/books?id=5O_mZZbKum0C&lpg=PP1&pg=PP1#v=onepage&q&f=false.

 

^ Speer, Albert (1970, 1997). Inside the Third Reich, McMillan Company, p. 256.
^ Dulles, Allen W., "That Was Then: Allen W. Dulles on the Occupation of Germany", Foreign Affairs, November/December 2003, see 3rd page of web-based article. Retrieved 7 February 2009.
^ Bachner, Elizabeth (June 2008). "The Banality of Eva: Angela Lambert's Biography of Hitler's Mistress". Bookslut. http://www.bookslut.com/features/2008_06_012946.php

. Retrieved 20 June 2011

.

 

^ George Duncan's Women of the Third Reich. Retrieved 7 February 2009.
^ The Independent, The Eva Braun story: Behind every evil man..., 2 March 2006. Retrieved 18 December 2007.
^ Junge, Traudl, Until the Final Hour, (English edition) London, 2002, ISBN 0-297-84720-1
^ Linge (2009), With Hitler to the End: The Memoir of Hitler's Valet, p. 39.
^ "World History | Stalin\'s secret files on Hitler |". Xmb.stuffucanuse.com. 19 March 2005. http://xmb.stuffucanuse.com/xmb/viewthread.php?tid=943

. Retrieved 25 October 2010

.

 

^ "thirdreichruins.com". thirdreichruins.com. http://www.thirdreichruins.com/berghofvisitors.htm

. Retrieved 25 October 2010

.

 

^ Junge, Traudl, Until the Final Hour, 2002, ISBN 0-297-84720-1 Consulted on 9 July 2009.
^ Beevor, Antony (2002). Berlin - The Downfall 1945. pp. 341–342.

 

^ Beevor, Antony (2002). Berlin - The Downfall 1945. p. 342.

 

^ Beevor, Antony (2002). Berlin - The Downfall 1945. p. 343.

 

^ Beevor, Antony (2002). Berlin - The Downfall 1945. p. 343.

 

^ Johnson, Daniel (26 March 2006). "The flirtatious Fraulein". The Sunday Times. http://www.arlindo-correia.com/300406.html

. Retrieved 20 June 2011

.

 

^ Lundmark, Thomas (2011). The Untold Story of Eva Braun: Her Life beyond Hitler.

CreateSpace

. p. 50. ISBN 1-4536-9324-6.

 

^ Kershaw, Ian (2008). Hitler: A Biography. W.W. Norton & Co. p. 954. ISBN 0393067572.

 

^

Traudl Junge and nine year old Helmut Goebbels.

^ Kershaw, Ian (2008). Hitler: A Biography. W.W. Norton & Co. p. 955.

 

^ There is some disagreement between main historians as to whether Hitler used a combination method of shooting himself in the right temple while biting down on a cyanide capsule. See: O'Donnell, James (1978, 2001). The Bunker. New York: Da Capo Press, ISBN 0-306-80958-3, pp. 322-323; Joachimsthaler, Anton. The Last Days of Hitler – The Legends – The Evidence – The Truth (1996, 1999) pp 160–180.
^ Linge (2009), With Hitler to the End: The Memoir of Hitler's Valet, p. 200.
^ "::The Death of Adolf Hitler::". Historylearningsite.co.uk. 30 March 2007. http://www.historylearningsite.co.uk/death_of_adolf_hitler1.htm

. Retrieved 25 October 2010

.

 

^ hh.schule.de, Biographie: Eva Braun (in German). Retrieved 18 December 2007.
^ 'Reader' producer to adapt Eva Braun biopic Hollywood Reporter. 22 February 2010
Further reading
[
]
Alexander, Alex (2005) (in Dutch). In De Ban Van Hitler: Maria Reiter, Geli Raubal, Unity Mitford, Eva Braun. Rijswijk: Elmar. ISBN 978-9038915470.

 

Eva Braun: Hitler's Mistress by Nerin E. Gun, 1969
Lundmark, Thomas, The Untold Story of Eva Braun: Her Life beyond Hitler, (2011). ISBN 978-1453693247
External links
[
]

Wikimedia Commons has media related to:
Template:Adolf Hitler
Final occupants of the

Führerbunker

by date of departure

21 April
22 April

Karl Gebhardt

 ·

Julius Schaub

 ·

Christa Schroeder

 ·

Johanna Wolf

23 April

Theodor Morell

 ·

Albert Speer

 ·

Joachim von Ribbentrop

24 April
28 April

Robert Ritter von Greim

 ·

Hanna Reitsch

 ·

Walter Wagner

29 April

Bernd Freytag von Loringhoven

 ·

Gerhardt Boldt

 ·

Rudolf Weiss

 ·

Wilhelm Zander

 ·

Heinz Lorenz

 ·

Willy Johannmeyer

30 April
1 May

Erich Kempka

 ·

Traudl Junge

 ·

Gerda Christian

 ·

Constanze Manziarly

 ·

Else Krüger

 ·

Otto Günsche

 ·

Heinz Linge

 ·

Johann Rattenhuber

 ·

Werner Naumann

 ·

Wilhelm Mohnke

 ·

Hans-Erich Voss

 ·

Heinrich Doose

 ·

Gerhard Schach

 ·

Ewald Lindloff

 ·

Heinz Krüger

 ·

Hans Reisser

 ·

Alwin-Broder Albrecht

 ·

Josef Ochs

 ·

Ernst-Günther Schenck

 ·

Georg Betz

 ·

Ludwig Stumpfegger

 ·

Martin Bormann

 ·

Hans Baur

 ·

Artur Axmann

 ·

Walther Hewel

 ·

Günther Schwägermann

 ·

Armin D. Lehmann

 ·

Peter Högl

2 May

Rochus Misch

 ·

Helmuth Weidling

 ·

Hans Refior

 ·

Theodor von Dufving

 ·

Siegfried Knappe

Date uncertain
Still present on 2 May

Erna Flegel

 ·

Werner Haase

 ·

Fritz Tornow

 ·

Johannes Hentschel

Committed suicide
Killed

Hermann Fegelein

 ·

Goebbels children

 ·

Grawitz family

Uncertain
Persondata
NAME
Braun, Eva
ALTERNATIVE NAMES
Braun, Eva Anna Paula; Hitler, Eva
SHORT DESCRIPTION
Longtime companion and briefly wife of Adolf Hitler
DATE OF BIRTH
6 February 1912
PLACE OF BIRTH
Munich, Germany
DATE OF DEATH
30 April 1945 (aged 33)
PLACE OF DEATH
Berlin, Germany