Dr. Ezra G. Williams, M.D. was born 17 November 1823 in Warrensville, Cuyahoga County, Ohio, United States to Frederick Granger Williams (1787-1842) and Rebecca Swain (1798-1861) and died 1 August 1905 Ogden, Weber County, Utah, United States of unspecified causes. He married Henrietta Elizabeth Crombie (1827-1922) 15 August 1847 in St. Louis, St. Louis County, Missouri, United States. He married Electa Jane Barney (1840-1883) 19 February 1857 in Salt Lake City, Salt Lake County, Utah.
Ezra's father, Frederick, had been studying to become a doctor, and now he began earnest research in the medical profession. Ezra's parents built a home a few miles south of Newburg called Warrensville, where they lived until after four children, Lavina, Joseph Swain who died in 1838, Lucy Eliza and Ezra Granger were born. Later the family moved to Kirtland, where in 1829 Frederick purchased a farm of 144 acres. Here he prospered, and became influential as a doctor and businessman.
Ezra's mother, Rebecca, was often left to oversee the operation of the farm with the help of her son, Ezra. During this time the Prophet Joseph Smith and his wife Emma came to Kirtland and stayed at Rebecca's home until they were able to build a house across the street. Rebecca and Frederick were very close to the Prophet and his family through all the days of trial and hardship of building the temple, Zion's march, etc. During the Kirtland bank failure, Frederick was disfellowshipped. A few weeks later he asked forgiveness and was rebaptized in May 1837.
Rebecca and her children joined the Saints in traveling to Far West from Kirtland in 1838, where they again built a home. In 1842, because of the poor health of the doctor, the family moved to Quincy, Illinois, to reside with a daughter. Late in the summer they paid a visit to Nauvoo to see Joseph and Emma. When it came time to leave, Joseph said, "Brother Frederick, I don't like to see you leave, you are going home to die." Frederick replied, "I am already a dead man." He passed away on October 25, 1842, in Quincy, Illinois.
Subsequently Rebecca and her son, Ezra, moved back to Nauvoo to be near the headquarters of the Church. Joseph Smith had turned his Mansion House into a hotel, and Rebecca was fortunate in securing rooms there. Ezra was ordained a seventy in 1845 by Joseph Young, and he and his mother received their endowments in the Nauvoo Temple February 7, 1846, at which time Rebecca was sealed to her husband, and married for time to Heber Chase Kimball (1801-1868).
Ezra married Henrietta Crombie in August 1847, during the time he was attending medical school. Rebecca was called to Quincy to nurse her daughter, Lavina, who was gravely ill. Lavina died November 29, 1847, and Rebecca then moved to St. Louis to make her home with Ezra who was now a practicing physician. But they all longed to join the Saints, and left St. Louis, April 1, 1848, arriving at Winter Quarters in April.
Rebecca came to depend upon Heber C. Kimball a great deal in the coming months, not for shelter and food, but for his counsel, faith and encouragement. Before President Young left Winter Quarters in 1848, he called Ezra and set him apart as the physician for the surrounding camps; for he, his wife and mother were to stay at Winter Quarters until the next spring.
In 1849 George A. Smith and Ezra T. Benson, who were in charge of the pioneer companies, approached some of the Welsh Saints who were preparing to make the journey, and borrowed from them three hundred dollars so that Dr. Williams could buy the necessary medicines to take with him as official physician for the companies. Rebecca was then instructed to go to St. Louis and buy the articles needed. She purchased provisions enough to last one year and a very splendid stock of medicines in a good chest. She was made comfortable in her wagon with a small stove, rocking chair, sideboard, small table, remnants of her wedding furniture, and a small churn and camp stool.
On the day of their arrival in Utah they were met by Heber C. Kimball and taken to his home, where they enjoyed a dinner of roast beef and dried apple pie served by the family. Here they remained until the following March when they moved into a new log house that Ezra had built. Rebecca was given charge of a small farm on which she raised the vegetables for the family. She was busy helping where her services were needed, and thus made many friends. This noble pioneer woman passed away September 25, 1861, and was laid to rest in the Smithfield Cemetery in Cache Valley where Ezra had made his home.
Children
Siblings
Residences
Vital Records
Utah Gravestone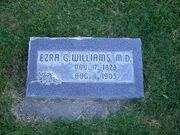 See Also
Ezra Williams

Williams in Cayuhoga County, Ohio

Williams in Weber County, Utah
Footnotes (including sources)