Ezra was born 25 April 1848 in Mt Pisgah, Union County, Iowa to Samuel Jefferson Adair (1806-1889) and Jemima Catherina Mangum (1809-1848) and died 26 April 1848 Mt. Pisgah, Union County, Iowa of unspecified causes.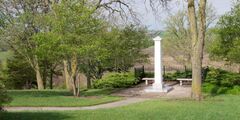 Mount Pisgah was a refugee way station from 1846 to 1852 along the Mormon Trail between Garden Grove and Council Bluffs. Today it is marked by a tall monument on a nine-acre state presertve which contains exhibits, historical markers, and a reconstructed log cabin. However, little remains from the 19th century except a cemetery memorializing the 300 to 800 emigrants who died while passing through or residing in the community.
Ezra was one of a dozen Adair/Mangum to die here with their grandmother Rebecca Brown Adair.
Siblings
Residences
References
Footnotes (including sources)