Origins of the Brimberry Family in the United States


A Lifelong Work Still in Progress

By Jerry Brimberry & Marion Brimberry
Updated June 30, 2007
INTRODUCTION
[
]
EDITOR'S NOTE: The structure for this article has been radically changed. The reasons are two-fold: (1) to resolve significant technical issues due to the sheer length and number of images contained in the article; and (2) to facilitate navigation to topics of individual interest to readers.
If you navigated to this site directly, please click Brimberry Family History for a detailed explanation of the alterations as well as an Introduction to the History of the Brimberry Family in the United States. You can also use the links provided in the table appearing below, in the aforementioned Introduction, and at the bottom of each article to navigate to topics of interest. Matthias Brimberry and Mary Anderson's seven sons and their lineages is still under construction. Construction was halted for over six months. Simply put, images started disappearing and the text was often misaligned due to "overload". The problem is now solved and more materials can be added thanks to the assistance of Bill Willis. Please email comments or questions to the editor at jlb651@bellsouth.net. Likewise, please let me know via email if you are a Brimberry descendant and would like to be added to the BrimberryResearchGroup for additional updates and information. Thanks! Jerry Brimberry
ORIGINAL ARTICLE AND IMAGES
[
]
OUR SWEDISH HERITAGE-----In the early 1960's, this writer traced the "origins" of the Brimberry family in the United States to the union of Matthias Branberry (sic) and Mary Anderson, who wed on March 11, 1766 in historic Holy Trinity (Old Swedes) Church in Wilmington, Delaware. While their marriage in 1766 is used here, for ease of description, as the beginning point of the seven branches of the Brimberry family tree in the United States, Matthias' and Mary's colonial Swedish roots, in turn, have both been traced much farther back in time to the very beginning of New Sweden, the Swedish colony established by the Swedish crown on the Delaware River in 1638.

Matthias' ancestral roots, for example, have been traced to Måns Andersson and his first wife Brita, who were among the first Swedish families to settle in America. Måns and Brita Andersson arrived on the Kalmar Nyckel in 1640. Matthias Brymberry (most frequent spelling), wed at Old Swedes in 1766, was descended from their daughter, Brita Månsdotter, who wed Johan Gustafsson, a King's soldier and lieutenant of artillery at Fort Christina from the Kinnekulle area, the ancient Swedish capital in Skaraborg län. Johann and Brita are the progenitors of the Justis (Justice) family in the United States.
The 41st and 43rd Presidents of the United States, George H. W. and George W. Bush, also traced their ancestry to Måns Andersson, who is estimated to have at least 250,000 living descendants in the United States today. The reason for this digression from Matthias and Mary, wed at Old Swedes Church, a stone's throw from where the Swedish expedition landed and built Fort Christina, is to introduce unfamiliar readers with the richness of our Swedish heritage and the complexities of Swedish naming practices as well as the origins of the Brimberry surname.

Navigating this Website
While a short history of the Swedes on the Delaware and explanation of the transliteration to Brimberry from Brunberg are provided below, readers are encouraged to visit the multitude of external links provided throughout this family history for added discussion and enrichment. Too, many of the photographs or illustrations provided can be enlarged by clicking on the image. Keeping in mind that this site is "under construction", descendants of Matthias Brymberry and Mary Anderson and allied families are likewise urged to complete a family data sheet once available.
Toward this end, you are encouraged to revisit this site often and watch us grow during the coming months. Ultimately though, the success of this site will depend on the willingness of you and other readers to contribute materials, including photographs, as soon as those portals become available. This is a huge undertaking! Marion and I both appreciate your patience, support and own contributions to our unending family history.


A Brief History of New Sweden
[
]
The history of the Brimberry family in the United States is intertwined with the establishment of a Swedish colony on the Delaware in 1638. At the time, Sweden was a major military power in Europe and its territory included much of present-day Sweden, Norway, and Finland as well as portions of modern Germany, Poland, and the Baltic states of Latvia, Estonia, Lithuania and Germany.
Influenced by the success of the English and Dutch colonies, the New Sweden Company was formed by a group of Dutch, German, and Swedish investors who persuaded Queen Christina to allow the company to establish a colony under the Swedish crown. Under this arrangement, the investors paid for the ships, supplies and other expenses while the Swedish crown provided royal sanction and a few soldiers to help defend its claim. In late 1637, the New Sweden Company's first expedition sailed from Gothenborg in the Kalmar Nyckel (the tall-ship pictured above) and a smaller sloop, the Fogel Grip. An exact replica of the sea-going tall-ship was built several years ago by the Kalmar Nyckel Foundation.
The two ships reached Delaware Bay about March 29, 1638 after a brief stop-over at Jamestown, Virginia where records show that English officials reminded the Swedish company that the English crown claimed the area to the north (territory also claimed by the Dutch).
Undetered, the New Sweden expedition entered unchartered Delaware Bay under the command of Peter Minuit. A German, Peter Minuit, had been the governor of the Dutch colony, New Netherland, from 1626 to 1631. Minuit, who joined the New Sweden Company after a dispute with his previous employers, is best remembered by his purchase of Manhattan Island from Native Americans for trinkets and beads.
The expedition built a fort on a tributary of Delaware Bay at Swedish Landing at the site of present-day Wilmington, Delaware. They named the fort Christina in honor of Sweden's twelve-year-old queen. New Sweden was the first permanent European settlement in the Delaware Valley and the colony continued to grow over the next 17 years until it was seized under the force of arms by the Dutch in 1655, who in turn, later lost New Netherlands to the English.


Between 1638-1655, twelve additional Swedish expeditions sailed to New Sweden. Altogether, eleven vessels and about 600 Swedes and Finns, including many Brimberry ancestors, reached New Sweden which spread along both banks of the Delaware River into present-day Delaware, New Jersey, Pennsylvania and Maryland.
For more information about the history of the Swedes on the Delaware and individual Swedish colonial ancestors of Matthias Brimberry and Mary Anderson identified elsewhere in this document, please visit Swedish Colonial Society and navigate to forefather family profiles. The narrator, who is a life member of the Swedish Colonial Society, joined the society on Måns Andersson, who as stated in the introduction to this family history, arrived with his wife and daughter, both named Brita, in 1640 on the second voyage of the Kalmar Nyckel.
It should also be noted that while the number declined significantly after the Dutch take-over, more Swedes continued to arrive and settle among their Swedish brethren along the Delaware into the early 1700's, including Matthias Brymberry's father, Christiern Brunberg, and Mary Anderson's maternal grandparent's Anders and Elizabeth Loinan. Brunberg and the Loinans appear to have arrived at or about the same time, possibly during a change of ministers at Holy Trinity (Old Swedes) Church in Wilmington about 1711. Upon their arrival, Brunberg, who was not yet married, and the Loinans (later Lynam), regularly attended services at Old Swedes.
This and other information contained in this brief background history of the Swedes on the Delaware has been gleaned from many sources cited in the bibliography appended to this narrative. This writer is deeply indebted to the authors of these works as well as the Swedish Colonial Society, the Holy Trinity (Old Swedes) Foundation, and the Historical Society of Delaware for preserving the history of the Swedes on the Delaware. However, all of us are especially indebted to Dr. Peter Stebbins Craig for researching, publishing and making readily available biographical information about many colonial Swedes, including important material cited in this document---without which the colonial roots of the Brimberry family would be incomplete. A retired attorney, Dr. Craig is the official historian for the Swedish Colonial Society, a post he has gained through year's of careful, painstaking scholarly research of records in Sweden as well as the United States. His seminal work, The 1693 Census of the Swedes on the Delaware, should be a part of every member of the Brimberry family's personal library.
Holy Trinity (Old Swedes) Church
[
]
Any history of the Swedes on the Delaware, however brief, would be incomplete without a short description of Holy Trinity (Old Swedes) Church, one of five Swedish churches established by the Swedes along the Delaware in Pennsylvania, Delaware and New Jersey.
Built in 1698, Holy Trinity (Old Swedes) Church is reputedly the oldest church in continuous use in the United States. The cemetery surrounding the church contains the mortal remains of many of our Swedish forebearers, including Matthias Brimberry's parents, Christiern Brunberg (1684-1752) and Maria Peterson (1699-1750) who were also wed at Old Swedes Church in 1719. In 1998, descendants of Matthias Brimberry (1799-1854) and Elizabeth Minton (1809-about 1860) placed a monument in Old Swedes Churchyard dedicated to the memory of Christiern Brunberg and Maria Peterson. The upright monument is the white vertical shape in the foreground of the photograph to the right near the south entrance to the church.
Most, but not all, of our Swedish ancestors lived near and attended Holy Trinity (Old Swedes) Church in Wilmington, Delaware. Some were members of Gloria Dei (Old Swedes) Church in Philadelphia. A few belonged to the Swedish church built across the Delaware River from Wilmington in Penns Neck, New Jersey. Readers are encouraged to learn more about these and other Swedish churches via The Eight Old Swedes' Churches of New Sweden by Rev. Dr. Kim-Eric Williams New Sweden Center, Wilmington, DE 1999. Republished with the author's permission by the Swedish Colonial Society, the publication can be seen online by clicking and navigating Churches of New Sweden
The BRIMBERRY DNA Project was established to create a databank of DNA profiles of Brimberry males and their lineage from Christiern Brunberg (1684-1752) and Maria Peterson (1699-1750). For additional information about Y-DNA and mtDNA testing, click Family Tree DNA.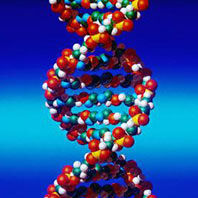 Briefly, Y-DNA is passed down through an unbroken male lineage from father to son and changes very slowly over many generations. mtDNA, on the otherhand, is passed down through the generations from mother to daughter and likewise changes very slowly over time. Sons also receive their mother's mtDNA; however, they cannot pass it down. Daughters though do not receive their father's Y-DNA.
Recognizing the immense value of DNA testing as a genealogical research tool, Marion E. Brimberry and this writer, Jerry L. Brimberry, initiated the Brimberry project two years ago. As expected, our Y-DNA matched although genealogical research shows our most common recent ancestor (MCRA) was Matthias Brymberry (1736-about 1810) who wed Mary Anderson at Holy Trinity (Old Swedes) Church in Wilmington, Delaware in 1766.
Since then, we have confirmed two so-called adoption lines, i.e., Brimberry males who are not genetically descended from Matthias Brymberry but are instead descended from step-sons who were conferred the Brimberry surname more than 150 years ago by their adoptive Brimberry step-fathers.
We have also discovered several distant genetic cousins with whom we probably share a common direct male ancestor of Viking descent who lived between 1400-1600, possibly in the vicinity of Lübeck, Germany near the border of Denmark and only a short ferry ride across the Baltic Sea to the southern tip of Sweden.
Suffice that results for Y-DNA project participants show that the ancestors of our most common direct male ancestor (MCRA) belonged to the Old Norse or Viking Y-DNA haplogroup I1a concentrated in northern Germany and Scandinavia. Likewise, mtDNA results for two female mtDNA participants (one descended from John Brimberry and Agness Beethe who wed in Bourbon Co., Kentucky in 1796; the other descended from Isaac Brimberry and Mary Beethe who wed in Bourbon Co. in 1797) show that the ancestral roots of their most common direct female ancestress, Sarah Beethe (wife of Indian captive James Beethe and the mother of sisters Agness and Mary Beethe)were in modern Germany.
Origin of the Brimberry Surname and Matthias Brymberry's Swedish Ancestors
[
]
Mattias Brymberry's father Christiern Brunberg was born in the province or län of Halland, Sweden, and came to America about 1711. He appears to have been educated and may have been a member of a similiarly named shipping and trading family in Varberg on the west coast of Sweden south of Gothenburg. The Brunsberg family of Varberg is known to have moved there in the 1500s from Lübeck during the height of the Hanseatic League which saw trade and people moving freely across modern borders around the Baltic Sea which during the 1600s became a "Swedish lake". The mercantile league began in 1241 following a mutual protection treaty between Lübeck and Hamburg. Located on the Trave River, near the Baltic Sea, Lübeck played a leading role throughout the course of the medieval Haseatic League which at its pinnacle had over 100 member cities.
The origins in Luebeck of the educated, upper-class Brun family which built an estate high on a hill or berg (called Brunsberg) overlooking Varberg comports with the fact that, although we usually identify the Vikings with modern Denmark, Sweden and Norway, the entire Baltic region was populated a thousand years ago by Norsemen or Vikings. Moreover, an individual surnamed Brown recently matched the Brimberry Y-DNA group. The possibility that his Brown's originated in Germany suggests that he may be descended from the Brun family of Lübeck.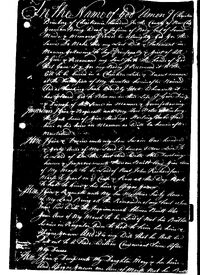 In Swedish, the "g" at the end of Gothenburg and Christiern's surname both have a "y" sound. Hence various changes occurred in spelling over the next 125 years. Interestingly, the "y" and "g" were both used interchangeably in the spelling of his surname in Christiern Brunberg's will in 1752.
Variations in the spelling of the surname include BRUNBERG, BRUNSBERG, BRYNBERG, BRINBERG, BRINBERY, BRINBERREY, BRANBERRY, BRUMBERRY, BROOMBERRY, BRYMBERRY. Given the multitude of spellings by third parties, it is miraculous that the seven branches of the BRIMBERRY family all adopted the latter spelling. Where applicably, the spelling found in a particular document is used to describe the event, e.g., Matthias' surname was recorded at Branberry when he married Mary Andersson in 1766, hence that spelling is used in conjunction with that event. In short, readers should be aware of variant spellings.
Matthias Brymberry's Swedish Ancestors
The parents of Matthias Brymberry (Christiern Brunberg and Maria Peterson) were wed at Old Swedes Church Wilmington, Delaware in 1719.
The roots of Matthias' father, Christiern, in the province or lan of Halland in Sweden are discussed above. While Christiern's connection, if any, with the Brunsberg family of Varberg are unproven at this juncture, it is certain that in his own father's time, Halland län was part of Denmark. The Danes and Swedes fought and exchanged possession of the fortress at Varberg several times during the Kalmar War. The Swedes gained permanent possession of Halland and the entire Swedish peninsula from Denmark in 1658. The back-and-forth battles for the fortification at Varberg certainly would have been witnessed by the Brun family from the safety of Brunsberg---their estate overlooking the port city and 13th century Danish-built fortress pictured above.
What compelled Christiern Brunberg to come to America, long after the Delaware region fell under English control, is unknown. Perhaps it was a sense of adventure on the part of a young man then about 27 years-old. We know from extant Holy Trinity (Old Swedes) records translated by Horace Burr, Courtland B. and Ruth L. Springer, et al that Christiern could read and write and he was instrumental in establishing a school in his home. We also know that he frequently attended religious services and received communion at Old Swedes Church.
Church records and his last will and testament also reveal the names of Christiern's children and their spouses. We also know that he died at the age of 68 following a "haartique" and that his will devised that his youngest son, Matthias, then 16, be "lett out" to a trade. As it turned out, the trade was wagon-making, a craft which Matthias in turn handed down to his oldest son, Peter, and in turn to his grandson and namesake, Matthais, this writer's male ancestors. The above engraving depicts a wagon maker boring a hole for an axle, a task that the first Matthias Brymberry and his son Peter and grandson Matthias would have often performed.
Much more is know about the roots of Maria Peterson, wife of Christiern Brunberg. Maria Peterson, who was 20 when she wed 35 year old Christiern Brunberg, was the daughter of Matthias Peterson and Elizabeth Justis. Maria's paternal grandfather, Samuel Petersson was from Fryksande in Varmland, Sweden. He arrived on the "Oren" in 1654. Around 1665, he married Brita Jonsdottor. Maria's maternal grandfather, Johan Gustaffson (Justis), a King's soldier from the Kinnekulle area of Skaraborg, arrived in New Sweden in 1643 and, as reported elsewhere, in 1654 married Brita Månsdotter, daughter of Måns and Brita Anderson.
Swedish ancestry of Matthias Brymberry (Brunberg or "brown mountain" in Swedish) back to his immigrant ancestors shown in boldface, all of whom came from Sweden. This information is largely excerpted from a report prepared by Dr. Peter Craig with additions and modifications by this writer. At best, this writer's independent research was fragmented and incomplete on some of these same lines; hence Dr. Craig's report is being used with his permission.
1. Matthias Brynberg (baptism spelling; husband of Mary Anderson; 1736->1810)
(A graphic summary of Mathias' ancestry is available at Matthias Brymberry's Swedish Ancestors
His parents were:
2. Christiern Brunberg (1684-1752)
3. Maria Peterson (1698-1750)
His grandparents were:
4-5. Unknown
6. Matthias Peterson (c.1670-1719)
7. Elisabeth Justis (c.1675-1730)
His great grandparents were:
8-11. Unknown
12. Samuel Peterson (d. 1689)
13. Brita Jönsdotter (d. 1702)
14. Johan Gustafsson (d. 1682)
15. Brita Månsdotter (d. 1724)
His great great grandparents were:
16-25. Unknown
26. Jöns Andersson, the blacksmith (d. c.1678)
27. Unknown--(wife of Jöns Andersson)
28-29. Unknown
30. Måns Andersson (d. >1677)
31. Brita--(wife of Måns Andersson; d. <1646)
Discussion of Matthias Brymberry's Lineage
To reiterate, in the above list, the names of persons shown in boldface were immigrants. In all cases, Matthias Brymberry's immigrant ancestors came to America from Sweden. We begin with Matthias' parents followed by his grandparents, great grandparents and great great grandparents.
His Parents: Christiern Brunberg and Maria Peterson

[

]
#2-3. Matthias Brimberry's parents, Christiern Brunberg and Maria Peterson were married at Holy Trinity Church on 2 July 1719.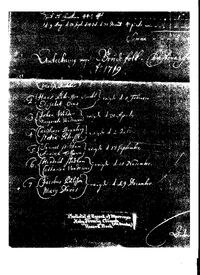 Faithful communicants at Holy Trinity the remainder of their lives, Holy Trinity Church records tell us much that we know about their 31 years together. Christiern's and Maria's roots are described at length elsewhere, and that information will not be repeated here. Instead, this writer's intent is to share bits and pieces he has gleaned from the past over a period of four decades about their married life together.
Briefly, Horace Burr's translation of the Records of Holy Trinity (Old Swedes) Church contains numerous references to Christiern Brinberg and his wife Maria. This includes baptismal, marriage, and other church records, including several petitions to the King of Sweden. Church records also show that Christiern was instrumental in establishing a school in his home. No doubt his interest in education was handed down through his eldest son Sven to his son Peter Brynberg (1750-1819), Revolutionary War patriot, publisher, statesman, and founder of one of the first free libraries in America. Some years ago, this researcher was fortunate to receive three books published by Peter Brynberg from now deceased Professor C.A. Weslager, noted Delaware historian and author of "A Man and His Ship: Peter Minuit and the Kalmar Nyckel". I was also blessed with a letter from the late Ruth L. Springer stating to me that all that she and her husband Charles Springer, authors of many Delaware Historical Society articles, had ever learned about Christiern Brunberg indicated that he was well educated and a person "one truly would like to have known."
I am of the view that history is story-telling and those of us who are fortunate enough to have an interest in history have an obligation to preserve and share what we know. Hence, this endeavor. In this same vein, I donated one of the books acquired from Professor Weslager to the Old Swedes Foundation Museum where it is on permanent display. The other two books are primers or textbooks of the day (circa 1800) published by Peter Brynberg.
It is also noteworthy that 19th century Swedish churchman and historian Israel Acrelius in writing about the Swedes on the Delaware in 1693 mentioned several arrivals who came in later times, including Brunberg. Suffice that Christiern Brunberg was active and prominent in the affairs of Holy Trinity Church following his marriage in 1719 to Maria Petersson, who subsequently became the progenitors of the Brimberry family in the United States. However, only one of their three sons, Matthias, the youngest, had male lines to carry on the name.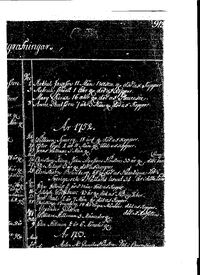 Befittingly, Christiern and Maria are both buried at Holy Trinity Church, where they worshipped regularly. The burial record of Christiern Brunberg reports that he "died of a pitchfork" (heart attack) at the age of 68, that he was born in Halland, a province in southern Sweden, and that he was buried 28 March 1752. Christiern's will, however, was signed six days later on 3 April, 1752. This anomaly is explained by the fact that the Swedes were still using the Old Calendar, while the English were using the New Calendar.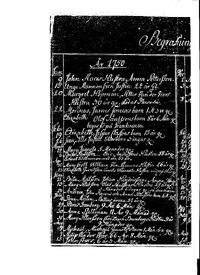 Christiern's wife Maria Petersson, daughter of Matthias Petersson and Elisabeth Justis, was buried 31 July 1750 at Holy Trinity Church where she was baptised in 1698 soon after the now oldest church in continuous use in the United States was built. Too, Holy Trinity is the same church where she and her husband of 31 years were married in 1719. Her obituary, located near the bottom of the document and recorded in Swedish, reads: "Mary Petersson, wife of Christiern Brunberg, 51 years and 9 months."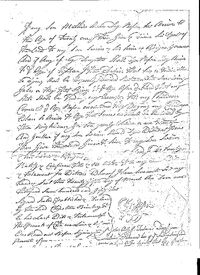 Matthias was 14 when his mother died, and 16 when his father passed away. His father's last will and testament, on the preceding page, devised that Mathias, his youngest son, "be lett out" to a trade. It is interesting to note that whoever actually prepared the document for Christiern intermittently spelled his last name as Brinberg and as Brinbery. Christiern scrawled his signature, no doubt due to his enfeebled condition.


As previously reported, Christiern arrived in New Castle County prior to 19 September 1714 when he made his first of many appearances at the Holy Trinity communion table. He served as church warden 1721-24 and was elected to the church council in 1729. In March 1723, he gave the preistland (glebe) 30 apple trees which he planted himself in the orchard. Holy Trinity Church records also show that Christiern Brunberg and his wife Maria Peterson had ten children:
1. Elisabeth Brunberg, born 14 Dec. 1719, buried 29 Jan. 1720.
2. Sven Brunberg, born 17 Nov. 1720, who married Anna Pierce 4 Aug. 1751, Margaret Lynam 1760. His name appeared on a militia roll during the American Revolution as Swithen Brinberrey, which prompted this researcher to investigate the Holy Trinity Church records during the early 1960s. His sons John Brynberg and Peter Brynberg, both of whom were Revolutionary War patriots, are also buried at Holy Trinity.
3. Peter Brunberg, born 26 Sept. 1722, who married Ann Owens July 1746, Margaret Vickory (widow of John Vaneman) c. 1750. He moved at Penns Neck, NJ and had a daughter, Margaret, and a son, Christian, who disappeared from available records during the Revolutionary War.
4. Susanna Brunberg, born 15 Aug. 1724, who married Philip Stalcop, son of Andrew and Anna Barbara Stalcop, in 1744. They had seven children, five of whom died in infancy or young. Her first husband, Philip Stalcop, died of pleurisy in 1758, leaving Susanna a widow with two small children. In 1759, she married Eric Anderson. She and her brother, Matthias, moved with their Anderson spouses and in-laws to Orange Co., NC in 1768; thence to southwest Virginia.
5. Matthias Brunberg, born 15 Sept. 1726, buried 24 August 1730. The Swedish practice of renaming children after deceased siblings was common, as evidenced below.
6. John Brunberg, born 19 Jan. 1730, buried 29 Aug. 1730.
7. Maria Brunberg, born c. 1734, married Samuel Seeds 12 April 1753.
8. Matthias Brunberg,born 22 March 1736, married Mary Anderson 11 March 1766. Orphaned when he was 16, he was living in 1753 with his eldest brother Sven in Hans Peterson's ward in Brandywine Hundred. In the 1764 church census, he was shown as a bachelor farmer living in Christiana Hundred adjacent to widow Margareta (Stalcop) Lynam, widow of George Lynam. He probably worked her farm. If so, it is reasonable to assume that he visited the log house Lynam built pictured elsewhere (see Lynam 6.3)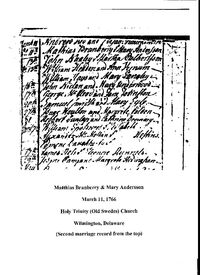 In 1766, Matthias wed Mary Anderson at Holy Trinity Church. Two years later, they moved with his sister Susanna and her husband Eric Anderson to Orange County, NC where Matthias Brumberry appeared on the 1771 tax list with his Anderson kin. The Orange County tax list for 1779 also listed Peter Anderson Sr., Peter Anderson Jr. (Eric's younger brother) and Arruk (Eric) Anderson, as well as "Mathias Brumberry" (Brunberg).
9. Christina Brunberg, born 20 Jan. 1738, buried 28 April 1752 at age of 14, smallpox. She died within a month of her father and her death is recorded beneath that of her father (see above)
10. Elisabeth Brunberg, born 9 April 1741, married William Derickson 6 May 1763.
His Maternal Grandparents: Matthias Peterson and Elisabeth Justis

[

]
#6-7.
Matthias Brimberry's maternal grandparents, Matthias Peterson and Elisabeth Justis, were married about 1695. Shortly after their marriage, Matthias acquired what purported to be 300 acres north of Christina Creek near Bread & Cheese Island. On resurvey this land was found to contain 618 acres. The "overage" was granted to Andrew (Anders) Justis, Matthias' brother-in-law. (Andrew had married Matthias' sister, Brita Petersson; and Matthias likewise had married Andrew's sister, Elisabeth Justis.
Matthias Peterson pledged £1.1.0 for the building of Holy Trinity Church, contributed 7-1/2 days of labor and also provided two horses for 5-1/2 days of carting and furnished lathe for plastering. On 24 June 1699 he and his wife were assinged pews in the new church. From 1707 until his death in 1719, he was a warden for the church. He was buried at Holy Trinity Church on 27 Sept. 1719, two months following the marriage of his only daughter, Maria, to Christiern Brunberg.
His widow, Elisabeth Justis, remarried 18 October 1720, the widower Edward Robinson, who was also prominent in the affairs of Holy Trinity Church. She was buried 23 Sept. 1730 at Holy Trinity Church, Wilmington.
Matthias Petersson and Elisabeth Justis had three known children:
1. Samuel Peterson, born c.1696, who married Christina Morton 26 May 1720; buried 1 Jan. 1751
2. Maria Peterson(#3), born Nov. 1798, who married Christiern Brunberg(#2) at Holy Trinity Church on 2 July 1719; buried 31 July 1750
3. Matthias Peterson, born c. 1701, who died unmarried in early 1732
His Great Grandparents: Samuel Petersson and Brita Jönsdotter

[

]
#12-13. Matthias Brymberry's great grandparents, Samuel Petersson and Brita Jönsdotter were married around 1665 in New Sweden. Samuel Petersson was a Finn from Fryksände parish (present-day Torsby), Värmland. Many years before, the Swedish crown had invited Finns, who were a foresting people, to move into the interior of Sweden, as a part of its design to populate and expand its borders to incorporate the entire peninsula, which was still partially occupied by the Danes as discussed elsewhere.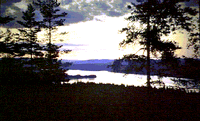 Fryksände literally means "end of lake Fryken". Hence, it is relatively easy to trace Matthias Petersson's roots to the vicinity of Torsby, which houses a Finnish cultural center and museum. Unfortunately, the Finns were compelled by the Swedish crown to abandon their Finnish names and to adopt Swedish naming practices. Born in Sweden, the Swedish colonists of Finnish origin, as foresting people, were particularly well suited for living off the new found land along the Delaware. They introduced log houses as well as split rail fences to the colonies. Their slash and burn farming techniques also paralleled those of agrarian Native Americans.
Samuel Petersson (Peter's son) arrived in New Sweden on the "Örnen" (Eagle) in 1654. Samuel Petersson was then a bachelor and, according to Dr. Craig, Petersson "signed the loyalty oath to Governor Rising with his distinctive mark. Fifteen months later, using the same mark, he signed the oath of allegiance to the Dutch." His "... mark is signifcant as there was another newly arrived freeman named Samuel Petersson, from Bogen, Gunnarskog parish, Värmland, who signed the 1654 loyalty oath with a different mark" and afterwards disappeared from available records.
Around 1665, Samuel Petersson married Brita Jönsdotter, daughter of Jöns Andersson the blacksmith of Christina, who had also arrived on the "Örnen". The couple first settled at Crane Hook. In 1669, Samuel Petersson was fined for participating in the Long Finn Rebellion. In 1674, he purchased land at Christiana, where they also inherited his father-in-law Jöns Andersson's plantation in 1678. In his will dated 25 Nov. 1689, Samuel Petersson bequeathed his dwelling plantation at Christina to "he of my sons whom is longest with my loving wife." Records show that Peter Petersson "as longest liver" with his widowed mother, who died in 1702. Six of Samuel Peterson and Brita Jönsdotter's children have been identified:
1. Margareta Peterson, married Erasmus Stedham
2. Catharine Peterson, married Peter Stalcop
3. Matthias Peterson who married Elisabeth Justis(Matthias Brymberry's maternal grandparents, #6-7)
4. Peter Peterson, who married Helena ?, was called Peter Petersson Caupony (short cloak) to distinguish him from Peter Petersson the blacksmith
5. Brita Peterson, married Anders Justis (Elisabeth Justis' brother)
6. Elisabeth Peterson, married Christiern Jöransson
His Great Grandparents: Johan Gustafsson & Brita Månsdotter

[

]
#14-15. Matthias Brymberry's great grandparents, Johan Gustafsson and Brita Månsdotter were married in 1654 in New Sweden. Johann Gustafsson,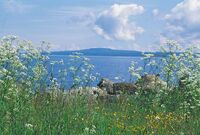 from the area of the ancient Swedish capital of Kinnekulle in Skaraborg län, Sweden, came to New Sweden in 1643 as a soldier for Governor Johan Printz. Printz' successor, Governor Johan Rising promoted him to the position of lieutenant of artillery (gunner), stationed at Fort Trinity (present New Castle), where, in 1654, he married Brita Månsdotter, the daughter of Måns Andersson, a freeman who arrived in New Sweden on the "Kalmar Nyckel" in 1640.
After the Dutch takeover of New Sweden in 1655, Måns Andersson moved to the Christina area for four years, but in 1661 he moved to the southeast side of the Elk River in Cecil County, Maryland. Johan Gustafsson meanwhile moved to Kingsessing, on the west side of the Schuykill River, where he resided until his death in 1682. His widow survived him by 42 years and was buried at Holy Trinity (Old Swedes) Church at Christina (Wilmington) on 22 Aug. 1724. Johan Gustafsson (Justis) and "venerable Brita Justis" (nee Månsdotter) had eleven known children:
1. Gustaf Justis, 1655-1721/2; married Anna, daughter of Mårten Mårtensson, Sr.
2. Måns Justis, 1658-1740; married Christina Andersdotter, dau. of Anders and Anna Svensson
3. Carl Justis, 1660-<1719; married Margaret ?
4. Hans Justis, 1662->1710; married Maria, daughter of Olle Rawson and Brita Andersdotter
5. Annika/Anna Justis, 1666->1727; married 1st Matthias Morton (7 children); two widowers, 2nd Jonas Walraven, 3rd Charles Springer
6. Johan/John Justis, 1668-1716; married ?
7. Peter Justis, 1670-1699; married Brigitta, daughter of Olle and Lydia Swanson
8. Jacob Justis, 1673-1699; unmarried
9. Elisabeth Justis, c.1675-1730; married 1st Matthias Peterson, son of Samuel and Brita Petersson; 2nd Edward Robinson
10. Sven/Swan Justis, 1677-c.1722; married Catharina, daughter of Peter Petersson Yocum and Judith Jonasdotter (Nilsson)
11. Anders Justis, 1681-1740; married Brita Petersson, dau. of Samuel and Brita Peterson
His Great Great Grandparents: Jöns and _____ Andersson

[

]
#26-27. Matthias Brymberry's great great grandparents, Jöns and ____ Andersson arrived on the "Örnen" (Eagle) with their daughter Brita (Jönsdotter) in 1654. Little is known about Brita's parents except that her father was the blacksmith for Christina. Likewise, her mother's first name is unknown.
Around 1665, Brita Jönsdotter married Samuel Petersson, the Finn from Fryksände who also arrived on the "Örnen" eleven years earlier, a year before the Dutch takeover of New Sweden in 1655. On 5 Nov. 1678, Brita's husband, Samuel Petersson, was named sole heir of his neighbor, and presumed father-in-law, Jöns Andersson.
His Great Great Grandparents: Måns & Brita Andersson
[
]
#30-31. Matthias Brymberry's great great grandparents, Måns and Brita Andersson and their daughter 'Brita Månsdotter arrived in New Sweden in April 1640 on the second vovage of the "Kalmar Nyckel" which had left Göteborg in October 1639.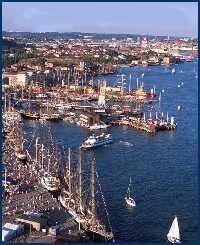 Much has already been written above about Måns Andersson and his wife and daughter, both named Brita. They reportedly are one of the first two Swedish families to emigrate to America. Learn more about our earliest Swedish colonial ancestors by clicking Måns Andersson to view an article by Dr. Craig originally published in Swedish Colonial News, Volume 2, Number 6 (Spring 2002) portions of which are excerpted and/or quoted below.
Briefly, Brita Andersson, our earliest Swedish colonial female ancestor died within a few years of coming to America. Her husband, Måns Andersson, remarried around 1646 to a daughter of Christopher Rettel. In 1653, Måns Andersson and 21 other freemen complained to Governor Printz about his harsh treatment of the Swedish freemen. Branded as mutineers, several freemen decided to leave New Sweden, including Måns Andersson, "who chose to go to the new Dutch colony established in 1651 at Fort Casimir (present New Castle)."
Johan Rising, the new Swedish governor, arrived in 1654 on the "Örnen", "captured Fort Casimir without firing a shot, renamed it Fort Trinity, and once again Måns Andersson was living under Swedish rule. Måns quickly discovered that the new governor took a more liberal and reasonable attitude toward the freemen." However, Måns Andersson's "return (to) Swedish rule was short-lived. In September 1655, Fort Casimir was recaptured by the Dutch and the mark of Måns Andersson was among those signing an oath of allegiance to Governor Stuyvesant."
"Måns Andersson remained a resident of Swanwick until 1661, when Måns Andersson, his wife and six children were recorded as having immigrated to Maryland, and on 25 April 1662, a plantation was surveyed for him near the mouth of the Elk River on Sassafras Neck in Baltimore (now Cecil) County. This 150-acre plantation was named "Mountsfield." While this new land was being prepared and a new house built, Måns temporarily took up residence at Christina on the Brandywine River, in partnership with Walraven Jansen de Vos (a former Dutch soldier married to a Swedish wife). Måns planted this land for four years and then sold his share to his former Swanwick neighbor, Dr. Timen Stiddem, in 1665, and moved to "Mountsfield" in Maryland where he spent the balance of his life."
To reiterate, far more information about Måns Andersson is available on the Swedish Colonial Society's website, including additional information about his daughter, Brita Månsdotter (who married Johan Gustafsson), and the other known children of Måns Andersson:
1. Brita Månsdotter, born in Sweden by Måns Andersson's first wife (married Johan Gustafsson, Matthias Brymberry's ancestors)
2. Ingeborg Månsdotter, born about 1647 by his second wife (married Hendrick Hendricksson)
3. Christopher Månsson (also Mounts), born c. 1652 (married twice)
4. Lars Månsson/Lawrence Mounts, born c. 1660, (married Sarah unknown
5. Charles Månsson (also known as Charles Anderson), born c. 1664 (Indian trader)
6. Maria Månsdotter, born c. 1676 (married Matthias Matthiason, son of Hendrick Matthiasson, a Finn who also signed the complaint against Governor Printz)
Mary Anderson's Swedish Ancestors

[

]
This family history is indebted to Dr. Peter Craig for allowing the narrator to use a research report Dr. Craig wrote in 1992. The report was entitled "Swedish Ancestry of Sarah Anderson, born 7 Dec. 1762, New Castle County, Delaware." Sarah's mother, Susannah Brunberg, was Matthias Brimberry's sister; and Sarah's father, Ericus Anderson, was Mary Anderson Brimberry's half-brother. To the extent that Matthias Brimberry and Mary Anderson were blessed with seven sons but no known daughters, their double niece, Sarah Anderson, must have seemed like a daughter to them as well as a sister to her male Brimberry cousins. The family Bible of Sarah Anderson (1762-1840) and her husband, Thomas Hendricks, shows that she was born on the 7th of December 1762. The baptism records of Holy Trinity (Old Swedes) Church in Wilmington, show that she was baptized at that church on Feburary 1, 1763, and that her parents were Ericus and Susannah Anderson. As a point of information, the Anderson-Hendricks family Bible, was handed down through the generations, until our distant cousin and my dear friend Walter Hendricks donated it to the Virginia Historical Society about 10 years ago. Walter, who recently passed away at age 98, was past president of the Washington County, Virginia Historical Society. One of this nation's first parachutists, an inventor, and avid historian, Walter is missed by all privileged to have known him. With his assistance, I was able to locate the marked graves of his direct ancestors, Sarah Anderson and Thomas Hendricks. Needless to say, he was very proud of his Brimberry and Anderson heritage. This passage is dedicated to his memory.
Thomas Hendricks and Sarah Anderson's home, built in the late 1700's, still stands. It is owned by descendants of legendary Confederate General J.E.B. Stuart's father. The latter acquired the Hendricks property including the mill, rolling pastures and homeplace after Sarah Anderson Hendricks' death. The Stuart family (d/b/a the Stuart Land and Cattle Co.) still occupies the original home, which today, with its magnificent front portico and other additions, can only be described as a stately mansion in an immensely majestic pastoral setting. The following link contains a photograph of the Stuart Mansion originally built by Sarah Anderson and her husband, Thomas Hendricks at Elk Garden.
Of perhaps even greater interest, Sarah's son James Hendricks and her cousin, Peter Brimberry, who were about the same age, jointly purchased merchandise, possibly supplies and tools for Peter's wagon making business, from Thomas Stuart in Old Glade Spring, Virginia in 1789.
At this juncture, though, this writer would like to reach back even farther in time, drawing on the above mentioned report that Dr. Craig shared with me in 1992. To reiterate, this writer's independent research was fragmented and incomplete on some of these same lines; hence Dr. Craig's report is being used with his permission.
Keeping in mind that Dr. Craig is also the official historian for the Swedish Colonial Society (SCG), cross-links are provided, where available, to profiles of Mary Anderson's as well as Matthias Brimberry's Swedish ancestors on the SCG's website. Mary Anderson's immigrant ancestors are likewise shown in boldface as are her husband Matthias' above.
1. Mary Anderson (wife of Matthias Brymberry; 1748->1785)
Her parents were:
2. Peter Anderson (1705->1787)
3. Catherina Lynam(1719->1787
Her grandparents were:
4. Eric Anderson (c.1671-1765)
5. Brita Paulson (c.1652-1750)
6. Anders Lynam (1682-1770)
7. Brita (wife of Anders Lynam, 1680-1741)
Her great grandparents were:
8. Anders Jöransson (d.1675)
9. Sophia (widow of Anders Joransson; married 2nd, Broer Sinnickthe Finn; Sophia d. 1717)
10. Olle Paulson (d. c.1696)
11. Kerstin (wife of Olle Paulsson, d. c.1726)
12-15. Unknown
Discussion of Mary Anderson's Lineage
To reiterate, in the above list, the names of persons shown in boldface were immigrants. In all cases, they came from Sweden. In the discussion below, excerpted with modifications from Dr. Craig's report, "we begin with Mary Anderson's parents followed by her grandparents and great grandparents.
Her Parents: Peter Anderson & Catharina Lynam

[

]
#2-3. Mary Anderson parents, Peter Anderson and Catharina Lynam (Loinan, Linam) were married at Holy Trinty Church on 10 Jan. 1739. His first wife, Kerstin Derrickson, whom he married 5 Oct. 1728, had been buried on 11 Oct. 1738, after bearing him six children, three of whom (Catharina, born 16 Jan. 1732; Elisabeth, born 7 Oct. 1735; Peter, born 27 Sept. 1738) died in infancy. Thus, Catharina Lynam not only married a widower but also became stepmother to three of his children: Jacobus Anderson, born 10 Aug. 1729, who married Mary Lynam, 25 June 1751; Brita Anderson, born 1 Nov. 1733, who married Eric Smidt, 22 Nov. 1753; and Eric Anderson, born 19 March 1737, who married Susanna Brynberg (Matthias Brymberry's sister and the widow of Philip Stalcop), in 1759.
Peter Anderson and his second wife Catharina Lynam had seven children:
*1. Andreas Anderson, born 7 Jan. 1741 *2. Christina Anderson, born 27 Oct. 1743 *3. Margareta Anderson, born 12 May, 1745 *4. Maria (Mary) Anderson (#1), born 2 April 1748 *5. Peter Anderson, born 25 June 1750 *6. Susannah Anderson, born 7 July 1752 *7. Sarah Anderson, born 22 Dec. 1756
By 1764 Peter Anderson's household had been reduced to six persons: Peter Anderson, his wife Catharina, and their four youngest children: Maria, age 16; Peter, 14; Susannah, 12; and Sarah, almost 5. The church census for that year listed Peter Anderson as a frarmer; both he and his wife had complete fluency in Swedish and could read from either a Swedish or English Bible. The children could understand Swedish, but their primary language was English.
On 18 June 1768, Peter and Catherina Anderson disposed of their lands on Kennett Pike. Seventy eight and one-quarter acres were sold to Peter's eldest son, Jacobus Anderson, who remained on the property for the remainder of his life. Another 51-3/4 acres was sold to James Laird for £178. The family then moved to Orange County, NC. Among those joining them were Peter Anderson's second son, Eric Anderson, with his wife Susannah Brunberg, and Matthias Brunberg/Brymberry, who had married Peter's daughter Maria (Mary)on 11 March 1766.
They were also accompanied to NC by their daughter Margareta Anderson who married William Stalcop on 2 March 1762. A Revolutionary War veteran, William Stalcop died in Smith County, TN in 1819; his widow in 1839.
On 2 August 1768, Peter Anderson acquired 66-1/2 acres of land on Stony Creek in Orange County, NC from John West, Sr. In 1769, Peter Anderson's 17-year-old daughter Susannah married John West's son, Isaac West, and Peter's youngest daughter Sally married a --- King.
A large number of members of Holy Trinity church joined in the exodus to Orange County, NC. In addition to Peter's son Eric Anderson (husband of Susannah Brunberg), his sons-in-law William Stalcop and Matthias Brymberry, all of William Stalcop's siblings (children of Peter Stalcop and Susannah Paulson), several Garretson (Garrison) families, a Walraven family, etc. Peter and Catherina Anderson remained at this location on Stony Creek until 26 Feb. 1787, when they sold their land to Ellinor Garrison. Presumably, they then followed several of their children to Washington County, Virginia which then included Elk Garden in present Russell County, VA.
The date and place of their deaths are unknown. However, it is known that Matthias Brymberry and his wife Mary Anderson moved near Old Glade Spring in Washington County, VA soon after the birth of their seventh son Samuel in 1785. By this date, as already reported, Eric Anderson and Susannah Brunberg's daughter Sarah and her husband Thomas Hendricks were operating a mill near Elk Garden, and several other families of Swedish descent connected to Holy Trinity church had also settled in Washington County, including Peter Stalcop, Tobias Smidt, Ericus Smith, and Andrew Lynam (brother of Richard Linam who was slain by Indians while forting at Elk Garden. (See Lynam family below.)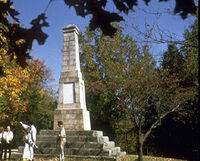 Susannah (Susan) Anderson and her husband Isaac West, however, moved near Kingss Mountain in then Ninety-Six District in SC where Isaac West was struck with a saber by Loyalists in front of his wife Susan and children shortly before the battle of King's Mountain. According to an account written by their daughter, Susan threw herself over him as Isaac lay bleeding profusely to protect him against further blows. The family then moved near present Greenville, SC where they were they were later joined by their nephew, Peter Broomberry and several of his brothers, the progeny of Mary Anderson and Matthias Brymberry. Susan died in 1810 in TN; her husband died while he was visiting his Brimberry relatives in Illionis in 1814.
Her Paternal Grandparents: Eric Anderson & Brita Paulson

[

]
#4-5. Mary Anderson's paternal grandparents, Eric Anderson (#4) and Brita Paulson (#5): Born c. 1671, Eric Andersson used the 500 guilders paid by his stepfather, Broer Sinnicksson, to purchase a 300-acre tract on the southwest side of Brandywine Creek on 26 April 1692. Through the middle of this property, located west of Wilmington in Christiana Hundred, the Kennett Pike would later be built. This property was to remain in the family for the next 76 years. It is now DuPont country.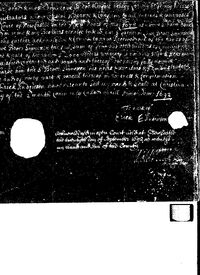 It was around this time, in 1692 or early 1693, that Eric Andersson married Brita Paulson. Undoubtedly the wedding was at the Swedes' church at Crane Hook. The church census, taken late in May 1693, showed two persons in the household of "Erick Jöransson," the recorder having chosen the patronymic of Eric's father, Anders Jöransson. After the death of Olle Paulsson, Eric's father-in-law, Eric Anderson released all of his right to the estate of Olle Paulson to Paul Paulson, Brita Paulson's eldest brother.
In 1697, with the arrival of Rev. Erick Björk from Sweden and his assignment to the Crane Hook church, the congregation decided to build a new church at Christina. In this community venture, Erric Anderson pledge £1-1/2 and also volunteered two days of work on the church and furnished the lathe for the plastering. When the new Holy Trinity Church (pictured elsewhere) was dedicated 24 June 1699, both Eric Anderson and his wife Brita were assigned pews.
Although both Eric and his wife remained members of Holy Trinity Church for the balance of their long lives, their only recorded communion was on 11 May 1714 when the minister recorded that Erick Anderson's wife had taken communion in her illness. They also occasionally appeared as baptismal sponsors for their grandchildren, which has helped to identify their children:
20 June 1723---Eric and Brita Andersson sponsors at baptism of Jonathan and Mark Kirk's daughter Elisabeth.
12 Oct. 1729---Eric Andersson sponsor at baptism of Olle and Kerstin Anderson's daughter Brita.
10 Oct. 1731: Brita Andersson sponsor at baptism of Olle and Kerstin Anderson's daughter Maria.
9 Jan. 1741: Brita Andersson sponsor at Peter and Catharina Anderson's son Andreas (Mary Anderson Brimberry's brother).
Baptismal records also show that Eric and Brita Andersson had the following children:
1. Olle Anderson, born c.1699, who married Kerstin Cock, by 1729
2. Maria Anderson, born c. 1701, who married Jonathan Kirk, 16 Aug. 1720
3. James Anderson, born c. 1703, who married Catharine (surname unknown) by 1734, and Brita Lynam, 19 Nov. 1735
4. Peter Anderson (#2, Mary's father), born c. 1705, who married (1) Kerstin Derickson, died 1738 and (2) Catharina Lynam in 1739
Of the three sons, James Anderson settled on White Clay Creek. The home plantation went to Olle and Peter Anderson---Olle being given the land to the east of Kennett Pike and Peter receiving the land west of Kennett Pike.
Both Eric and Brita led long lives. Brita was buried at Holy Trinity Church on 6 March 1750. The church census for 1764 listed Eric as a widower, blind and allegedly about 100 years---an exaggeration based on other records. Eirc died of old age and was buried 25 March 1765 at Holy Trinity Church, where a year later his granddaughter Mary Anderson and Matthias Brymberry were wed.
Her Maternal Grandparents: Anders and Brita Lynam

[

]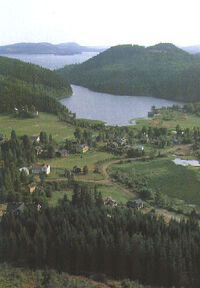 #6-7. Mary Anderson's maternal grandparents, Anders Lynam #6) and his wife Brita #7), emigrated to America with an infant daughter about 1715 from the län of Medelpad north of Stockholm on the east coast of Sweden. A list of communicants of Holy Trinity church made by Rev. Lars Girelius, dated 2 Nov. 1768, shows that Anders Lynam at the age of 86 being the oldest of the communicants still taking Swedish (rather than English) communion. This places his birth in 1682. He and his wife Brita appeared frequently as communicants beginning 5 June 1715 when they first appeared in church records, about the same time as Christiern Brunberg suggesting that they arrived in America about the same, although from different parts of Sweden. Anders and his wife, Brita, remained faithful communicants for the balance of their lives. Their eldest child, Brigitta, was not baptized at Holy Trinity church, further suggesting that she was already born and immigrated to America with her parents from Sweden.
On 24 Feb. 1720 Anders Loinan was given permission to use and improve some of the "priestland" (glebe land) for four years on half-shares. This may be the same land as was conveyed to Andrew Lynam by the Church on 4 Nov. 1738, which consisted of slightly over 136 acres. In 1724, Anders Loinan was named sexton of Holy Trinity church, a position he continued to hold to 1748.
Anders' wife, Brita, said to be 61 years old, was buried 2 February 1741, at which time she was reported living over the Brandywine. In the succeeding church census of 1753, Anders Loinan, desceribed as a farmer, was reportedly living in Hans Peterson's ward over the Brandywine. He was, however, living in the Newport ward in Christina Hundred at the time of the 1764 church census. He was also a resident of Christiana Hundred when he wrote his will on 31 Dec. 1768. He died before Jan. 1771, when his will was proved.
Anders and Brita Loinan or Lynam had eight known children:
1. Brita Lynam, born c. 1714, who married James Anderson, 19 Nov. 1735
2. Jöran (George) Lynam, born 19 May 1716, who married (1) Catharina by 1744 and (2) Margaret Stalcop, c.1750. He died c.1763.
3. Maria Lynam, born 29 Nov. 1717; buried 22 Dec. 1717
4. Catharina Lynam (#3, Mary Anderson's mother), born 6 March 1719, who married Peter Anderson (#2, Mary Anderson's father), 10 Jan. 1739
5. Anders (Andrew) Lynam, born 2 Nov. 1720, who married Sarah Hall, 25 June 1751
6. Johan Lynam, born 8 Sept. 1723, who married Catharina Derrickson, 17 April 1745; died Dec. 1768, Christina Hundred
7. Maria Lynam, born 18 Oct. 1725, who married Jacob Anderson, 25 June 1751
8. Christina Lynam, died 1753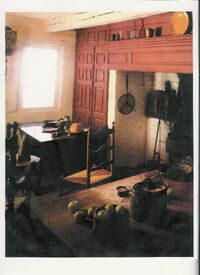 The first American log houses were built in Delaware about 1639 by Swedish settlers, and like later frontier log cabins, were intended as make-do shelter until the family could build a frame house. This log house, on display at the National Museum of American History at the Smithsonian Museum in Washington, D.C., was built by Mary Anderson's uncle George Lynam on Mill Creek around 1740. In the 1763 church census, Matthias Brynberg was shown as a bachelor farmer living in Christiana Hundred adjacent to Margareta (Stalcop), widow of George Lynam, who died the year before in 1763.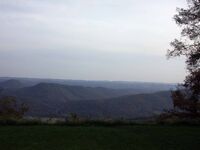 The Lynams were also early settlers in southwest Virginia, where Mary's cousin, Richard Lynam, was killed by Indians at Elk Garden in 1778 while serving in the militia. His brother, Andrew Linam (Lynam), also served during the American Revolution and received a pension. Located in present Russell County, Virginia, it is prophetic that several of Richard Linam's kinsmen, including the Andersons, Hendricks, and Brimberrys later settled in the Elk Garden area where Linam was slain. The serene view and Hendricks-Stuart mansion pictured above belie the sacrificies made by Linam and others in securing the area for settlement.
Her Great Grandparents: Anders and Sophia Jöransson

[

]
#8-9. Mary Anderson's paternal grandfather's parents. The first English census of the Delaware River valley, dated, 1671, disclosed one "Andrew Urinson" as the head of a household at Christina (present Wilmington), located between "James Mett" (Jöns Andersson, the smith) and "Hans Petersen" (Hans Petersson). On 27 Sept. 1672, Anders purchased part of a plantation known as Deer Point, west of Christina, from a Swedish Finn named Sinnick Broer (who became Sophia's second husband following Anders' death). Another move was planned in June 1675 when Anders Jöransson and an Englishman purchased 540 acres south of the Cohansey River in New Jersey. Before the move was made, however, Anders Jöransson died. His widow Sophia sold his interest in the New Jersey property in February 1675/1676. Two years later, on 8 May 1678, Broer Sinnicksson, Sophia's new husband, was granted Anders Jöransson's land at Deer Point on his promise to pay Ander's five children 500 (Dutch) guilders apiece when each became 21. Broer's subsequent payments identify these five children (all born in America) as:"
1. Christiern Andersson, born c.1662-1664
2. Jöran Andersson, born c.1666
3. Jöns Andersson, born c.1669
4. Eric Anderson (Mary's grandfather, #4), born c. 1671
5. Peter Andersson, born c. 1675
The eldest son, Christiern Andersson, was naturalized by William Penn on 21 Feb. 1682/3, suggesting that he was at least 21 by that time and, therefore, was born by 1662. However, he was not paid his 500 guilders until April 1685, suggesting a birth year of 1664. (The colony of Pennsylvania then included the Three Lower Counties of Essex, Sussex and New Castle, or Delaware.)
In the 1693 church census of the Swedes on the Delaware, Christiern Andersson was named by his father's patronymic as Christiern Jöransson (the name he retained for the rest of his life), but he was not included among the 40 males in that census who were born in Sweden. This demonstrates that Anders Jöransson and his wife Sophia immigrated to the Delaware River before the English conquest of the Dutch in 1664.
The name of Anders Jöransson is not to be found among the lists of New Sweden settlers, 1638-1656. There was a person named Andrian Jöransen who was skipper on the "Fogel Grip" , 1637-39, and the Kalmar Nyckel, 1641-42, but he was from Saardam, the Netherlands, and never remained in America. Dr. Amandus Johnson also lists and "Anders Jöransson" as a constable in New Sweden, 1640-43. (According to Dr. Craig, who is being quoted here), Dr. Johnson's listing is in error (an error repeated by researchers Charles and Ruth Springer and Jerry Brimberry during the 1970s). Instead, ... the constable's named was Anders Anders Jönsson and he returned to Sweden in 1642.
By his name, we know that Anders Jöransson was the son of a Jöran, which was the Swedish equivalent to the name George. In modern Swedish the name is Göran. The first letter is silent so that it sounds like "Yeran." There were a number of New Sweden settlers with the name of Jöran, but none stands out as a prospective father for Anders Jöransson. Alternatively, and more likely, he eotjer came to New Sweden as an orphan or a young servant or else was among the Swedes and Finns arriving in 1663 when the Dutch were in control of the Delaware river.
Broer Sinnick, Sophia's second husband was a Finn born in Sweden. He served for many years as a warden of the Swedes' church at Crane Hook and, after the new Holy Trinity Church at Christia was dedicated in 1699, at that church also. He died on 30 November 1708 and was buried two days later under his own pew in the church. By her second marriage, Sophia had a sixth son, James Sinnicksson. Sophia died in 1717. Her estate was administered by Mary Anderson, wife of her second son Jöran Anderson. Her fourth son, Eric Anderson #4, was Mary Anderson Brimberry's paternal grandfather.
Her Great Grandparents: Olle and Kerstin Paulson

[

]
#10-11. Olle Paulson and his wife Kerstin, who were Mary Anderson's paternal grandmother's parents, were born in Sweden; however it is uncertain when Olle arrived on the Delaware and whether he was the son of an immigrant named Paul or Päl (its Swedish form) or came by himself as a young adult. The first mention of him in surviving records is a patent dated 13 Feb. 1667/8 which was issued to him and Thomas Jacobsson for "Bread & Cheese Island", located in the Christina River west of Christina. The 1671 census identified him as "Clicker Olla," indicating that he was then the "klorckare" or parish clerk at the Swedes' church at Crane Hook. By 1684, he had moved to a 200-acre tract at Feren Hook on the south side of Christina River closer to Christinga. He died between 1693 and the end of 1696 when widow Paulson was listed as owner of the above property. She was still a communicant at Holy Trinity church as late as 23 May 1726. Six of their children have been identified:
1. Paul Paulson, married Elisabeth Lemmens, daughter of Hendrick Lemmens
2. Britia Paulson, married Eric Anderson (Mary Anderson's paternal grandparents,#4-5)
3. Olof Paulson, Jr.
4. Peter Paulson
5. Kerstin Paulson
6. Maria Paulson
Matthias and Mary's Seven Sons
[
]
THE SEVEN SONS OF MATTHIAS BRIMBERRY AND MARY ANDERSON form the seven branches of the Brimberry family. They were:
Peter Brimberry (1767-c.1831) m. Dicey Walker 1790 Washington Co., VA
Jacob Brimberry (1768-c.1823) m. Jane Cunningham 1808 Indiana Territory
Joseph Brimberry (1770-1820/30) m. in KY or IL, last appeared Ouchita Pr., LA
John Brimberry (1772-1830/40) m. Agness Beethe 1797 Bourbon Co., KY
Isaac Brimberry (1775-1847) m. Mary Beethe 1798 Bourbon Co., KY
William Brimberry (1778-c.1836), m. Catherine Duggins 1807 Wilkinson Co., MS
Samuel Brimberry (1785-1837) m. Mary Jones 1816 Crawford Co., KY
In some respects, it has been easier to trace Matthias and Mary's ancestors than it has been to trace the footsteps of their sons as they moved about the frontier. The couple moved with Mary's family to Orange Co., NC in 1768; thence to Washington Co., VA in 1785, the same year son Jacob signed a petition at Ft. Boonesborough, KY. During this period, they were often accompanied or joined other Swedish kin (Anderson, Lynam, Stalcup, Hendricks).
Jacob, John, Joseph, Isaac and Samuel are subsequently found in Kentucky by 1791 and Illinois by 1813. Peter, who like his father before him, was a wagon maker. Peter moved from SW Virginia to Greenville Co., SC where he lived out his life. His brothers, Joseph, John and William are also found in early Greenville Co., SC records.
William eventually settled along the Ouachita River in LA by 1810 and served in a La. Voluntary Infantry Regiment at the Battle of New Orleans. By 1830, he was joined in northern Louisiana by his brothers, Joseph and John, who moved there from Illinois. Isaac and Samuel, who was a captain in the Black Hawk Indian War, moved to Texas from Illinois when Texas was still a part of Mexico. Jacob apparently died or was killed by river pirates as he transported produce on a flatboat enroute to New Orleans from Illinois on the Mississippi River.
Peter's children all moved to Georgia; some remaining there, others westward to Arkansas, Louisiana and Texas. Through out all of these movements it appears that the brothers maintained contact with one another. Their constant search for land or a better life, and overlapping presence in the same locations, has caused confusion and presents questions which the Brimberry DNA project strives to answer.
KNOWN ADOPTION LINES: (1) Jacob Brimberry's son, John, married Margaret Higgins who had a son by Leonard Simons. John was a veteran of the Black Hawk War in Illinois and his stepson, also named Leonard, adopted the Brimberry surname. (2) Jacob Brimberry's son, Joseph, and Joseph's wife Nancy Jones reared three children of Clarissa Seaney and William Fuller. "Orphaned" Perry adopted the Brimberry surname and enlisted in the Union army in another man's place at the age of 15. (3) Peter Brimberry's son, William, owned a slave named John who adopted William's surname. The former slave, John Brimberry, was born in Rockbridge, VA and lived to be 106 years old (1800-1906). His descendants live in South Georgia and Florida. The DNA of male descendants of these "adoption" lines will therefore not match that of male descendants of Christiern Brunberg.
The descendants of these surname-adoption lines are still viewed as much a part of the Brimberry family history as anyone else. While we may not share the same genes, we nevertheless share the same family history!
7.1 Peter Broomberry & Dicey Walker
[
]
Peter Broomberry (c.1767-after 1830) and Ducay (Dicey) Walker (1771-1823) were married in 1790 in Washington County, Virginia by Nicholas Reagan, an early Methodist minister in the Saltville-Clinchburg area on the North Fork of the Holston River. Bishop Francis Asbury held the first Methodist conference west of the Alleghenies at the residence of Stephen Keywood (Cawood) and Hester Berry near Reverend Reagan's home in 1788. Methodism continued to play a strong influence in the lives of successive generations of the Brimberry family as evidenced below. See Spicey and Dicey Notes.
Dicey Brimberry's Walker Line
Dicey (Walker) Brimberry's parents are unknown. However, she is likely descended from one of five different Walker lines found in early [Washington County, Virginia]. Dicey Walker's younger sister, Spicy (1776-1821) was married a few months after Dicey and Peter. Spicy was married to James Meek, son of Joseph and Lydia Meek. Spicy (Walker) Meek's father-in-law owned a large parcel of land known as the Big Springs tract on the south side of the Great Wilderness Road (present-day U.S. 11) between Abingdon and Marion, Virginia (near Exit 32 of Interstate-81 which parallels U.S. 11 and literally cuts through the Big Springs tract). Bakers Creek intersected the road a short distance to the west of Joseph Meek, Sr.'s Big Spring tract. Survey records show that Peter's father, Matthias Brimberry, also lived nearby on Bakers Creek near the "old Indian path". Dicey's sister and her husband lived in the Old Meek Stone House, which still stands near the intersection of U.S. 11 and County Road 751 or Fleet Road (I-81 Exit 32).
Dicey's sister Spicy Walker and her husband James Meek are of interest because of information gleaned from the past about Dicey's nephew, Joseph Lafayette Meek. Joe Meek gained fame as a mountain man and Western explorer who helped blaze the Oregon Trail. The subject of three biographies, Meek purportedly was related to President James K. Polk by marriage through their "Walker kin" however this is unproven. Subsequent research showed that President Polk's two sisters married grandsons of Joseph Walker of Rockbridge County, Virginia. Joseph Walker's grandnephew, Joseph R. Walker, also gained famed as a western explorer.
Suffice Joseph R. Walker of California fame and his brother Joel Walker frequently explored the west with Joe Meek and his brother Stephen Meek. The foursome all participated in the Bonneville expedition with Joseph R. Walker acting as chief pilot or guide of the exploring party. Oren Morton, author of "The History of Rockbridge County, Virginia", claimed that the roots of western explorers and mountain men Joseph R. Walker and Joe Meek could both be traced to Rockbridge County. While this is true of the Walker brother's parents, Joseph Walker and Susan Willis, there is no proof of kinship with the Meek brother's mother, Spicy Walker. Hence the parents of Dicey and Spicy Walker remain a mystery at this time. Click the following link for additional information concerning Dicey and Spicy and the [of Early Washington County, Virginia].
James Meek and Spicy Walker, too, were married in Washington County, Virginia by Reverend Nicholas Reagan and were devout Methodists. A full-page obituary and eulogy appeared in the national Methodist Magazine following Spicy's death in 1821 at age 44. Two years later, Dicey Walker's obituary appeared in another Methodist publication, the Mt. Zion (Georgia) Missionary: "Mrs. Dicey Brimberry, died no date given in Greenville District, S.C., 52 years, wife of Mr. Peter Brimberry. (Nov., 1823)"
AUTHOR'S NOTE: Dicey's first born child was named Sarah. Naming practices of that time, suggest that Dicey's mother's first name may have been Sarah, especially since her second born daughter Mary was undoubtedly named after Peter's mother. Another daughter, Susan W., may also offer a clue to Dicey's mother's name if Susan's middle initial stood for Walker. Dicey's sister Spicy Meek also had a daughter named Susan. While Spicy also had a daughte named Dicey after her sister, it should also be noted that she did not have a daughter named Sarah, albeit she had a daugher and son named after her husband's parents as was also the case with Dicey.
Peter Brimberry's Swedish Ancestors
Peter Brimberry was the eldest son of Matthias Brimberry and Mary Anderson, both of whom were of Swedish stock. They were married March 11, 1766 at Holy Trinity (Old Swedes) Church. Matthias was born in 1736 in present-day Wilmington, New Castle County, Delaware; and died c.1811 in Kentucky. Mary was born in 1748 in Wilmington, and died after 1785. Their children: Peter, Jacob, Joseph, John, Isaac, William and Samuel.
As reported elsewhere in this narrative, Peter Brimberry's father, Matthias, was 14 when Matthias' mother died in 1750. In 1752, Matthias' father, Christiern Brunberg (pronounced Brunberry) died. As prescribed in Christiern's will, Matthias was "lett out to a trade" and learned wagon making, a craft handed down three generations from Matthias to Peter to the narrator's great-great grandfather, Matthias Brimberry (1799-1854).
In 1768, Mary and her husband, Matthias Brimberry, and their son Peter, moved to Orange County, NC with her parents and several other Swedish families. Six more sons (Jacob, John, Joseph, Isaac, William, and Samuel Brimberry) were born in NC, forming the seven branches of the Brimberry family in the United States. And, as the frontier west of the Appalachian Mountains opened to settlement following the Revolution, the Brimberrys and their kindred crossed the mountains into southwest Virginia and Kentucky, or followed the Piedmont into SC and Georgia.
Peter and Dicey (Walker) Brimberry's Children
Soon after marrying, Peter and Dicey (Walker) Brimberry moved to Greenville District, SC where, like his father, Peter was a wagon and carriage-maker for more than 30 years. Peter and his wife, Dicey, remained active communicants in the Methodist faith, and had 10 known children, all of whom moved to Georgia. Four older children appeared in Hancock County by 1820; and, the remainder moved to Georgia a few years after their mother's death in Greenville in 1823. The last record of Peter is found in Greenville, SC in 1829. His youngest son, William Harrison Brimberry remained in SC until 1833, after which William and three younger sisters appeared in the marriage records of Morgan County or Walton County between 1833-1838. Their oldest surviving brother, Matthias, appeared on the 1830 census in Walton County, served as captain of a local militia district there in 1831, and moved to Morgan County the following year, strongly suggesting that Matthias father died about 1831, and his five younger siblings, ages 11-19, became his charges.
Peter and Dicey (Walker) Brimberry's had 10 children and 25 known grandchildren:
1. Sarah Brimberry m. Ryel Black
2. Mary Brimberry m. (1) John Owen (2) John Moss
3. John Brimberry m. Mary Archer
4. George Anderson Brimberry m. Nancy Morris
5. Matthias Brimberry m. Elizabeth Minton
6. Susan W. Brimberry m. Alfred Shaw, Jr.
7. Elizabeth Brimberry m. Fielding W. Arnold
8. William Harrison Brimberry m. (1) Arminda Reynolds (2) Sarah Blythe
9. Amelia Caroline Brimberry m. Dixon W. Darnell
10. Armanda Brimberry m. David A. Barron
Sarah Brimberry
[
]
7.1.1 Sarah Brimberry (c.1791 SC-1823 GA) married 1821 Royal (Ryel) Black in Hancock County, Georgia (no issue), and died there October 1823 at age 32. Her obituary appeared in the Methodist Mt. Zion Missionary on Nov. 3, 1823 beside her mother's obituary. Sarah's husband afterwards married Nancy Middlebrooks.
Mary Brimberry
[
]
7.1.2 Mary Brimberry (March 24, 1793 SC-after 1850 GA), married (1) John Owen, born 1780; (2) John Moss. Mary and John Owen had one known child: Anna Marie Owen (1815 SC-1897 GA). Mary (Brimberry) Moss was living in Talbot County, GA in 1838, and was still there in 1850 with her daughter, Anna, her son-in-law, David A. Cottingham, and their two children, John and Allace. David was a master carpenter who, along with his brother James D. Cottingham, built many fine antebellum homes and plantation houses in Talbotton and Talbot County.
It is also noteworthy that Cottingham helped build the James Thomas Owen plantation mansion. Owen was the son-in-law of William Blount Marshall and his wife Mary Annice Flourney (daughter of Reverend Francis Flourney of Morgan County) who conveyed 160 acres to Mary Brimberry Owen Moss' brother-in-law Dixon W. Darnell in 1876 in Ouachita County, Arkansas, strongly suggesting a familial relationship between the Brimberry-Marshall-Owen families. James Thomas Owen was the son of Daniel and Sarah Willis Owen, and Daniel may have been Mary Brimberry's first husband's brother. Also see Amelia C. Brimberry-Dixon W. Darnell.
John Brimberry
[
]
7.1.3 John Brimberry (c.1795 SC -1830 GA), a wagon maker, married Mary Archer in Hancock County, GA in 1820. Mary was the daughter of Frederick and Sarah Archer. Following John's death, she married Jesse Pittman and they moved to Bienville Parish, Louisiana. John and Mary Brimberry had one child, John F. Brimberry (1826-1872), who settled near Robert, La. in Tangipahoa Parish. John F. Brimberry married 1856 Mildred Robertson (1830-1890), daughter of William and Eliza (Bengtssen) Robertson. Their children: Emma Jane (born 1857, married Charles Wesley White, 1874; Charles H. Eagen, 1877---childless); and Neva (born 1860-died 1939, married John Painting, 1876---seven children). A carpenter, John F. Brimberry served in Co. C, Mile's Louisiana Legion. He was captured and paroled twice near Vicksburg. He is interred in Robert.
As her first-born son, naming practices of that time, suggest that Dicey's father's first name may have been John, especially since a later born son was named Matthias after Peter's father.
George Anderson Brimberry
[
]
7.1.4 George Anderson Brimberry (c.1797 SC-1828/29 GA)married 1820 Nancy Morris (daughter of Benjamin and Apselia Morris) in Hancock County, GA. They moved to Crawford County with Nancy's parents, and had two daughters: (1) Martha S. Brimberry (1822-after 1887) married James W. Stembridge, son of John and Sarah Stembridge; and (2) Mary (1823-1891) married Morgan Hancock (1816-1882), son of John and Eleanor Hancock.
George Anderson Brimberry died c.1828. His widow, Nancy, married Littleberry Ogburn in 1846. Daughters, Martha (Stembridge) and Mary (Hancock), remained in Crawford County where Morgan Hancock later became sheriff.
James W. and Martha (Brimberry) Stembridge had 8 children: Sarah; Nancy (m. a Mr. Andrews); William; Joseph B. (m. Sarah Patterson); Marietta; Emma; Lydia; and Martha (m. M.H. Slocum). Tina Peddie's ancestors
Morgan and Mary (Brimberry) Hancock had 6 children: Sarah E. (m. B.F. Kennedy); Martha V. (m. A.J. Burnett); John R. (m. Martha Smith); Nancy G. (m. J.Z. Smith); Erastus K. (m. Martha Hatcher); and Edgar E. (m. Mollie Yarborough).
Matthias Brimberry
[
]
7.1.5 Matthias Brimberry (1799 SC-1854/55 TX)married Elizabeth Minton (daughter of Joseph and Lucretia Minton) in Greene County in 1827. Elizabeth's father died in 1809 in Hancock County. In 1821, Joseph Minton's widow, Lucretia married Joseph Martin who died in 1824. Reverend Lovick Pierce commented on her passing in the Methodist Southern Christian Advocate in 1837, stating she united with the Methodist church in 1802.
Morgan County records show that Lucretia (maiden name unknown) Minton Martin in 1829 gifted household items and other valuables to her daughter Apsey Minton Thompson's four children. Apsey was Elizabeth Minton Brimberry's sister and the wife of Joseph Thompson, all of Morgan County. See George Washington Thompson family.
Matthias and Elizabeth (Minton) Brimberry appeared on the 1830 census in Madison where Matthias plied his trade as a wagon-maker before moving to Monroe. His father probably died about this time, leaving him with responsiblity for his younger siblings inasmuch as his two older brothers had died 1828/1829 and his younger brother and sisters (William H., Susan W., Elizabeth, Amelia C., and Armanda Brimberry) all married between 1830-1838 in Morgan or Walton County.
Matthias was elected captain of Walton County's 417th militia district in 1831; and moved to Copiah County, Mississippi about 1837 and to Claiborne Parish, Louisiana around 1842. In 1852, Matthais moved his family to Houston County, Texas where he died about 1854/56. Elizabeth (Minton) Brimberry saw five sons ride off to war, two of whom are pictured below. Elizabeth died before 1870.
Matthias and Elizabeth (Minton) Brimberry had seven children:
(1) John M. Brimberry, born 1828 in Morgan County, married Mary L.E. Jamerson in 1852 in Cherokee County, Texas. Childless, they probably died in mid-1850s cholera epidemic which swept Texas.
(2) James Brimberry, born 1830 in Morgan County, married Martha Cannady about 1858 in Houston County, Texas. James, along with brothers, Peter and George, served in Randal's 28thTexas Cavalry Regiment. James was killed in a skirmish in White County, Arkansas and is buried beside several fallen comrades and foes in Old Dogwood Cemetery, five miles south of Griffithville. He and Martha had one son, Jasper, who died young.
(3) Mary Brimberry, born 1832 in Walton County. Married Robert J. Beard, Jr. about 1855 in Texas and died before 1860. She and Robert had one son, Thomas J. Beard (1856 Texas- 1917 Logan County, Arkansas). Robert moved to Arkansas and was killed during the Civil War. An orphan, Thomas married first Eudora Smith (1858-1899). Their 9 children, all born in Logan County, were: Susan (m. Elmer Frost); John W. (m. Martha Friddle); Omer D. (m. Clara Mills); Thomas J. (m. Flora Denton); Marietta (m. Walter Hawk); Alberta (m. S. Archie Penicks); Alma (Bert Young); William F. (m. Ethel Hoover); and Herbert C. (m. Mary Woodall). Nina Strahm's ancestors
(4) Elbert Brimberry, born in Walton County about 1836, married Mary (Polly) Denson in 1864 in Anderson County, Texas. Elbert died in 1884, age 48, leaving behind his wife and four children: George T. (m. Etta Kincaid); Lucy A. (m. William Dotson); Miles (unmarried); and Zackary (unmarried). Elbert served in Parker's Brigade, Walker's Division.
(5) Peter Brimberry, born 1838 in Copiah County, Mississippi, married Letha Ann Hollingsworth in 1865. Also served in Randal's 28th Texas Cavalry. A school teacher, he moved to Nevada County, Arkansas, near his cousin, Dr. Jerry C. Darnell (see Amelia C. Brimberry-Dixon W. Darnell below).

Peter Brimberry died 1880, age 42, whereupon his widow returned to Houston County, Texas. They had 6 children: Matthias Jot (unmarried); Ida E. (m. W.T. Totty); Ada M. (m. Thomas Herbert Leaverton); John W. (unmarried); Emma (m.Thomas Herbert Leaverton after Ada died in childbirth), and Seth (moved to Arizonia where he married, no children).
(6) William Henry Harrison Brimberry, born 1842 in Claiborne Parish, Louisiana. Never married. Fought at Vicksburg in Waul's Texas Legion. Died 1900 in Houston County, Texas.
(7) George Anderson Brimberry (1843-1923), nicknamed Gray, born in Claiborne Parish, Louisiana. Served with brothers, James and Peter, in Randal's 28th Texas Cavalry Regiment. Married 1870 to Nancy Jane Denson (1851-1932).

Nancy and her sister Polly, wife of Elbert Brimberry, were the progeny of John and Mary Ann (Crawford) Houston Denson. Mary Ann Crawford's first husband was a relative of General Sam Houston and was killed in the Surveyor's Indian Fight near Dawson in 1838. Mary Ann's parents were Joseph Crawford and Mary (Polly) Cauble/Cobble, of Rowan County, NC. John Denson and his parents, Thomas C. and Polly Denson of Anson County, NC, migrated to Texas before the war for independence from Mexico.
A Confederate pensioner, George A. Brimberry died in 1923. A farmer, he donated land for the Sunset Christian Church near Grapeland. George A. and Nancy (Denson) Brimberry had 7 children: William M. (m. Cora Price)---this writer's paternal grandparents; James S. (m. Julia Green); Fannie (died young); Lydia (m. John James); Roxie Ann (m. Joe Colkin); Ben F. (m. Beulah Owens); and Marshall L. (m. Eula Coleman).
Editor's Note: Three Y-DNA project participants, Kevin Brimberry , Will Olan Brimberry, Jr. and this writer, Jerry Brimberry, are descended from George A. Brimberry and Nancy Denson. Their eldest son, William M. and Cora (Price) Brimberry were Will's and my paternal grandparents. James S. and Julia (Green) Brimberry were Kevin's paternal great-grandparents.
For additional information on the Houston County, Texas line see "History of Houston County, Texas" published in 1979.
Susan W. Brimberry
[
]
7.1.6 Susan W. Brimberry (1803 SC-1868 GA) married Alfred Shaw (c.1806 GA-1881 GA) in 1830 in Morgan County, Georgia. He was the son of Elizabeth and Alfred Shaw, Sr. Alfred, Jr. was a merchant and operated a furniture store in Madison until his death. A fire which started in his furniture store destroyed much of the downtown area in 1869. His brother, Horace Thompson Shaw, was a physician in Newton County. Susan and Alfred Shaw, Jr. lived near the Madison Methodist Female Academy and were active communicants in the Methodist church.
Alfred and Susan (Brimberry) Shaw, Jr. are thought buried in Madison City Cemetery near their two daughters and Alfred's mother. Alfred and Susan (Brimberry) Shaw, Jr. had six children:
(1) Felix Bryan Shaw (Dec. 11, 1831 GA - 1900/10 TX). A physician, he and his wife, Theada (or Thiela) were married in 1863. She was born 1845 in Alabama 1845. Childless, they moved to Milam County, Texas by 1880, where they adopted a son, who was born in Germany, and named him Horace. In 1900 they were living in Navasota (Grimes County), Texas where Felix lived to a "good old age". His widow and adopted son appear on the 1910 census near Dayton (Liberty County), Texas where Horace listed his occupation as a "timber man".
(2) Charles Wesley Shaw (Jan. 27, 1834 - March 13, 1834, infant).
(3) Harriet Louisa Shaw (June 30, 1835 - March 16, 1845, age 9).
(4) Ann Elizabeth Shaw (Nov. 18, 1837 - March 25, 1855, age 17).
(5) Horace Thompson Shaw (April 9, 1840 - March 10, 1870) married Sarah Rebecca Rogers (1842-1918) in Madison about 1863, and served in Co. K, 5th GA Infantry. Three children: Simeon R., Horace T. and Susie.
Simeon R. Shaw (1864 GA-after 1910 TX) was a Methodist clergyman. According to family records, he helped co-found Southern Methodist University. He and his wife, Ada, were married in 1881. A year later, their first child was born in Japan while serving as missionaries. They had 8 children (Horace T., Sarah M., Simeon, John F., Alla W., Curran R., Jessie, and Katherine). Census data indicate that, after returning from Japan, Simeon R. Shaw and his family lived in Georgia between 1896-1901, in Alabama around 1904, and moved to Texas between 1905-1908. In 1910, Simeon and his family were living in Colorado City, Texas in Mitchell County, 250 miles west of Dallas. He died in Tennessee.
Horace T. Shaw (1867-1937) married in 1891 to Mary Bonner (1870-1919). Three children (Judson B., George S., and Neva May). Director and first cashier at the Bank of Madison which was founded by his kinsman, George B. Stovall. Facilitated construction of First United Methodist Church and lived in the Victorian house pictured below at 364 Porter Street. Married second, Mattie May Hutchinson, widow of Leonidas Ignatius Few and moved to Atlanta, where he died in 1937. He is buried in Madison City Cemetery.
Photo #3 of Shaw Residence - 364 Porter Street, Madison
Susan W. Shaw (1869 GA - 1955 GA) married Hubert L. Simmons (1868-1956). Both buried Madison City Cemetery.
(6) Alfred Homer Shaw (1840 GA - Feb. 17, 1879), Pvt. Co. D, 3rd GA Infantry. Never married.
Elizabeth Brimberry
[
]
7.1.7 Elizabeth Brimberry (1813 SC-1844 GA) married Fielding W. Arnold (1788 NC-1865 GA) Madison in 1832. Son of James Fielding Arnold (1754 Halifax County, Virginia - 1825 Monroe, Georgia) and Bethany Bailey (1770 -1850). James Fielding Arnold was a Major in the North Carolina militia during the American Revolution.
Fielding W. Arnold, husband of Elizabeth Brimberry, was Morgan County Court of Ordinary from 1848 until his death in 1865, when he was succeeded by his son-in-law, George Bishop Stovall. Fielding W. Arnold's original residence at the end of Kolb Street is pictured below. His 220 acre tract west of the railroad included the new section of Madison City Cemetery. According to deed records, he later moved to the intersection of Kolb and Academy Streets, near Frederick Foster.
Insert Photo of Fielding W. Arnold's Original Residence - Kolb Street

Fielding W. and Elizabeth (Brimberry) Arnold were active communicants in the Methodist Church. Their two daughters, Laura and Irene, were quite young when their mother died at age 31.
(1) Laura J. Arnold (1838-1921) married George Bishop Stovall (1835-1906) in 1862. Son of John and Martha (Bishop) Stovall, George B. Stovall served in Co. B, 3rd GA Infantry, and was a merchant and banker. Laura was very active in the Methodist Church and her portrait is displayed in the old Sunday school room of First United Methodist Church . They lived for many years in what is now the Parish Hall of the Episcopal Church of the Advent at 338 Academy Street, original site of the Madison Methodist Female Academy.
George B. and Laura J. (Arnold) Stovall had six children: Lena Stovall (1868-1937) married Joseph W. Adamson in 1893; Rosa Stovall, born 1870, married Henry Nolt Parker in 1892; George Stovall (1873-1899); Arnold Stovall, born 1878, married Harriett Lowenthal in 1900 in Pennsylvania, practiced medicine in Gastonia, NC; Julia W. Stovall, born 1880, married William H. Trawick in 1904; and Ida Stovall (1885 GA -1953 GA) married Osgood Clark in 1908.
(2) Irene E. Arnold (1840-after 1900)
married Solon Zackary Ruff (1837 GA - 1863 Tennessee) on May 17, 1860. S.Z. Ruff's father, Martin L. Ruff, and a business partner, Robert Daniell, erected and operated the Concord Woolen Mill, a saw mill, and a grist mill on Nickajack Creek near Smyrna in Cobb County. The site is known as Ruff's mill. A covered bridge built by Ruff still stands and is a local landmark.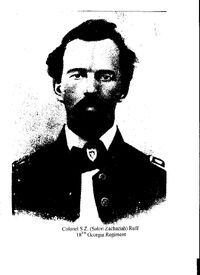 A professor of mathematics at the Georgia Military Institute in Marietta, [Colonel S.Z. Ruff, 18th Georgia Regiment], was first married to Susan Varner in 1857. Susan died in 1859 leaving behind an infant son, Martin Varner Ruff. War erupted soon after S.Z. and Irene (Arnold) Ruff married and moved to Marietta to resume his GMI faculty position. S.Z. Ruff was elected Lt.-Col. of the 18th Regiment GA Infantry in Longstreet's Corps, quickly distinguished himself in battle at Gaines Mill, Second Manassas, Antietam, Fredericksburg, Chancellorsville, and Gettysburg.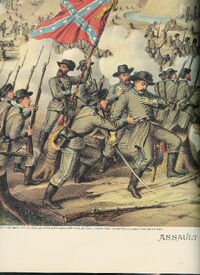 Promoted to Colonel at age 26, he was killed while leading his men during the ill-fated assault on Fort Loudon at Knoxville, Tennessee on November 29, 1863, leaving Irene with an infant son, S.Z. Ruff, Jr and unborn daughter. Click on the above link for a fascinating account of the battle and the aftermath 50 years later when Col. Ruff's personal effects, taken on the field of battle by a Union cavalryman, were returned to his family.
Irene (also Irena) Ruff and her son S.Z., Jr. lived with her sister, Laura, and brother-in-law, George B. Stovall, for a number of years and taught music. In 1878, she sold her interest in her father's property to George B. Stovall, apparently never remarried, and moved to Atlanta, where she last appeared on the 1900 census. S.Z. Ruff, the civil engineer who designed Ansley Park in Atlanta in 1911, is believed to be her son.
William Harrison Brimberry
[
]
7.1.8 William Harrison Brimberry (1814 SC-1889 GA) took over his brother Matthias' wagon-making business in Monroe, when Matthias moved to Mississippi. In 1838, William married Araminda Reynolds (1822-1879) in Monroe, GA. They later moved to Greene County Before moving to south Georgia, William Brimberry and his family often exchanged visits and letters with their Arnold and Shaw relatives in Madison.
The exodus of this family from Greene County to south Georgia began in 1857 with William H. Brimberry's eldest son and was completed in 1868 following the marriage of William H. Brimberry's daughter. William H. and Araminda (Reynolds) Brimberry had five children:
(1) William Washington Brimberry, infant, buried Old Alcovy Cemetery in Monroe.
(2) Benjamin Franklin Brimberry (1839-1927) married Juliett Hodges in 1860 after moving near Albany to teach at a select school after graduating from Irving College in 1857. B.F. enlisted in Co. C, 2nd GA Cavalry, and was promoted to Major and quartermaster of hospitals during the Atlanta campaign. He was elected to the State Senate 1863-64 and 1873-77, and appointed U.S. Marshal of South Georgia in 1886, and as Albany postmaster from 1899-1902. He is buried in Albany's Oakview Cemetery, and was Peter and Dicey Brimberry's last surviving grandchild.
(3) Marion Francis (Frank) Brimberry (1843-1909) married first Henrietta Hodges (1843-1882), daughter of the president of Andrew Female College in Cuthbert. Their children: William Harrison, Emma E., Alvin B. and Thomas E. Marion Francis Brimberry married second Nannie Hamilton (once child, Nannie Grace). He also served in Co. C, 2nd GA Cavalry, taught school in Mitchell County, operated a drug store in Camilla, and was a highly successful businessman.
(4) Martha Brimberry, born 1845, married Augustus Tuggle in Greene County in 1868 GA. They also moved to Camilla..
(5) Thomas Walton Brimberry (1848-1905) married 1880 Lena Parker (1862-1945) in Mitchell County. Five children: Nannie, Edna, Neva, Walter and William McKinley Brimberry. Thomas also taught school in Mitchell County, and was a successful businessman and respected community leader. Thomas, his parents and brother, Marion F., are buried in Camilla.
Amelia Caroline Brimberry
[
]
7.1.9 Amelia Caroline Brimberry (1817 SC-1887 Arkansas) married Dixon W. Darnell (1808-1871) about 1838 in Georgia, possibly Walton County. Morgan County records show Joseph Darnell was appointed Dixon W. Darnell's guardian in 1825 following the death of his father, Jeremiah Darnell. Amelia, too, is thought to have lived in Morgan County with her siblings.
Amelia and Dixon Darnell children moved from Georgia to Camden, Arkansas in Ouachita County around 1850. A mechanic by trade, Dixon built and operated the Lone Pine Ferry and became a prosperous businessman. Amelia donated land to build a Methodist church and maintained contact with her Brimberry kin in Morgan and Talbot County, Georgia and Houston County, Texas. Ameilia and Dixon had six children:
(1) Frank Darnell, born 1839 in Georgia. Killed at the Battle of Shiloh.
(2) Martha Darnell, born in Georgia in 1846. Married a Mr. Smith.
(3) Emily R. Darnell, born in Georgia in 1848. School teacher. Married W.H. Buffington in Camden in 1867. Died in 1893.
(4) Ida Darnell, born in Arkansas in 1852 (no additional information).
(5) Jerry C. Darnell, born in Arkansas in 1856. Physician. Married Alice Marsh in 1885.
Lived in adjoining Nevada County where his cousin Peter Brimberry moved to from Houston County, Texas.
(6) George H. Darnell, born in Arkansas in 1858. Died after 1881.
Armanda Brimberry
[
]
7.1.10 Armanda Brimberry (1822 SC-after 1870 GA) married David Barron in Walton County in 1835. He was a shoemaker by trade and they moved first to Pike County, then to Talbot County. They were childless and last appeared on the 1870 Talbot County census.
7.2 Jacob Brumberry & Jane Cunningham
[
]
The name Jacob Brumberry is first found when he signed a petition at Boonesborough, Kentucky on September 26, 1785. Petition 27, as it is officially known, was one of 110 petitions by the early inhabitants of Kentucky, which was then a part of Virginia, to the commonwealth between 1769 and 1792. Although other records do not indicate that Jacob resided inside the fort at Boonesborough, petition 27 to create a new county nevertheless bears the signatures of many Boonesborough residents including Daniel Boone.
It is also interesting to note that Jacob appeared in Kentucky at Fort Boonesborough the same year that his parents, Matthias Brimberry and Mary Anderson, moved from Orange County, North Carolina to Washington County, Virginia. Two years later, in 1787, Jacob's father appeared on the 1787 tax list with two sons over age 16, one of who was, Peter, believed to be the eldest of the seven Brimberry brothers. The other may have been Jacob, who like Peter may have been born in Delaware before the family moved to North Carolina with other Swedish kinsmen. Likewise, the second tithable between 16 and 21 was Jacob's brother Joseph since both Peter and Joseph (both by now 21 or older) appeared with their father Matthias on the 1790 tax lists of Washington County, Virginia.
Suffice based on available evidence, it is believed that Jacob was born circa 1768, suggesting that he was only about 17 years old when he signed the petition at Boonesborough. It is also interesting to note that Jacob and his father's surnames were both spelled "Brumberry" in separate records in 1785. While it is unknown whether Jacob or Joseph was the second eldest it is certain though that Jacob arrived in Kentucky first, followed by his father and four of his brothers within two or three years. The two exceptions were Peter who moved instead to Greenville District, South Carolina and William who moved to Louisiana via Tennessee and Mississippi.
Undoubtedly possessed with wanderlust and an adventurous spirit, Jacob also appears to have led the way for his brothers Joseph, John, Isaac and Samuel into the Northwest territories of Indiana and Illinois which were then wild, untamed country filled with danger lurking from hostile Indians seeking to stem the influx of settlers. Since Matthias last appeared in any record in 1811 in Warren County, Kentucky it is surmised that he died there about age 75.
Jacob's movements are largely unknown between 1785 when he signed the petition at Ft. Boonesborough and 1803 when he appeared in the records of Clark County in then Indiana Territory across the Ohio River from Louisville. While he does not appear in the records of Bourbon County, Kentucky with his father or brothers, it can be assumed that he maintained close contact with his family because his brother John, who married Agness Beethe in Bourbon County, Kentucky in 1797, appeared with him a court record in Clark County in 1803. It is also possible that he lived in Indiana Territory before 1803 since many of the early records of Clark County were lost in a flood.
Jacob Brumberry married Jane Cunningham in Southern Indiana on 20 Oct 1808. Jane was the daughter of John Cunningham and Mary McIan. Jane's parents, who were Scottish and Catholic, were married in Maryland and moved to Washington County Kentucky after the Revolutionary War. John Cunningham, a Revolutionary War veteran, is last found on the Washington County, Kentucky tax list for 1793. Possibly, Jacob knew Jane and her parents before moving to Indiana Territory.
Jacob and Jane moved to Eagle, Illinois Territory soon after they were married and two of their children, Elizabeth and John, were born there. Jacob joined Jacob Short's Company of Territorial Rangers and served from July to November 1812. Banded together in groups, the Rangers traveled around scouting for Indians in order to protect the settlers. He was allowed $23.60 for the use of his horse and $19.42 for his service. He was one of the Rangers that chased the Indians that murdered the Lively family, capturing them in eastern Illinois. Jacob then joined Jacob Short and served from Feb.27 to May 31 of 1813.
Jacob then moved to the Kaskaskia River area in what is now Washington County, Illinois. He lived at or near old Covington and was in the cattle business with Andrew Bankston. He joined Nathaniel Journey's Company and help navigate a boat up the Illinois River to Peoria where the Territorial Governor was battling a large group or troublesome Indians. Jacob and Andrew Bankston sued Rubin and Robin Middleton for nonpayment of money they promised for cattle that Jacob had sold. They were arrested and taken to Belleville where they paid up plus a fine and turned loose.
Jacob then moved to what is Marion County where he was counted in the statehood census of 1818. He was listed between Samuel Young and Hugh Shearwood along Crooked Creek, south of present day Odin, Illinois. Jacob and Jane's children Joseph, Mary, and Margaret were born at this or the Covington location.
In 1818, Solon Buck traveled from Vincennes to St Louis. During his trip he stopped for the night and found himself in the middle of a band of cutthroats and robbers. Fearful for his life he stayed awake throughout the night. One of the names he heard talked about was "Vimberry". Mr. Buck must have stopped at a tavern run by a name named Rutherford. This tavern was on the road about where the town of Xenia, Illinois is now located.
Xenia was a crossing of trails and had three known taverns. Just west of this location the trail branched off to the southwest and was known as the Kaskaskia Road. This road ran to the Territorial capital about where the Kaskaskia River flows into the Mississippi. Another trail, called the Goshen Road, ran from about Shawneetown on the Ohio River to a place near Edwardsville, Illinois. The Kaskaskia and the Goshen roads crossed at Walnut Hill, Illinois.
Down the Kaskaskia Road, just north of the village of Kaskaskia, a family named Goings lived. These people had many talents including making rifles that were favored by the territorial governor and the Rangers. They also made all kinds of trinkets as well as sugar cane wine. These two roads became busy with settlers and the Goings boys decided to set up shop near Walnut Hill and sell some of their items. One of the items they made was money. They made change with their pieces of money. This generated several complaints and local "Regulators" came over to the camp and gave the boys a chance to leave the state, if not they advised them that they had all the rope and trees they needed to take care of the situation. One of the names listed in this incident was John Brimberry. John lived near the Goings and "forted" at their place during Indian troubles. The Goings and John Brimberry left the state.
EDITORS NOTE: In fairness, it should be noted that there was not a common currency in the United States at this time, and specie was in short supply, particularly along the frontier. Hence, farmers and tradesmen had to either resort to bartering or find other mediums of exchange such as "paper notes". By the Civil War, the United States had more than 10,000 paper currency in circulation, most not backed by gold and fraud was rampant. Hence there was a general distrust of paper currency and the people who produced it.
Between present day Harrisburg and the Ohio River, another incident occurred in 1819. A group of local rowdies gathered at a tavern on the Goshen Road. During the evening one of the men, Isaac Kingsland, decided to have a nap and sat down in a corner. Another man decided to have some fun and put a cigar in Kingsland's mouth and pulled his hat down over his face. Later in the night the tavern owner tried to wake him up and found that he was dead. Believing that the cigar choked Kingsland to death, the group that had left was blamed for his death. The sheriff started after this group but they had gone over into Kentucky. One member of the group was named Brimberry. He was described as about 5 feet 10 inches tall, light complexion, full face, and 25 years old. Nothing further came of the incident because they found the man had died of natural causes. The tavern owner, however, was fined for not having a license.
No one knows who this Brimberry was. If the age 25 is correct that person could not have been either Jacob or his brother John. More than likely, it was John and Agness Brimberry's son, John. Jacob and John both lived in the area of the incident while Samuel and Isaac lived in Crawford County.
In his final move, Jacob went across the state to Crawford County and settled near his two brothers, Isaac and Samuel, in the Richwood area northwest of Vincennes. He engaged in farming and timberwork. In the spring of 1820 Jacob built a flatboat and that fall he loaded it with produce and started on a trip down the Wabash, Ohio and Mississippi Rivers, probably to New Orleans. Jacob never returned. No information has ever been found that would lead to the fate of Jacob. According to a daughter, in a history of Crawford County, Illinois, published in 1909, her father (Jacob) was murdered by river pirates or drowned; however this is unproven.
Alone in the wilderness with several children and expecting another baby, Jane (Cunningham) Brimberry, let the older children work for neighbors for room and board. Jane went to live with the DuBois family in the Dubois Hills across the river from Vincennes. Jacob and Jane's last child, Nancy Jane, was born there.
Jane waited for five years for Jacob to return. With all hope gone she married Blanton Brashear in Crawford County. This marriage produced two children, Alfred and Ithra.
Jane passed away on 14 Feb. 1849 and is buried next to her second husband in the Wesley Chapel Cemetery 3 miles south of Palestine, on Route 33.
Jacob and Jane had six children and 42 known biological grandchildren and two adopted grandsons:
1. Elizabeth married Thomas Lamb
2. John Brimberry married Margaret Higgins
3. Joseph Brimberry married Nancy J. Jones
4. Mary Brimberry married Daniel Mathewson
5. Margaret Brimberry married Ethan Walters
6. Nancy Jane Brimberry married Henry Kuykendall
Elizabeth Brimberry
[
]
7.2.1 Elizabeth Brimberry was born in 1812 in Illinois Territory. Elizabeth married Thomas Lamb in Crawford County Illinois on 13 Dec.1827. This couple lived for a short while in Crawford County, then went to Edgar County Illinois and went on to Texas with the Parker group. They first tried to live near the Parker Fort and after the Indians killed most of those Parkers, they went to Walker County Texas, where Elizabeth's cousin and Thomas sister lived. After the Indian troubles were cleared up Thomas and family moved to Limestone County, where he received great amounts of land and operated the L6 Ranch. Thomas was an original Texas Ranger and went where help was needed.
Their seven children were (1) Jane Lamb, (2) Samuel Lamb, (3)Nancy Lamb, (4) John Lamb, (5) Thomas Jr., (6) Abraham Lamb, and (7) William Lamb. There were several children that passed away as infants.
Elizabeth passed away in 1863 and Thomas in 1870. They are buried in the Lamb Cemetery, north of Kirvin Texas. Click the following link for a complete history of the [Descendants of Elizabeth Brimberry & Thomas Lamb] compiled by Alkmena Blount Barger of Irving, Texas.
John Brimberry
[
]
7.2.2 John Brimberry was born on 18 Nov 1810 in Illlinois Territory. John married Margaret Higgins on 7 Feb 1833 in Crawford County. John served in Capt. Highsmith's Company during the Blackhawk War. His horse was killed in the Battle of Kellogs Grove and John had to walk back to Crawford. John was one of the children that his mother let out to neighborns when he was a young man. John and Margaret went to Clay County where he located his bounty land grant. They spent their entire life in Pixley Township.
John and Margaret's children: (1) William Brimberry born 16 Dec. 1834, (2) Francis born 11 Oct. 1835, (3) Mary Jane born 1 Jan.1837, (4) Leanner born 5 Dec.1839, (5) Joseph born 7 Aug 1841, twins (6) Elizabeth and (7) Margaret born 25 Mar. 1843, (8) Rhoda Adaline Brimberry born 27 Dec 1845, (9) Thursa Caroline born 25 Mar 18 1848 and (10) Arthur Brimberry born Mar. 1850.
When John and Margaret were married a son named Leonard came with the family. The father of this Leonard was supposed to have been a Leonard Simon and some say his father might have been John Brimberry when he worked for the Higgins family. DNA testing have disproved both of these rumors.
John passed away on 21 Apr. 1857 and Margaret prior to that. They are buried in Pixley Township, Clay County Illinois.
The adoptive line of John Brimberry & Margaret Higgins: Leonard Brimberry
Leonard Brimberry was born 4 Dec. 1828 in Crawford County Illinois. His parents were Margaret Higgins, the name of his father has never been found. When John Brimberry returned from the Black Hawk War he married Margaret Higgins and Leonard came with his mother and was always known as Leonard Brimberry.
John Brimberry and Margaret lived for a while in Crawford County Illinois and when John was awarded a Land Grant he located it in Clay County Illinois. This family moved to a place in Pixley Township southeast of Sailor Springs. Leonard located his farm across the road.
Leonard married Catherine Blakeman in Clay County on 8 April 1849. Leonard farmed and prospered. When the Civil War started Leonard served as a Wagon Master.
Children: John W. Brimberry, Margaret Brimberry, Henry S. Brimberry, Martha J. Brimberry, James Foster Brimberry, Rosella Brimberry, George M. Brimberry, Rolla M. Brimberry.
Most of these children worked on the old Nickle Plate Railroad in various positions and scattered across Illinois and Indiana.
Leonard passed away 23 Nov. 1878 and is buried in Pixley Township.
Joseph Brimberry
[
]
7.2.3 Joseph Brimberry was born during 1814. His parents lived in Old St. Clair County and Joseph could have been born in Washington County Kentucky while Jacob was chasing Indians. Jane's families lived in Washington County. Joseph was one of the children that Jane let out to other families. One of these families was the Fuller family. It has been said that 3 Fuller children was fathered by Joseph. One of them was named Perry and when Joseph married Nancy J. Jones this Perry came with the family. DNA testing has disproved this rumor. The children of Joseph and Nancy Jones were (1) Jane Brimberry born 5 Jul.1858, (2) John Brimberry born 9 Aug 1860 and (3) Mary Elizabeth Brimberry born 1862.
Joseph and Nancy both passed away within days in 1865 and are buried in the Lackey Cemetery, south of Robinson Illinois.
The adoptive line of Joseph and Nancy Brimberry:
Joseph Brimberry, as mentioned above, the son of Jacob married Nancy J. Jones in 1857 in Crawford County Illinois. No marriage ever existed between Clarissa Seaney Fuller and Joseph Brimberry. The 1860 census for Crawford County Illinois list Perry Brimberry as a son of Joseph; Francis Brimberry as a son of Joseph Brimberry; Eliza Jane Brimberry as a daughter of Joseph Brimberry. Perry and Eliza Jane are the same children that were listed in the 1850 census as Fuller children. Joseph and Nancy died in some sort of outbreak in 1865. There is as bill for four caskets in the estate papers, who the other two are for is not known.
Clarissa Seaney and Wiliam Fuller were married on 28 April 1830 in Crawford County Illinois. This marriage was never the best. William Fuller was a drinker and often left his family and stayed for extended periods. Clarissa was left to fend for herself and had workers come and do the necessary things. One of these workers was Joseph Brimberry, the son of Jacob. Clarissa divorced William in 1853/54. The 1850 census listed Elias H. Fuller, born ca 1833; Morris Fuller ca 1838; Mahala Fuller ca 1840; Eliza Jane Fuller ca 1845; Perry W. Fuller ca 1846; Francis Fuller ca 1848. William Fuller passed away in 1857.
Perry Brimberry grew up without parents either real or foster. He was drafted into the Civil War as a Teenager and was a replacement for Henry Pierson. Upon returning Perry married Hannah Russell on5 Aug. 1869 in Crawford County. Their children were Carrie Brimberry and Rose Brimberry. Hannah passed away in 1876 then Perry married Eliza Jane Funk in Crawford County. Perry's two children came to live with their father and step-mother. In a terrible accident Rose bed caught fire while she was sleeping near the fireplace and Rose passed on a few days later with terrible burns all over her body. Carrie lived and was married to Thomas Minnich.
Perry and Eliza Jane lived thier entire life in Crawford County. Their children were Laura Brimberry who married Frank Hudson; Roscoe Brimberry who married Lizzie Fields; Ella Brimberry who married Huse Gill; Grover Brimberry who married Laura Pearl Milam; Effie Brimberry who married Marshall Steele; Benjamin B Brimberry who married laura Hurt; Charles Brimberry who passed on as an infant; Joseph Brimberry who marriec Alice Bigs; Eugene Brimberry who passed on as an infant; John L. Brimberry who married Blanche Woods; William Brimberry who passed on in 1918 and Mary Brimberry who married Ray M. Wilson.
Perry died on 17 Sep. 1931 and is buried in the Palestine Illinois Cemetery. Eliza Jane died on 17 July 1937 and is buried in the Palestine Illinois Cemetery.
Mary Brimberry
[
]
7.2.4 Mary Brimberry born February 1817 in what is now Marion County Illinois. She married Daniel Mathewson on 21 February 1837 in Crawford County Illinois.
Children of Mary and Daniel:
(1) Gustavus A. Mathewson born 9 September 1838. He passed away as an infant, (2) William Oliver Mathewson born 7 November 1840. He married Anna Cox. No other information. (3) Lucy Jane Mathewson born 26 August 1842. She passed away as an infant. (4) Mary Angness Mathewson born 14 September 1844. She married Nelson Molar. She passed away on 19 August 1879 and is burned in Oak Grove Cemetery. (5) Almusena Matherson born 7 December 1840. No other information. (6) Alonzo Mathewson born 29 November 1846. (7) James Harvey Mathewson burn 29 November 1851, he passed away as an infant. (8) James Allen Mathewson born 29 November 1852. He passed away as an infant.
Mary was placed in charge of her brothers children after that family all passed away in some plague. She lived her life in Palestine Illinois. There is an interesting obituary for her in the old Wabash Pearl newspaper. Mary passed away on 11 Jan. 1909 and is buried in the Oak Grove Cemetery, north of Palestine.
Margaret Brimberry
[
]
7.2.5 Margaret Brimberry was born 19 Nov. 1819 in what is now Marion County Illinois. She married Ethan Walters in Crawford County on 16 March 1832. This couple had the following children: (1) Dorcas Walters born 21 August 1838 in Crawford County, (2) Isaac N. Walters born 1845 in Crawford County, (3) Sarah Ellen Walters born 28 November 1848 and (4) Armanda Walters born in 1854. There were five other children born to this couple that passed away as infants. In her later years Margaret married George Jefferies. This family lived their entire life in Robinson, Illinois. Margaret passed away on 21 December 1901 and is buried in the Oak Grove Cemetery north of Palestine.
Nancy Jane Brimberry
[
]
7.2.6 Nancy Jane Brimberry was born 30 Jun. 1821 in the DuBois hills west of Vincennes. She is the last child fathered by Jacob Brimberry. Nancy married Henry Kuykendall on 18 April 1841 in Crawford County. Nancy and Henry's children were as follows: (1) John A. Kuykendall born 1 January 1842, (2) Jesrusha Ann Kuykendall born 30 October 1843, (3) Daniel Kuykendall born 3 February 1845, (4) Henry Price Kuykendall born 20 January 1850, (5) Leander Kuykendall born 3 January 1847, (6) Pheba Ellen Kuykendall born 20 August 1852, (7) Nancy Jane Kuykendall born 20 January 1854, (8) William Reed Kuykendall born 27 March 1856, (9) Joseph Kuykendall born 11 June 1858 and (10) Effie Afton Kuykendall born 28 March 1864.
Nancy and Daniel moved to Christian County, Illinois and from there to eastern Kansas where they settled and raised the rest of their family. There is a large History of the Kuykendall family in the United States that covers this family. Son John was a personal friend of Abraham Lincoln and was married in his family residence at Springfield Illinois on 26 December 1864. John was also a legal person and represented some important persons of that area. Nancy passed away in 1900 and is buried in the Bethel Cemetery Topeka Kansas.
Joseph Brymberry
[
]
John Brimberry
[
]
Isaac Brimberry
[
]
William Brimberry
[
]
===Samuel Brimberry===The same Census lists    John Chisum and William Chisum (brothers)
7.7  Samuel Brimberry (1785-1837) was born near Stoney Creek in Orange County, NC as the seventh and youngest son of Matthias and Mary Anderson Brimberry.  That year, his parents moved the family to Washington County, Virginia.   By 1791, the family had moved west to Crawford County, KY.     
Samuel served in the War of 1812 and appears in Illinois in 1813.  Samuel married Mary Jones in Edwards County (now Crawford County), IL 18 June 1816.  Mary was born 1793 in South Carolina to Thomas and Elizabeth Patterson Jones.   Samuel and Mary moved to Edgar County, IL  along with Mary's parents about 1823.
Samuel served as a Captain in the Blackhawk War of 1832. In 1833, Samuel and Mary moved to Nacogdoches County with Mary's brother, J.P Jones, and his family.  Samuel's older brother William had moved from IL to Nacogdoches County the prior year.  Samuel and Mary were among the first settlers in the area that would eventually become the Melrose community.  Samuel died there 11 Oct 1836 and is buried on private property 1/2 mile south of Melrose.  Mary died 30 Dec 1862 and is buried next to her husband. 
Samuel and Mary were the parents of seven children:
7.7.1 Eliza Brimberry, b. 1817, married Lee Harrison Owen 27 Apr 1833 in Edgar, Illinois, died Mar 1854 in Robertson County, Texas and was buried in Old Franklin Cemetery.
7.7.2 Louisa Brimberry, b. 1819, married William P Chisum 12 Mar 1837 in Nacogdoches, TX, and died 20 Mar 1856 in RusK County, Texas.  Her husband died a few months.  Their eight underage children were divided among related families in Rusk and Nacogdoches counties.
7.7.3  Rebecca Jane Brimberry, b. 1821, married Alfred Gaines Walling 8 Feb 1838 in Nacogdoches County, TX, died 1853 and buried in the Jacksonville, TX City Cemetery.
7.7.4  John Newton Brimberry, b 1822 in Crawford County, IL, married Mary Ann Ross 12 Jan 1843 in Nacogdoches, TX, died 1853.
7.7.5  William Anderson Brimberry, b 17 Feb 1823 in Edgar County, IL, married Mary Elizabeth Martin, died 10 July 1894 in Marysville, Cooke County, Texas
7.7.6  Elizabeth Jane Brimberry, born in 1824 in Edgar County, IL, married Samuel W. Pike on 5 Nov 1857, died 1862 in Whitehouse, Texas. 
7,7.7  Mary Ann Brimberry, b 1824 in Edgar County, IL, married William Lewis Robinson 12 Dec 1843 in Nacogdoches County, TX, and died 1889 in Grayson County, TX
=======================================================
[
]
7.7,2 Louisa Brimberry, b. 1819, married William P Chisum 12 Mar 1837 in Nacogdoches, TX, and died 20 Mar 1856 in RusK County, Texas.  Her husband died 7 May 1857.  Their eight underage children were divided among related families in Rusk and Nacogdoches counties.Their children were:
1. Mary Elizabeth Chisum, July 19, 1840, Nacogdoches, TX. Married James Singleton Alders
2. William Craig Chisum, 1842, Nacogdoches, TX. 11th Texas Infantry Company A
3. James Anderson Chisum, July 19, 1844, Nacogdoches, Rusk Co., TX. 11th Texas Infantry Company A. Married Mary Emily Chisum (Jul 1845-Aug 1928) Nov 16, 1869, Limestone Co. TX Died June 10, 1930, Winters, Runnels Co., TX
4. Martha Ann Chisum, Sept 19,1846, Nacogdoches, TX. Married James Melville(Melvin) Matthews
5. Nancy Jane Chisum, Sept.14, 1849, Nacogdoches, TX. Married Radford Berry Skillern.
6. Samuel Elijah Chisum, 1851, Nacogdoches, TX
7. Rebecca Catholine Chisum, Dec 9, 1852, Nacogdoches, TX. Married Lewis G. Teutsch
8. John Newton Chisum, 1856, Nacogdoches, TX
Allied Families
[
]
Bibliography and Records
[
]
Family Data Sheets
[
]
Notes
[
]