| | |
| --- | --- |
| | Notice- Info pages have served Familypedia well for the past two years but are being phased out and upgraded to a new format which makes articles easier to create and maintain through form editing. They also allow significantly more powerful features not possible with info pages. Feel free to continue to use info pages if you are familiar with them, but everyone is encouraged to try the new Person form for entering or editing articles. Old info articles will be automatically upgrade via bot sometime in the future when the community decides. For questions, and comments, please post at Forum:Switchover to Showfacts articles. ~ Phlox 2009-09-27 |
This is a tutorial of how to use the Info Pages. (For a detailed tutorial listing all the parameters, see Genealogy:Info pages/Parameter tutorial. For notes about individual parameters and where they may be used, see Genealogy:Info pages/Parameters and its talk page.)
Screenshots show some small details that have now been changed, such as instruction text and the order of lines. That should not affect usability of this page.
Step 1 - instruction page
The main page for the Info Pages is located at Genealogy:Info pages. The following image shows where you start.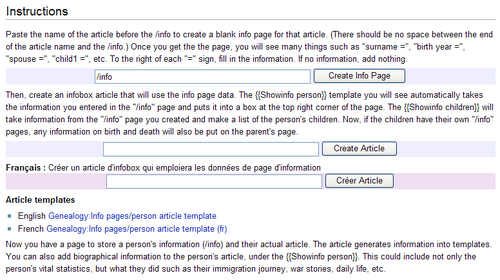 Step 2 - enter page name
From this page, you will start with creating the Info Page, which stores an individual's data. (Except that if you have an article already there is a slightly different procedure, noted on the instruction page.) Enter the name of the article into the box before the "/info" part. The format should be:
First Middle Last (YOB-YOD)
If no middle name is known, just have First Last. Even for Asian names where surname is first, just have "First Last ..." - the distinctions are made later. When you have completed typing in the name, click "Create info page."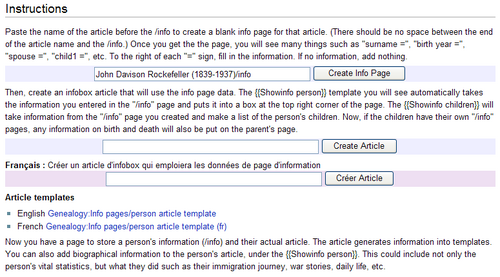 Step 3 - edit info page
Step 4 - save info page
Then click "Save page". You have now successfully created the Info Page. The Info Page stores information on the individual. Once you save the page, it will look something like this, which need not concern you (because it needs reopening to display the results of all of its "Get" functions):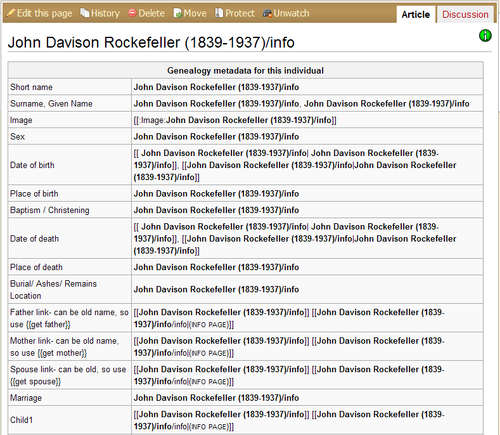 Step 5 - paste article name
Copy the full name of the info page (without the "/info"). Go back to Genealogy:Info pages and paste that EXACT name (without the "/info") into the article box. Then click "Create article."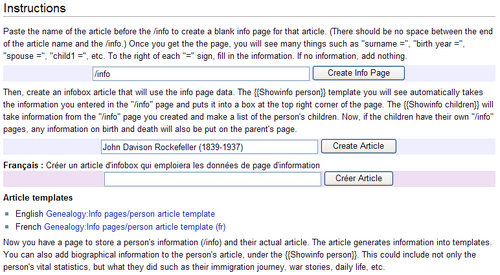 Step 6 - edit article
Now you are in an edit box creating the actual article. Here you can add a gallery of pictures, a biography, etc. But you need not add anything at this stage.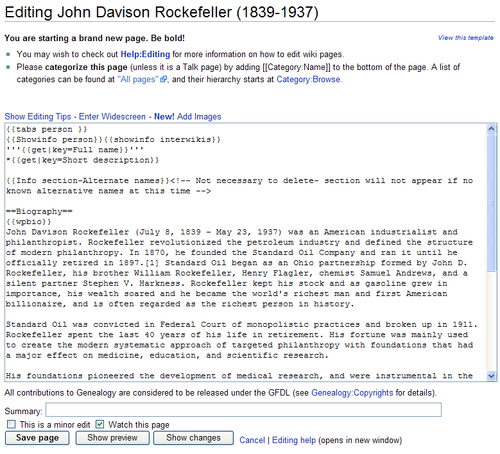 Step 7 - save article
Step 8 - re-edit whenever
You can go back any time and edit the info page and add information to the article. To edit the article, click "Edit this page" at the top of the article. To edit the "info page," click "Edit info" at the bottom of the infobox on the right side of the page and/or below the children box.