Familypedia is working on collecting information about everyone who lived in the fledgling Plymouth Colony, the first British settlement in Massachusetts. Our emphasis is on the people and their ancestors and descendants.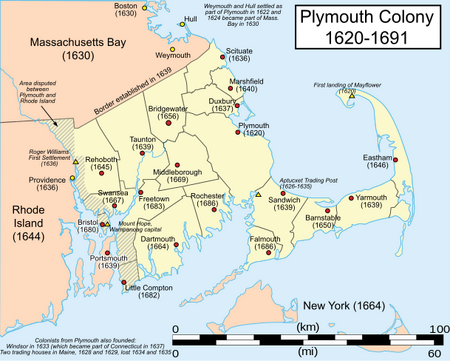 Chief project designer (and chief laborer!) is User:MainTour.
History pages
[
]
Notable Landmarks
[
]
Immigrant Ships
[
]
Plymouth Colony Immigrant Ship passenger lists (1620-1638) (Does not included ships landing at Salem, Boston, Maine or Virginia or numerous fishing vessels and pirate ships that may have stopped by. See also PackRat Pro for all ships:
Early Plymouth Colony Settlements
[
]
Plymouth Colony Famous Descendants
[
]
Mayflower Group Descendants
[
]
Other Plymouth Colony Descendant Lists
[
]
What next?
[
]
We have already started on similar lines of research involving other parts of the Thirteen Colonies.
External links
[
]
General
Separatists

Other Passengers
Native American associates
Monuments
Records
History