We're Getting Mutants in the MCU - The Loop
Play Sound
Biography
Fastrada of Ingelheim was born 765 in Ingelheim, France to Rudolph of East Francia and Aeda and died 10 August 794 Frankfurt am Main, Hesse, Germany of unspecified causes. She married Charlemagne (747-814) 783 JL in Worms, Germany.
Fastrada was born circa 765 at Ingelheim, the daughter of the powerful East Frankish Count Rudolph (also called Eadolf, and his wife, Aeda.

Fastrada became the third wife of Charlemagne,[1] marrying him in October 783 at Worms, Germany, a few months after Queen Hildegard's death. A probable reason behind the marriage was to solidify a Frankish alliance east of the Rhine when Charles was still fighting the Saxons.
Due to her influence, Charlemagne's son by Himiltrude (c742-c780), Pippin the Hunchback (c769-811), was publicly tonsured after an attempted rebellion against his father. During their marriage, Charlemagne's fair ruling greatly declined. She was greatly despised by all of the other children.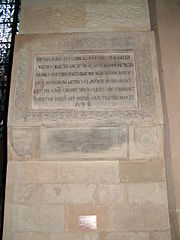 Fastrada died on 10 August 794 in Frankfurt (in present-day Germany), during the synod of Frankfurt and was buried in St. Alban's Abbey, Mainz, long before the abbey was finished. Due to Archbishop Richulf's influence, she was not buried in the Basilique Saint-Denis, the burial site of almost all the Frankish and French monarchs, nor St. Arnulf's Abbey near Metz. After the destruction of St. Alban's Abbey in 1552, her tombstone was transferred to Mainz Cathedral, where it can be seen today in the wall of the southern nave.[2]
Family
By her he had:
Theodrada (784-) - abbess of Argenteuil
Children
Siblings
See Also
References
^ As described by historians such as Pierre Riché (The Carolingians, p.86.), Lewis Thorpe (Two Lives of Charlemagne, p.216) and others. Other historians list Himiltrude, described by Einhard as a

concubine

, as Charlemagne's first wife, and reorder his subsequent wives; accordingly Fastrada is sometimes numbered as his fourth wife. See Dieter Hägemann (Karl der Große. Herrscher des Abendlands, Ullstein 2003, p. 82f.), Collins (Charlemagne, p. 40.).
^ Franz Dumont, Ferdinand Scherf, Friedrich Schütz: Mainz - Die Geschichte der Stadt, Verlag

Philipp von Zabern

, 1998
Footnotes (including sources)