Fear Brewster Allerton was born 1606 in Scrooby, Nottinghamshire, England, United Kingdom to William Brewster (1567-1644) and Mary Brewster (1569-1627) and died 1634 Plymouth, Plymouth County, Massachusetts of unspecified causes. She married Isaac Allerton (1586-1658) 11 May 1626 in Plymouth, Plymouth County, Massachusetts.
Biography
[
]
Fear Brewster was the third daughter of Mayflower pilgrim William Brewster and his wife Mary, born in Scrooby, Nottinghamshire, England. She was named Fear because at the time of her birth, the Puritans were holding secret meetings and were under constant threat of arrest. Her early years, and indeed her whole life, were full of unrest. In 1608 she moved, along with the other pilgrims, to Amsterdam (and later Leiden).
Scrooby Separatists
[
]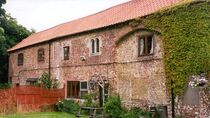 Scrooby Separatists were a mixed congregation of early English Protestants / non-conformists founding living in the border region of of South Yorkshire, Lincolnshire and Nottinghamshire. They were called "Separatists" because of their rebellion against the religious authority of the Church of England, the official state religion. In 1607/8 the Congregation emigrated to Netherlands in search of the freedom to worship as they chose. Shortly after that they were the basis of the group to sail in the Mayflower to the New World.
They were set on a path of separation from the Anglican Church. From about 1602, Scrooby Manor, Brewster's home, became a meeting place for the dissenting Puritans. In 1606, they formed the Separatist Church of Scrooby.
Fear was only 14 when her parents and two younger brothers left for America on the Mayflower and settled into Plymouth Colony. She was left in the care of her older siblings, Jonathan (born in 1593) and Patience (born in 1600). Jonathan joined the pilgrims in 1621 on board the Fortune. Fear arrived in America with Patience on board the Anne in July 1623.
Fear married Isaac Allerton (1586-1658), another Mayflower pilgrim, around 1626. He was 20 years her senior. They had a son, Isaac Allerton Jr., born about 1627. There is speculation that they had a daughter, Sarah Allerton, who was baptised on August 13, 1633 and probably died in infancy.
Fear died young, but the exact date is unknown. She died sometime before her sister Patience's death which was December 12, 1634.
Offspring of Isaac Allerton, Sr. and Fear Brewster (1606-1634)
Name
Birth
Death
Joined with
Sarah Allerton (c1626-bef1651)
1626 Plymouth, Plymouth County, Massachusetts, United States (Kingdom of England (?))
1651 Plymouth County, Massachusetts, United States (Kingdom of England (?))


Isaac Allerton (1628-1701)
22 May 1627 Plymouth Colony, Plymouth, Plymouth County, Massachusetts, United States (Kingdom of England)
25 October 1702

Copley

, Westmoreland County, Virginia, United States (Kingdom of England)

Elizabeth Thurgood (c1630-)

 Elizabeth Thurgood (c1630-) Elizabeth Willoughby (1635-1672)
Siblings
[
]
#g1: Offspring of William Brewster (1567-1644) and Mary Brewster (1569-1627)
Name
Birth
Death
Joined with
Jonathan Brewster (1593-1659)
12 August 1593, Scrooby, Nottinghamshire, England, United Kingdom
7 August 1659, Norwich, New London County, Connecticut, United States

Betja Rabnits (1597-1619)

+

Lucretia Oldham (1600-1679)
Patience Brewster (1600-1634)
1590, Scrooby, Nottinghamshire, England
12 December 1634, Plymouth Colony, Plymouth, Plymouth County, Massachusetts
Thomas Prence (1600-1673)
Fear Brewster (1606-1634)
1606, Scrooby, Nottinghamshire, England, United Kingdom
1634, Plymouth, Plymouth County, Massachusetts
Isaac Allerton (1586-1658)
Unnamed Son Brewster (1609-1609)
1609, Leiden, Zuid-Holland, Netherlands
1609, Leiden, Zuid-Holland, Netherlands
Love Brewster (1611-1650)
15 May 1611, Leiden, Zuid-Holland, Netherlands
6 October 1650, Duxbury, Plymouth County, Massachusetts, United States
Sarah Collier (1613-1691)
Wrestling Brewster (1614-1627)
1614, Leiden, Zuid-Holland, Netherlands
1627, Plymouth, Plymouth County, Massachusetts, United States
References
[
]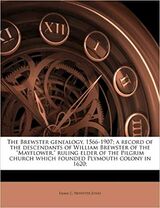 The Brewster genealogy, 1566-1907 - a record of the descendants of William Brewster of the "Mayflower," ruling elder of the Pilgrim church which founded Hampshire colony in 1620;2 Volumes Paperback – September 7, 2010 by Emma C. Brewster Jones (Author). This is a reproduction of a book published before 1923.
Brewster in Plymouth County, Massachusetts - first families

Immigrant Ships To America/First Families/Anne Anne: Immigrant Ships to America 1623