Freeman Dewey Higley was born 9 June 1843 in Buffalo Grove, Ogle County, Illinois, United States to Clark Higley (1813-1900) and Malinda Cheney (1822-1900) and died 2 July 1927 Sugar City, Madison County, Idaho, United States of unspecified causes. He married Eliza Ann Cheney (1849-1920) 3 November 1863 in Tooele, Tooele County, Utah, United States. He married Nancy Jane Sharp (1848-1900) 3 May 1869 in Salt Lake City, Salt Lake County, Utah.
Biography
Freeman Dewey Higley, the second son of Clark and Melinda (Cheney) Higley. Freeman came to Utah in 1861 with his family when he was 18 in an oxen powered "prairie Schooner." Freeman was an accomplished family man having two wives and twenty three children. These families were a close knit bunch who lived in West Jordan where Freeman operated a small store providing food,supplies and produce from their orchard and garden. They later moved to Thatcher, Idaho where they farmed.
1861 Wagon Train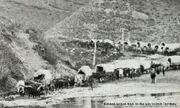 Greene with his family were participants in the David Cannon 1861 Pioneer Company, a 79 day wagon train traveling from Florence (now Omaha, Nebraska) to Salt Lake City in the early summer. It was the first of 12 such wagon trains of the year. It was a large train of 68 wagons and nearly 300 passengers led by a young 23-year old missionary returning home from England, Elder David H Cannon. Several diary/biographical accounts exist.
Marriage and Family
Children
Offspring of Freeman Dewey Higley and Eliza Ann Cheney (1849-1920)
Name
Birth
Death
Joined with

Lucy Jane Higley (1865-1942)




Harvey Warren Higley (1867-1947)




Fannie Elzada Higley (1869-1939)




Harriet Malinda Higley (1871-1955)




Lewis Wells Higley (1874-1917)




Eli Lee Higley (1876-1924)




John William Higley (1878-1900)




Millie Ann Higley (1880-1950)




Alfred Dewey Higley (1882-1961)




Elsie Elvira Higley (1886-1886)




Daniel Edward Higley (1887-1887)




Luther Aaron Higley (1890-1979)
Offspring of Freeman Dewey Higley and

Nancy Jane Sharp (1848-1900)

Name
Birth
Death
Joined with

Emma J Higley (1866-)




Freeman Dewey Higley (1870-1870)




James Henry Higley (1872-1872)




Jeannette Mildred Higley (1874-1930)




George Carlos Higley (1876-1876)




Laura Elizabeth Higley (1878-1953)




Lillian Maybell Higley (1880-1959)




Albert William Higley (1883-1946)




Martha Arminta Higley (1885-1974)




Ellis Ervin Higley (1887-1972)




Viola Higley (1889-1889)
Siblings
#g1: Offspring of Clark Higley (1813-1900) and Malinda Cheney (1822-1900)
Name
Birth
Death
Joined with

Lucy Lovisa Higley (1841-1919)

,
,
Freeman Dewey Higley (1843-1927)
9 June 1843, Buffalo Grove, Ogle County, Illinois, United States
2 July 1927,

Sugar City

, Madison County, Idaho, United States
Eliza Ann Cheney (1849-1920)

+

Nancy Jane Sharp (1848-1900)

+

Juliane Augusta May (1852-1933)

George Washington Higley (1845-1925)

,
,

Lucretia Jane Higley (1848-1913)

,
,

Daniel Lee Higley (1850-1919)

,
,

Harriet Maria Higley (1853-1935)

,
,

Mary Higley (1855-1855)

,
,
#g2: Offspring of Clark Higley (1813-1900) and

Eliza Ellen Goode (1847-1922)

Name
Birth
Death
Joined with

Roxelia Higley (1868-1869)

,
,

Julia Mariah Higley (1869-1953)

,
,

Frances Alvaretta Higley (1871-1966)

,
,

Eliza Higley (1873-)

,
,

Harriet Olive Higley (1874-1957)

,
,

Joshua Higley (1876-)

,
,

Charles Goode Higley (1877-1973)

,
,

Joseph Higley (1878-1900)

,
,

Willis Dewey Higley (1880-1964)

,
,

Elihu Cheney Higley (1883-1974)

,
,

Dave George Higley (1885-)

,
,

Lydia Emma Higley (1886-1937)

,
,
#g3: Offspring of Clark Higley (1813-1900) and

Amanda Thompson Baker (1844-1907)

Name
Birth
Death
Joined with

Sarah Jane Higley (1866-1867)

,
,

William Henry Higley (1868-1868)

,
,

Charles Luther Higley (1870-1871)

,
,

James Clark Higley (1871-1962)

,
,

Lovina Persinda Higley (1873-1904)

,
,

Pearthenia Eleanor Higley (1875-1942)

,
,

George Orange Higley (1876-1958)

,
,

Stephen Lemuel Higley (1878-1965)

,
,

Oliver Asa Higley (1879-1933)

,
,

Mary Elizabeth Higley (1881-1920)

,
,

Howard Warren Higley (1884-1965)

,
,

Malinda Alvira Higley (1887-1988)

,
,
Vital Records
Residences
Footnotes (including sources)