Gad (former name until 1924, Gureni), German: Fodorhausen, Hungarian: Gáad, Gád or Fodorháza) is a village in Timiș County, Romania. It is part of the commune of Ghilad.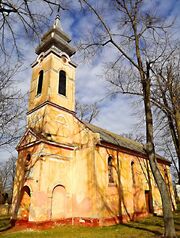 The estate of the House of Gudenus was located in Gad.
Center of commune
Component Villages
This page uses content from the Romanian language Wikipedia. As with this Familypedia wiki, the content of Wikipedia is available under the Creative Commons License.