We're Getting Mutants in the MCU - The Loop
Play Sound
Col. Gamaliel Bradford II was born 2 September 1731 in Duxbury, Plymouth County, Massachusetts to Gamaliel Bradford (1704-1778) and Abigail Bartlett (1703-1776) and died 4 January 1807 Duxbury, Plymouth County, Massachusetts of unspecified causes. He married Sarah Alden (1731-1788) 10 March 1757 in Duxbury, Plymouth County, Massachusetts.
Biography
American Revolutionary War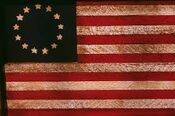 14th Massachusetts Regiment was raised on September 16, 1776, under Colonel Gamaliel Bradford at Boston, Massachusetts. The regiment would see action in the American Revolutionary War at the Battle of Saratoga and the Battle of Monmouth. before encamping with the army for its final cantonment at New Windsor, New York. When the number of Massachusetts regiments was reduced in January 1781, the men of the 14th were folded into the 7th Massachusetts Regiment at which point the 14th was disbanded.
Without a doubt, the Duxbury soldiers that saw the hardest duty were those that were sent to the Continental Army. Two companies, under Captains Joseph Wadsworth and Thomas Turner, were formed in 1777 soon found themselves in some of the fiercest fighting in the Revolution. They served with the 14th Massachusetts Regiment commanded by Duxbury Colonel Gamaliel Bradford. Turner's Company served the longest of any Duxbury company, from 1777 to 1780. They were with Washington during the hard winter at Valley Forge and fought at the battles of Germantown and Monmouth.
The sheer number of Duxbury men who signed up for service is remarkable. Some 270 are on record, representing the vast majority of the town's adult male population.
This unit included his son Gamaliel Bradford (1763-1824), a private at age 13. He was later captain of a privateer raider in the French Quasi-War of 1800.
Marriage and Family
Perez Bradford (1758-1802)
Sophia Bradford (1761-1855)
Capt Gamaliel Bradford III - Served with father in Revolutionary War. Afterwards he commanded the American private armed ship Mary in 1799, during the Quasi-War with France. In July 1800, in command of Industry, he routed four French privateers at Gibraltar.
Alden Bradford (1765-1843)
Sarah Bradford (1768-1840)
Jerusha Bradford (1770-1833) - married in Duxbury to Shipping tycoon Ezra Weston (1772-1842), AKA: King Caesar II, they became the wealthiest couple in all of early 19th Century Plymouth County.
Daniel Bradford (1771-1838)
Gershom Bradford (1774-1844)
Children
Offspring of Col. Gamaliel Bradford II and Sarah Alden (1731-1788)

Name
Birth
Death
Joined with

Perez Bradford (1758-1802)

Sophia Bradford (1761-1855)

Gamaliel Bradford (1763-1824)
4 November 1763 Duxbury, Plymouth County, Massachusetts, United States
7 March 1824 Cambridge, Massachusetts, United States
Elizabeth Hickling (1767-1817)

Alden Bradford (1765-1843)

Sarah Bradford (1768-1840)

Jerusha Bradford (1770-1833)
3 January 1770 Duxbury, Plymouth County, Massachusetts, United States
11 October 1833 Duxbury, Plymouth County, Massachusetts, United States
Ezra Weston (1772-1842)

Daniel Bradford (1771-1838)

Gershom Bradford (1774-1844)
Siblings
Vital Records
Gravestone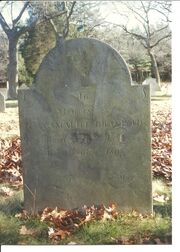 Gravestone Location: Mayflower Cemetery - Duxbury MA / Lot 5L, Grave 1A Oak Street
References
Residences
References
Footnotes (including sources)