Articles, images

Archaeology

 •

Landmarks

 •

Migrations and settlements

 •

Photo gallery

 •

Prehistory

 •

Timeline

People

Births

 •

Deaths

 •

Baptisms

 •

Marriages

 •

Divorces

 •

Burials

 •

Families

 •

Residents

Daily life

Before 1401

 •

1401-1450

 •

1451-1500

 •

1501-1550

 •

1551-1600

 •

1601-1650

 •

1651-1700

 •

1701-1750

 •

1751-1800

 •

1801-1850

 •

1851-1900

 •

1901-1950

 •

1951-2000

 •

2001-present

Research,
including
queries

Gandhinagar district links

 •

Birth records

 •

Businesses

 •

Cemeteries

 •

Census data

 •

Church records

 •

Court records

 •

Death records

 •

Directories

 •

Landowner records

 •

Marriage records

 •

Maps

 •

Military records

 •

Obituaries

 •

Probate records

 •

Queries
This article is about the district. For its eponymous headquarters, see
Gandhinagar
.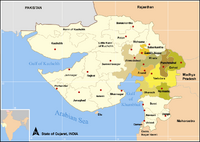 Gandhinagar District is an administrative division of Gujarat, India, whose headquarters are at Gandhinagar, the state capital. It has an area of 649 km², and a population of 1,334,455 of which 35.02% were urban (2001 census).[1] The district includes Gandhinagar with three Suburbs - Chandkheda, Motera, Adalaj and three tehsils - Kalol INA, Dehgam and Mansa - and 216 villages. Gandhinagar district is bounded by the districts of Sabarkantha to the northeast, Kheda to the southeast, Ahmedabad to the southwest, and Mehsana to the northwest.
Connected to Ahmedabad by the Sartej-Gandhinagar highway, and with Vadodara with the Ahmedabad-Vadodara highway, these three cities form the top population centers and commercial heart of Gujarat and western India.
Gandhinagar city is a well planned city like Chandigarh (Punjab) which is having 30 sectors which are of 1 KM each in Length and Width. Each sector has a primary school, a secondary school, a higher secondary school, a medical dispensary, a shopping center and a maintenance office.
Gandhinagar has infocity nearby which is housing IT companies. Many big IT companies like TCS, CYBAGE has presence in infocity whereas PCS is located at GIDC area. Many more companies are planning to come to infocity. Etech, Inc., one of the major BPO players in Gujarat is also based here along with operations in Vadodara and Texas.[2]
Gandhinagar has famous Akshardham temple in Sector : 20 which is a very beautiful Hindu Temple.
Gandhinagar has many educational institutions like Dhirubhai Ambani Institute of ICT, EDI, Indian Plasma Research Institute, and Gujarat Law University. Gandhinagar's Education level is highest in Gujarat, 87.11% all over the Gujarat, therefore Gandhinagar is most popular City & Called "THE HEART" Of Gujarat.
Demographics
[
]
According to the 2011 census Gandhinagar district has a population of 1,387,478,[3] roughly equal to the nation of Swaziland[4] or the US state of Hawaii.[5] This gives it a ranking of 353rd in India (out of a total of 640).[3] The district has a population density of 660 inhabitants per square kilometre (1,700 /sq mi) .[3] Its population growth rate over the decade 2001-2011 was 12.15 %.[3] Gandhinagar has a sex ratio of 920 females for every 1000 males,[3] and a literacy rate of 85.78 %.[3]
References
[
]
Mahesana district

Sabar Kantha district

     
Gandhinagar district
Ahmedabad district
Kheda district
 State

of

Gujarat

Major corporations

Ahmedabad

Surat

Vadodara

Rajkot

Jamnagar

Bhavnagar

Junagadh

Navsari

Surendranagar

Udhana

Mehsana

Anand

Bharuch

Districts
Villages
Topics
Major projects of Gujarat

Ahmedabad BRTS

Gujarat International Finance Tec-City

Sabarmati Riverfront Development Project

Sardar Sarovar Project

GSWAN

Regions of Gujarat

Bhal region

Kathiawad region

Gujarat Region

Sorath Region

Gohilwad region

Zhalawad region

Charotar region

Ghed region