Garrett Church was born 1611 in England to George Church (1586-1622) and Margarit Northup (1586-1615) and died 17 October 1662 Watertown, Middlesex County, Massachusetts of unspecified causes. He married Sarah 1633 in Massachusetts.
Research Notes
Born about 1611 (deposed 17 December 1662 aged about 51). Planter who came to Massachusetts Bay in 1633 & settled in Watertown. Died in Watertown after 20 July 1685 (acknowledged two deeds) and before 3 February 1685/6 (deed acknowledged by John Stone, one of the witnesses).
Watertown Founders Monument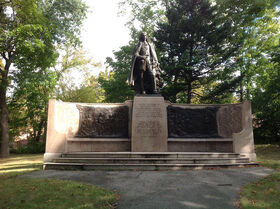 He is listed on Watertown Founders Monument, commemorating the first settlers of Watertown, Massachusetts. The town was first known as Saltonstall Plantation, one of the earliest of the Massachusetts Bay Colony settlements. Founded in early 1630 by a group of settlers led by Richard Saltonstall and George Phillips, it was officially incorporated that same year. The alternate spelling "Waterton" is seen in some early documents.
Marriage and Family
Married by 1637 Sarah _____; on 6 February 1662/3 Sarah Church was one of those who complained against John Chenery (1623-1675) "for his defect in not regulating his swine according to town order" (unless this is the daughter of the same name); no further record.
Children
Offspring of Garrett Church and

Sarah

Name
Birth
Death
Joined with

John Church (1637-1696)




Samuel Church (1640-1724)




Sarah Church (1642-1700)




Jonathan Church (1646-1700)




Cornelius Church (1647-1697)




David Church (1657-1729)
Siblings
Research Notes
Vital Records
References
Residences
Footnotes (including sources)