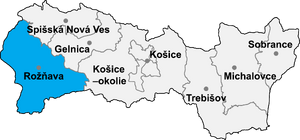 Gemerská Panica (Hungarian: Gömörpanyit) is a village and municipality in the Rožňava District in the Košice Region of middle-eastern Slovakia.
Geography
[
]
The village lies at an altitude of 194 metres and covers an area of 14.920 km². It has a population of about 700 people.
Culture
[
]
The village has a public library and a football pitch.
Genealogical resources
[
]
The records for genealogical research are available at the state archive "Statny Archiv in Banska Bystrica, Slovakia"
Roman Catholic church records (births/marriages/deaths): 1852-1896 (parish B)
Lutheran church records (births/marriages/deaths): 1805-1908 (parish A)
Reformated church records (births/marriages/deaths): 1792-1904 (parish B)
See also
[
]
External links
[
]
Bôrka

Brdárka

Bretka

Čoltovo

Čučma

Dedinky

Dlhá Ves

Drnava

Gemerská Hôrka

Gemerská Panica

Gemerská Poloma

Gočaltovo

Gočovo

Hanková

Henckovce

Honce

Hrhov

Hrušov

Jovice

Kečovo

Kobeliarovo

Kováčová

Krásnohorská Dlhá Lúka

Kružná

Kunova Teplica

Lipovník

Lúčka

Markuška

Meliata

Ochtiná

Pača

Pašková

Petrovo

Plešivec

Rakovnica

Rejdová

Rochovce

Roštár

Rozložná

Rožňavské Bystré

Rudná

Silica

Silická Jablonica

Slavec

Slavoška

Slavošovce

Stratená

Štítnik