We're Getting Mutants in the MCU - The Loop
Play Sound
Biography
George Jacobs IV was born February 1609 in London, England to George Jacobs (1575-1632) and Priscilla Unknown Jacobs (1573-1617) and died 19 August 1692 Salem witch trials of Hanging execution for witchcraft. He married Unknown Wife Jacobs (c1610-) 27 June 1639 in St. Michaels Church, Bishop's Stortford, Hertfordshire, England. He married Mary Beales (1624-1698) 12 January 1673 in Salem, Essex County, Massachusetts.
George Jacobs Sr. (1609–1692) was an English colonist in the Massachusetts Bay Colony who was accused of witchcraft in 1692 during the Salem witch trials in Salem Village, Massachusetts. He was convicted and hanged on August 19, 1692. His son, George Jr., was also accused but evaded arrest. Jacobs' accusers included his daughter-in-law and granddaughter, Margaret.[1]
Jacobs was believed to be the George Jacob baptized 13 February 1608/09 at St. Dunstan in the West, London, son of barber-surgeon George Jacob and wife Priscilla of Bishop's Stortford, Hertfordshire.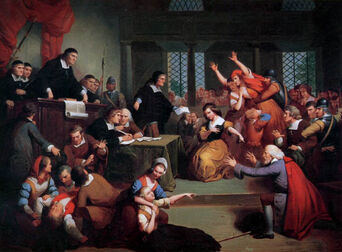 The Salem witch trials were a series of hearings and prosecutions of people accused of witchcraft in colonial Massachusetts between February 1692 and May 1693. More than 200 people were accused, nineteen of whom were found guilty and executed by hanging (fourteen women and five men). One other man, Giles Corey, was pressed to death for refusing to plead, and at least five people died in jail. It was the deadliest witch hunt in the history of the United States.
The painting below was created by Tompkins H. Matteson in 1855, and is based on the accounts of George Jacobs' granddaughter, who is being consoled by his son, also named George. The painting is entitled Trial of George Jacobs, August 5, 1692.
On the left of the painting is Chief Magistrate William Stoughton, who would later serve three terms as Governor of Massachusetts. Jacobs' principal accuser was his granddaughter, who implicated him in an attempt to save her own life. Jacobs' daughter-in-law is the woman standing and being held back. She was thought to be mentally ill (brain tumour). John Hathorne, the judge hearing the accusation, is thought to be an ancestor of Nathaniel Hawthorne. He holds a book and points at Jacobs' granddaughter as if challenging her to substantiate her earlier written statements. In the foreground are a girl and boy who are having fits, allegedly caused by Jacobs' wizardry. The boy is unknown but the girl may be either Jacobs' servant or accuser Ann Putnam Jr.
After his execution, his wife Mary, would mary, John Wildes (1618-1705) who also lost his spouse to the witchcraft hysteria.
Children
Offspring of George Jacobs IV and

Unknown Wife Jacobs (c1610-)

Name
Birth
Death
Joined with

George Jacobs (1649-1717)

Ann Jacobs (1651-1712)
Siblings
Residences
See Also
Footnotes (including sources)