George Munnings was born 1596 in Rattlesden, Suffolk, England, United Kingdom to Thomas Munning (1570-) and died 24 August 1658 Boston, Suffolk County, Massachusetts, United States of unspecified causes. He married Elizabeth Groome (1593-1658) 12 June 1620 in Rattlesden, Suffolk, England, United Kingdom.
Biography
Left Ipswich, Suffolk, England and came to NE in 1634 at age 37. Freeman 1635 note that he was also a prison keeper lost an eye in a battle against the Pequoit Indians in the Pequot War. Married second Joanna Boyer in 1654.
One of the earliest grantees of Sudbury granted 8 lots looked over meetinghouse, free from rates 1640 Dec. Three children
1634 Voyage to America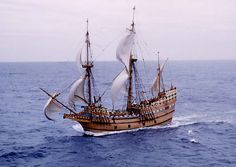 He was a passenger on the 1st Voyage of the English ship Elizabeth, which sailed from Ipswich in April, 1634, bound for New England. The ship arrived safe at Massachusetts Bay. Passenger list information was transcribed in the 19th century by Michael Tepper from records found in London, the Public Rolls Office, formerly at Carleton Ride. Note the ship sailed in April 1634, but the passeger listed is dated six months later to November 1634. Do not confuse this list with the second voyage of the Elizabeth made in 1635.
Traveled: George Munnings 37 and Elizabeth his wife 41, Elizabeth Munnings 12, Abigail Munnings 7;
Watertown Founders Monument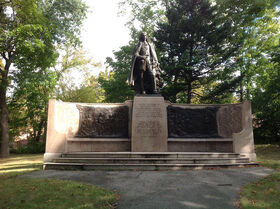 He is listed on Watertown Founders Monument, commemorating the first settlers of Watertown, Massachusetts. The town was first known as Saltonstall Plantation, one of the earliest of the Massachusetts Bay Colony settlements. Founded in early 1630 by a group of settlers led by Richard Saltonstall and George Phillips, it was officially incorporated that same year. The alternate spelling "Waterton" is seen in some early documents.
Endicott's raid 1636
This person participated in Endicott's raid, an English ambush on indian settlements conducted by about 90 militia troops from Massachusetts Bay Colony and Plymouth Colony in August 1636 at the start of the Pequot War. This force was led by former colonial governor John Endicott (1588-1665) zealously seeking to punish native americans for the deaths of some English traders in the region.
Tradition states that Munnings lost an eye while fighting indians.
Marriage & Family
Children
Offspring of George Munnings and Elizabeth Groome (1593-1658)
Name
Birth
Death
Joined with

Elizabeth Munning (1622-)




Abigail Munning (1624-1624)




Abigail Munning (1626-1667)




Rebecca Munning (1628-)




George Munning (1632-)
Siblings
References
Residences
Footnotes (including sources)