We're Getting Mutants in the MCU - The Loop
Play Sound
George Adair, Sr. was born 27 June 1837 in Pickens County, Alabama to Samuel Jefferson Adair (1806-1889) and Jemima Catherina Mangum (1809-1848) and died 9 September 1909 Bloomfield, San Juan County, New Mexico of unspecified causes. He married Ann Catherine Chestnut (1844-1863) 8 November 1858 in Washington, Washington County, Utah. He married Emily Prescinda Tyler (1847-1917) 28 January 1864 in Washington, Washington County, Utah.
Biography
In Pickens County, Alabama their family joined the Moscow 1845 LDS Branch of the young LDS Church.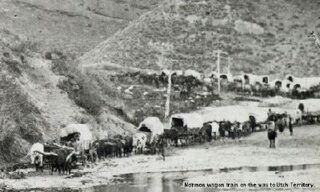 Benjamin Gardner led a pioneer company of 185 individuals that consisted primarily of members of The Church of Jesus Christ of Latter-day Saints who were seeking refuge from religion persecution. Departed from Kanesville, Iowa on 2-10 June 1852 and reached the Salt Lake Valley on 24-27 Sept 1852. The Adair Family was part of this group, including 3-4 children adopted in Iowa.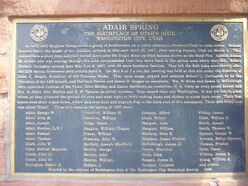 In 1857, a group of about 38 southerner families were called by Brigham Young (1801-1877) on to settle the Virgin River area of Southwest Utah and to crow cotton, to decrease the saints reliance on expensive product from back east. Other pioneer families joined them in 1861 but this ambitious endeavor came to an end after the close of the Civil War and cotton prices collapsed.
Children
Siblings
Offspring of Samuel Jefferson Adair (1806-1889) and Jemima Catherina Mangum (1809-1848)

Name
Birth
Death
Joined with
William Jefferson Adair (1830-1846)
27 August 1830 Pickens County, Alabama
31 October 1846 Mt. Pisgah, Union County, Iowa
John Milton Adair (1833-1899)
8 January 1833 Pickens County, Alabama
June 1899 Barclay, Lincoln County, Nevada
Eliza Jane Richey (1837-1908)
Rebecca Frances Adair (1835-1836)
8 July 1835 Pickens County, Alabama
25 May 1836 Pickens County, Alabama
Permelia Jane Adair (1837-1883)
27 June 1837 Fulton, Clarke County, Alabama
16 December 1883

Dry Fork

, Uintah County, Utah Territory

John R Holden (1828-)


Charles Decatur Searle (1836-1909)
George Washington Adair (1837-1909)
27 June 1837 Pickens County, Alabama
9 September 1909 Bloomfield, San Juan County, New Mexico
Ann Catherine Chestnut (1844-1863)
Emily Prescinda Tyler (1847-1917)
Samuel Newton Adair (1839-1924)
11 December 1839 Itawamba County, Mississippi
16 May 1924 Luna, Catron County, New Mexico
Helen Genette Brown (1845-1933)
Joseph Jasper Adair (1842-1846)
23 January 1842 Itawamba County, Mississippi
8 September 1846 Mt. Pisgah, Union County, Iowa
Rufus Columbus Buleson Adair (1844-1847)
9 February 1844 Itawamba County, Mississippi
2 August 1847 Winter Quarters, Douglas County, Nebraska
Jemima Catherine Adair (1846-1926)
6 April 1846 Des Moines, Polk County, Iowa, United States
15 April 1926 Murray, Salt Lake County, Utah, United States
Frederick Dickensen Rugg (1843-1918)
Ezra Taft Benson Adair (1848-1848)
25 April 1848 Mt Pisgah, Union County, Iowa
26 April 1848 Mt. Pisgah, Union County, Iowa
Residences
See Also
Adair in San Juan County, New Mexico
Footnotes (including sources)