Biography
George Washington Gibson was born 17 June 1800 in Union, Union County, South Carolina, United States to Robert Wilson Gibson (1758-1820) and Mary Polly Evans (1760-1860) and died 17 August 1871 Duncan's Retreat, Kane County, Utah, United States of unspecified causes. He married Mary Ann Sparks (1802-1871) 15 March 1822 in Union, Union County, South Carolina. He married Ann Elizabeth Newman (1840-1874) 15 March 1856 in Salt Lake City, Salt Lake County, Utah.
Mississippi Move 1830-31
George relocated his family from Union County, South Carolina to Monroe County, Mississippi in about 1830-31.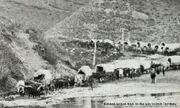 Numbered amoung the participants in the Mississippi Saints 1846 Pioneer Company, a early Mormon pioneer wagon train that left Mississippi in 1846 to join the Mormon exodus to Utah. This group Brigham Young's vanguard company and spent the winter of 1846/47 at Fort Pueblo where the were joined by soldiers of the sick detachment of the Mormon Battalion. They reached Salt Lake City in late summer of 1847.
Marriage and Family
1st Marriage: Mary Ann Sparks
Married first to Mary Ann Sparks (1802-1871). Most members of this family group joined Mississippi Saints 1846 trek to Utah.
Mary Densia Gibson (1823-1850) - started trek and possibly married a fur trader at Fort Pueblo. Had one child then died.
Robert Malek Gibson (1825-1826) - died young
Lydia Aredelicia Gibson (1826-1915) - md to Gilbert Hunt (1825-1858), of the Mormon Battalion at Pueblo, Colorado in early 1847.
William Washington Gibson (1829-1831) - died young
Francis Abigail Gibson (1832-1913)
William Gilbert Gibson (1834-1908)
Laura Altha Gibson (1837-1905)
Moses Washington Gibson (1840-1912)
Manomas Lovina Gibson (1842-1940)
Joseph Smith Gibson (1844-1892)
2nd Marriage: Ann Newman
Married second to Ann Elizabeth Newman (1840-1874)
Annie Elizabeth Gibson (1858-1891) +
George Andrew Gibson (1861-1952) +
Sarah Jane Gibson (1863-1936) +
Mary Ardella Gibson (1865-1946) +
Joshua Newman Gibson (1868-1878) +
James William Gibson (1870-1947)
Children
Offspring of George Washington Gibson and Mary Ann Sparks (1802-1871)
Name
Birth
Death
Joined with
Mary Densia Gibson (1823-1850)
12 December 1823 Union, Union County, South Carolina
1850 Colorado
William New (1802-1850)

Robert Malek Gibson (1825-1826)
17 August 1825 Union, Union County, South Carolina, United States
18 November 1826 Union, Union County, South Carolina, United States


Lydia Aredelicia Gibson (1826-1915)
31 July 1826

Union District

, South Carolina
16 February 1915

Springville

, Utah, Utah
Gilbert Hunt (1825-1858)

Robert Pulaski Gibson (1827-1909)
23 April 1827 Union, Union County, South Carolina, United States
21 May 1909

Menan

, Jefferson County, Idaho, United States
Lucinda Jane Wakefield (1837-1922)

William Washington Gibson (1829-1831)
3 April 1829 Union, Union County, South Carolina, United States
15 December 1831 Union, Union County, South Carolina, United States


Francis Abigail Gibson (1832-1913)
15 May 1832 Monroe County, Mississippi
23 October 1913 South Cottonwood, Salt Lake County, Utah
Alvin General Green (1829-1912)

William Gilbert Gibson (1834-1908)
1 September 1834 Monroe County, Mississippi
2 November 1908

Tombstone

, Cochise County, Arizona
Elizabeth Elvira Ostrander (1840-1858) 

Elizabeth Elvira Ostrander (1840-1858)

 

Cynthia Purlee Lockhart (1840-1913)



Laura Altha Gibson (1837-1905)
27 June 1837 Monroe County, Mississippi
4 July 1905 St. George, Washington County, Utah
James Andrus (1835-1914)

Moses Washington Gibson (1840-1912)
21 January 1840 Monroe County, Mississippi
14 February 1912

St. Thomas

, Clark County, Nevada
Electa Ann Badger (1855-1883) 

Lydia Ann Badger (1858-1896)

 

Electa Ann Badger (1855-1883)

 

Lydia Ann Badger (1858-1896)

 

Mary Elizabeth Beebe (1864-1929)



Manomas Lovina Gibson (1842-1940)
10 March 1842 Monroe County, Mississippi
31 May 1940 St. George, Washington County, Utah
Lot Elisha Huntington (1834-1862) Lot Elisha Huntington (1834-1862) James Andrus (1835-1914)

Joseph Smith Gibson (1844-1892)
24 October 1844

Parkersburg

, Chickasaw County, Mississippi
22 July 1892

Globe

, Gila County, Arizona
Ann Maria Flint Poll (1846-1866) 

Ann Maria Flint Poll (1846-1866)

 

Ruth Theobald (1850-1926)
Siblings
Residences
Vital Records
Grafton Gravestone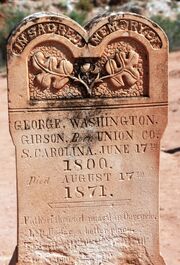 See Also
Footnotes (including sources)