Gilbert Winslow was born 29 October 1600 in Baptism at St Peters Church, Droitwich, Shropshire, England, United Kingdom to Edward Winslow (1560-1620) and Magdelene Oliver (1566-1631) and died 11 October 1631 Ludlow, Shropshire, England, United Kingdom of unspecified causes.
Research Notes
Gilbert Winslow was twenty years old when he came on the Mayflower with his older brother Edward Winslow (1595-1655) and help start Plymouth Colony. Other brothers Kenelm, John, and Josiah, also later came to New England. He was the 31st of 41 signers of the Mayflower Compact in November 1620. William Bradford (1590-1657) recorded that Gilbert Winslow lived in Plymouth for "divers years," before he "returned into England and died there." Apparently he never married.
Gilbert's burial and probate administration were only recently discovered at Ludlow, Shropshire, England, where his estate was valued at just over £30. It was administered by his brother Edward.
In 1663, the Plymouth Court acknowledged Gilbert Winslow, deceased, was a first-comer and his heirs could seek out and purpose a plot of land to the Court. The estate inventory of Kenelm Winslow, another brother who came to New England later, mentions that he and his brother John were granted Gilbert Winslow's land.
Siblings
Vital Records
Bradford's 1651 Journal
William Bradford recorded his death and that of other male passengers traveling alone:
"Gilbert Winslow after divers years abode here, returned into England and died there."
Pilgrim Monument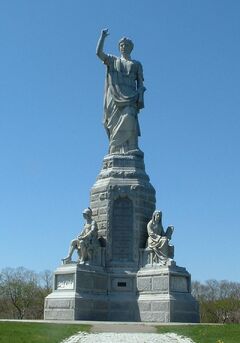 National Monument to the Forefathers, commemorates the Mayflower Pilgrims, (including this person) who came to Plymouth Colony in 1620 on the Mayflower. Dedicated on August 1, 1889, it is thought to be the world's largest solid granite monument. Located on an 11 acre hilltop site on Allerton Street in Plymouth, Massachusetts.
References
Residences
Footnotes (including sources)