Harriet Elizabeth Young was born 7 November 1824 in Whitesborough, Oneida County, New York, United States to Archibald Cook (1792-1866) and Betsey Mosher (1794-1875) and died 5 November 1898 Salt Lake City, Salt Lake County, Utah, United States of unspecified causes. She married Brigham Young (1801-1877) 2 November 1843 in Nauvoo, Hancock County, Illinois, United States.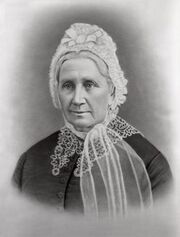 Biography
Harriet Elizabeth Young born in Oneida County, New York and md 02 Nov 1843 at Nauvoo to Mormon Church Leader Brigham Young (1801-1877). Only 1 child together. Her only recorded marriage.
"At the north end of the home (The Lion House?) was the schoolroom. It was well equipped. Great Grandmother Harriet Cook (or Campbell) taught the children of the family. She was the fourth wife of Great Grandfather. She married Brigham Young the 1st of November in 1843. The Prophet Joseph Smith performed the ceremony. When Harriet's father realized she was serious about going to the West with the Pioneers, he gave her Five Hundred Dollars in gold to help her in her journey. She came in 1848 with Great Grandfather Brigham who was making his second trip. My Great Grandmother's family never came to Utah as they were Quakers. Her picture shows lines and features in her face very much like mine. She had a formal education in her youth. She was an excellent cook. She made lots of bread. She was a very good seamstress. She worked in ZCMI. She helped her only son, Oscar Brigham, on his mission and sent him extra money to tour Europe on his way home.
Marriage and Family
Oscar Brigham Young (1846-1910) - Served LDS Mission to Europe(?).
Children
Offspring of Brigham Young and Miriam Angeline Works (1806-1832)
Name
Birth
Death
Joined with
Elizabeth Young (1825-1903)
26 September 1825

Port Byron

, Cayuga County, New York, United States
2 February 1903

Lewisville

, Jefferson County, Idaho, United States
Edmund Lovell Ellsworth (1819-1893)

Vilate Young (1830-1902)
1 June 1830 Mendon, Monroe County, New York, United States
18 November 1902

Lewisville

, Jefferson County, Idaho, United States
Charles Franklin Decker (1824-1901)
Offspring of Brigham Young and Mary Ann Angell (1808-1882)
Name
Birth
Death
Joined with
Joseph Angell Young (1834-1875)
14 October 1834 Kirtland, Geauga County, Ohio
5 August 1875 Manti, Sanpete County, Utah
Margaret Whitehead (1838-1916) 

Clara Federata Stenhouse (1850-1893)

 

Mary Ann Ayers (1831-)

 Margaret Whitehead (1838-1916) 

Clara Federata Stenhouse (1850-1893)

 

Mary Ann Ayers (1831-)

 Athalia Elizabeth Grant (1836-1907)

Mary Ann Young (1836-1843)
18 December 1836 Kirtland, Geauga County, Ohio
27 August 1843 Nauvoo, Hancock County, Illinois


Brigham Young (1836-1903)
18 December 1836 Kirtland, Geauga County, Ohio
11 April 1903 Salt Lake City, Salt Lake County, Utah

Catherine Curtis Spencer (1836-1922)

 

Helen E Armstrong (1856-1939)

 Abigail Stevens (1870-1954) Jane Maria Carrington (1840-1905) 

Catherine Curtis Spencer (1836-1922)

 

Helen E Armstrong (1856-1939)

 Abigail Stevens (1870-1954) Jane Maria Carrington (1840-1905) 

Rhoda Elizabeth Perkins (1862-1927)



Alice Young (1839-1874)
4 September 1839 Montrose, Lee County, Iowa
2 November 1874 St. George, Washington County, Utah
Hiram Bradley Clawson (1826-1912)

Luna Caroline Young (1842-1922)
20 August 1842 Nauvoo, Hancock County, Illinois
17 November 1922 Logan, Cache County, Utah
George Washington Thatcher (1840-1902)

John Willard Young (1844-1924)
1 October 1844 Nauvoo, Hancock County, Illinois
11 February 1924 New York City, New York

Elizabeth Canfield (1845-1916)

 

Lucy Maria Canfield (1847-1915)

 Adolphine Bertha Christine Damke (1859-1924) 

Clara Lucinda Jones (1846-1885)

 

Elizabeth Canfield (1845-1916)

 

Lucy Maria Canfield (1847-1915)

 Adolphine Bertha Christine Damke (1859-1924) 

Clara Lucinda Jones (1846-1885)

 

Luella Van Cott (1861-1920)
Offspring of Brigham Young and Lucy Ann Decker (1822-1890)
Name
Birth
Death
Joined with
Brigham Heber Young (1845-1928)
19 June 1845 Nauvoo, Hancock County, Illinois, United States
3 June 1928 Salt Lake City, Salt Lake County, Utah, United States
Vilate Ruth Clayton (1844-1918)

Fanny Decker Young (1849-1892)
25 January 1849 Salt Lake City, Salt Lake County, Utah
21 January 1892 Salt Lake City, Utah
George Washington Thatcher (1840-1902)

Ernest Irving Young (1851-1879)
29 April 1851 Salt Lake City, Salt Lake County, Utah, United States
8 October 1879 Salt Lake City, Salt Lake County, Utah, United States

Sybella White Johnson (1854-1926)



Arta D'Christa Young (1855-1916)
16 April 1855 Salt Lake City, Salt Lake County, Utah, United States
7 April 1916 Ogden, Weber County, Utah, United States
Susan Snow (1856-1917)

Feramorz Little Young (1858-1881)
16 September 1858 Salt Lake City, Salt Lake County, Utah, United States
27 September 1881 Off coast of Jupiter, Florida


Clarissa Hamilton Young (1860-)
23 July 1860 Salt Lake City, Salt Lake County, Utah
John Daniel Spencer (1858-1947)
Offspring of Brigham Young and Clarissa Clara Decker (1828-)
Name
Birth
Death
Joined with

Jeannette Young (1849-1930)




Nabbie Howe Young (1852-)




Jedediah Grant Young (1855-1856)




Albert Jeddie Young (1858-)




Charlotte Talula Young (1861-)
Siblings
Vital Records
= Salt Lake City Gravestone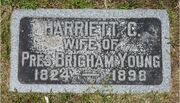 References
Residences
Footnotes (including sources)