We're Getting Mutants in the MCU - The Loop
Play Sound
Harriet Emeline Barney was born 13 October 1830 in Amherst, Loraine County, Ohio, United States to Royal Barney (1808-1890) and Sarah Bowen Estabrook (1811-1895) and died 14 February 1911 Utah, United States of unspecified causes. She married William Henry Harrison Sagers (1815-1886) March 1846 in Leroy, Genesee County, New York, United States. She married Brigham Young (1801-1877) 14 March 1856 in Salt Lake City, Salt Lake County, Utah, United States.

History - Harriet embraced the Gospel in connection with the rest of her father's family in the early days of the Church, and accepted all the principles thereof.
Harriet was tall and stately in appearance, of fair complexion, and had finely formed features. After an acquaintance with Brigham Young, she recognized in him qualities of a good husband and was married to him March 14, 1856. She was the mother of five children, three sons and two daughters, four of her children by her first marriage.
Marriage and Family
Married Brigham Young (1801-1877) on 14 Mar 1856. Age 25, divorced from W. H. H. Sagers, 1 child. Harriet was the daughter of Zion's Camp (1834) veteran Royal Barney (1808-1890).
Children
Offspring of William Henry Harrison Sagers (1815-1886) and Harriet Emeline Barney

Name
Birth
Death
Joined with

Mary Maria Sagers (1847-1849)

Royal Barney Sagers (1851-1929)

Mary Lola Sagers (1852-1873)

Joseph Ormal Sagers (1853-1917)

Sarah Emeline Sagers (1855-1933)
Offspring of Brigham Young (1801-1877) and Harriet Emeline Barney

Name
Birth
Death
Joined with
Phineas Howe Young (1862-1903)
15 February 1862 Salt Lake City, Salt Lake County, Utah, United States
15 February 1903 Salt Lake City, Salt Lake County, Utah, United States
Margaret Ellen Wayman (1864-1953)
Infant Young (1865-1865)
1865 Salt Lake City, Salt Lake County, Utah, United States
1865 Salt Lake City, Salt Lake County, Utah, United States
Siblings
Offspring of Royal Barney (1808-1890) and Sarah Bowen Estabrook (1811-1895)

Name
Birth
Death
Joined with

LeRoy Barney (1829-1829)

Harriet Emeline Barney (1830-1911)
13 October 1830

Amherst

,

Loraine County

, Ohio, United States
14 February 1911 Utah, United States
William Henry Harrison Sagers (1815-1886)
Brigham Young (1801-1877)

Sarah Melissa Barney (1834-1911)

Malinda Abigail Barney (1838-1839)

Electa Jane Barney (1840-1883)
29 August 1840

Freeport

, Shelby County, Indiana, United States
25 January 1883 Ogden, Weber County, Utah, United States
Ezra Granger Williams (1823-1905)

Mary Maria Barney (1843-1844)

Francis La Roy Barney (1851-1851)
Offspring of Royal Barney (1808-1890) and

Esther Bathsheba Wright (1823-1893)

Name
Birth
Death
Joined with

Sarah August Barney (1858-1924)

Royal Alonzo Barney (1860-1942)
Vital Records
Salt Lake Gravestone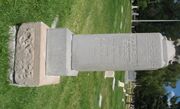 References
Residences
Footnotes (including sources)