Biography
Harriet Maria Ashby Stringham was born 8 April 1834 in Salem, Essex County, Massachusetts, United States to Nathaniel Ashby (1805-1846) and Susan Hammond (1808-1851) and died 18 April 1921 Pasadena, Los Angeles County, California, United States of unspecified causes. She married Briant Stringham (1823-1871) 20 April 1852 in Salt Lake City, Salt Lake County, Utah.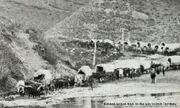 After leading his first historic 1847 Vanguard Company to blaze the trail to the Salt Lake Valley, Brigham Young (1801-1877) and many of the others returned back to Winter Quarters to collect their families and the rest of the church.
This family was numbered with the 1229 pioneers in 397 wagons make the 1,031 mile trek in 86 days (May 26 to Sept 24) and would be amongst the first of hundred plus wagon trains that would make the same journey over the next 24 years.
Many of the Ashby Family traveled westward to Utah in this company, Father Nathaniel Ashby (1805-1846) having died two years earlier.
Offspring of Briant Stringham and Harriet Maria Ashby (1834-1921)
Name
Birth
Death
Joined with

Maria Stringham (1853-1913)




Harriet Stringham (1855-1943)




Polly Stringham (1857-1877)




Elmeda Stringham (1859-1931)




Rozilla Stringham (1862-1960)




Henry Stringham (1865-1949)




Alice Stringham (1868-1869)




Nathaniel George Stringham (1871-1965)
Siblings
Residences
See Also
Harriet Ashby

Ashby in Los Angeles County, California
Footnotes (including sources)