The Sandman Will Keep You Awake - The Loop
Play Sound
Harry Alden Mason was born 9 March 1928 in Nowata, Nowata County, Oklahoma, USA to Lyman Elbert Mason (1884-1953) and Maude Elizabeth Miller (1886-1953) and died 28 August 2006 Ardmore, Oklahoma, USA of unspecified causes. He married Dorothy Irene Ridenour (1931-1997) 14 August 1948 in Tulsa, Tulsa County, Oklahoma. He married Carey Villaviencea (1945-) 1974 . He married Gloria Eileen Stander (1932-) 27 October 1991 in Fayetteville, Washington County, Arkansas, United States.
Birth
Harry was the son of Lyman Elbert Mason & Maude (Miller) Mason. He said that he was named after Harry Hutchinson, an oil friend of his father who gifted the family with a wagon or buggy for making him his namesake. His family called him "Dude" but to everyone else he was Harry.

Children
Offspring of Harry Alden Mason and

Carey Villaviencea (1945-)

Name
Birth
Death
Joined with

Patricia Ann Mason (1975- )
Family Stories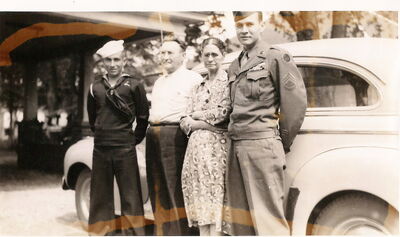 Becky Mason Walker, 2010:
"My mother and father eloped when my mother was 17 and my father 20 with my mother's sister, Blanche and her husband standing as witnesses for them.
He acquired a trade as a printer while serving in the Navy during World War II. This served him well as the printing industry was at it peak during his working years. He worked his way up to Plant Manager for the Oil & Gas Journal from which he retired at 55 and continued to work in various management capacities at other firms until his final retirement at 62.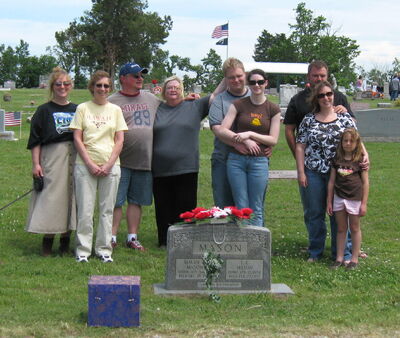 While I was a child, we moved frequently. I believe that we lived in Tucson, Arizona twice and Denver, Colorado at least three times. In between, we always moved back to Oklahoma. The longest we lived in any one location was for four years.
My father was always very handy at building things. He built desks for my brother and me. He had welding trucks off and on over the years with which he contracted to build metal buildings. But, what made the biggest impression on me as a child is that in our garage, he built bi-wings to pull behind our ski boat at the lake. They were huge and took up all of a two car garage! Unfortunately, it crashed on its maiden voyage, the lift on the wings causing the rope to break.
In addition to travel, his passions in life were flying and golf. He finally settled in Davis Oklahoma for his last days and even then he talked of moving to Montana. He had a true roving spirit."
Death and Burial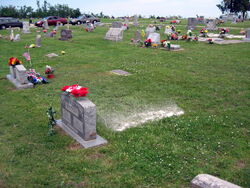 Harry suffered from Parkinson's and Alzheimer's disease in his latter years. He died August 28, 2006 at the Veteran's Hospital in Ardmore, Oklahoma at the age of 78 and per his wishes, he was cremated and his ashes spread over his parents grave at the Chelsea Cemetery in Chelsea Oklahoma.
Footnotes (including sources)