Jurassic World: Dominion Dominates Fandom Wikis - The Loop
Play Sound
Wikipedia
Hendrik van Leuven-Gaasbeek, Lord of Gaasbeek, Lord of Herstal, Lord of Baucignies, was born circa 1245 to Godfried van Leuven-Gaasbeek (1209-1254) and Mathilde van Boulogne (c1163-c1211) and died 1 March 1285 Aragonese Crusade of his injuries. He married Isabella van Beveren (c1240-1308) 1260 JL . Alfred the Great (849-899)/s, Charlemagne (747-814)/s.
Lordship of Gaasbeek
The Lordship of Gaasbeek arose out of the concern of the dukes of Brabant to create a domain on the west side of their duchy that was able to absorb possible attacks from the neighboring counties of Flanders and Hainaut. This happened in the first half of the 13th century and came down to the merging of a number of parishes that were formerly under the chapter of Nivelles and a number of villages where the duke of Brabant had lent the higher jurisdiction to the lord of Gaasbeek.
The land of Gaasbeek was in 1236 assigned to Godfried van Leuven, son of Duke Henry I of Brabant. Godfried van Leuven-Gaesbeeck was the patron of the castle of Gaasbeek (about 1240).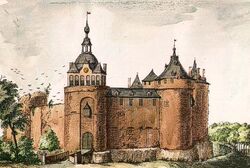 The Gaasbeek Castle is an medieval water castle. Godfrey of Leuven commissioned a castle here around 1240 to defend the Duchy of Brabant against the county of Hainaut. During the Ancien Régime this was the center of the Land van Gaasbeek. For more information see page Lordship of Gaasbeek.
Hendrik was like his father Lord of Gaesbeek, Herstal and Baucignies. He married Isabella van Beveren, daughter of Dirk (IV) van Beveren, Viscount of Dixmuiden and his wife Margaretha van Brienne. Hendrik died in the year 1285 and his wife in 1308.
Children
Timeline
1209 born
1243 married second wife Maria
1254 son Hendrik born
1554 passed away
Research Notes
Sources
Externe link
Footnotes (including sources)