We're Getting Mutants in the MCU - The Loop
Play Sound
Biography
Henry Blaisdell, Sr. was born 7 March 1632 in Hawkshead, Lancashire, England to Ralph Blaisdell (1594-1649) and Elizabeth Ann Parker (1612-1667) and died December 1703 Amesbury, Essex County, Massachusetts of unspecified causes. He married Mary Haddon (1637-1691) 1656 in Salisbury, Essex County, Massachusetts.
His father Ralph Blaisdell, with his wife Elizabeth and son Henry sailed from Milford Haven, Wales on June 4, 1635 on the Angel Gabriel. Henry was one of the original proprietors of Amesbury, Massachusetts, where was granted tracts of land. Henry was a tailor and farmer. He had with eight children with his first wife. Remarrying after her death, he died about 1705. Administration was granted for his estate on 11 March 1708 in Amesbury, Essex, Massachusetts.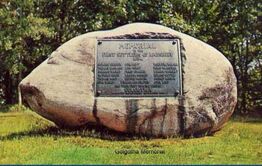 In 1640, the first Puritan settlers arrived to Amesbury, Massachusetts; their first burying ground was on a hill overlooking the Powow River, now referred to as Golgotha. The grave stones or markers in this first burying ground have long since disappeared, along with the identity of the people buried here. In 1903, the Amesbury Founders Memorial was erected by the Amesbury Improvement Association, to mark the site of Amesbury's first burying ground. This person is listed there.
Children
Offspring of Henry Blaisdell, Sr. and Mary Haddon (1637-1691)

Name
Birth
Death
Joined with

Samuel Blaisdell (1656-1683)

Ebenezer Blaisdell (1657-1710)
17 August 1657 Salisbury, Essex County, Massachusetts
10 August 1710 Amesbury, Essex County, Massachusetts
Sarah Colby (1658-1711)

Mary Blaisdell (1660-1687)

Henry Blaisdell (1663-1708)
28 March 1663 Salisbury, Essex County, Massachusetts
11 March 1708 Amesbury, Essex County, Massachusetts

Mary Partridge (1665-1691)


Dorothy Martin (1681-)
Elizabeth Blaisdell (1665-)
1665 Amesbury, Essex County, Massachusetts
John Huntington (1643-1724)

Ralph Blaisdell (1667-1691)

John Blaisdell (1668-1733)

Sarah Blaisdell (1671-1732)

Jonathan Blaisdell (1676-1748)
Siblings
Residences
See Also
Henry Blaisdell

Blaisdell in Essex County, Massachusetts

Blaisdell in Lancashire
Footnotes (including sources)