Biography
Hezekiah Fisk was born 13 August 1775 in Silver Creek, Chautauqua County, New York, United States to Moses Fiske (1745-1816) and Huldah Wilbur (1751-1853) and died 9 November 1839 Nauvoo, Hancock County, Illinois, United States of unspecified causes. He married Rhoda Walker (1777-1839) 1795 in Fredonia, Chautauqua County, New York.
Zions Camp Participant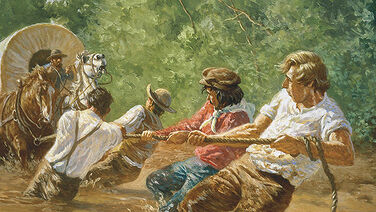 One of the most interesting episodes in the early history of LDS Church was the march of Zion's Camp (1834). The members of the Church in Missouri were being persecuted, and the Prophet Joseph made it a matter of prayer and received a revelation on February 24, 1834. The Lord instructed the Prophet to assemble at least one hundred young and middle-aged men and to go to the land of Zion, or Missouri. (See D&C 130:19–34.)
Zion's Camp, a group of approximately one hundred and fifty men, gathered at Kirtland, Ohio, in the spring of 1834 and marched to Jackson County, Missouri. By the time they reached Missouri, the camp had increased to approximately two hundred men. Hezekiah marched in the camp with his son Alfred Fisk (1806-1834) who died at the end from the cholera epidemic.
In 1836 Hezekiah was licensed as a minister of the gospel for the Church. He and his wife both died in Nauvoo in November 1839.
Marriage and Family
Hezekiah and his wife and several children all died in Nauvoo, Illinois in Nov 1839 from the cholera epidemic there.
Rhoda Fisk (1796-1859)
Sterry Fisk (1797-1839)
Moses Fisk (1799-1826)
Ira Fisk (1801-1868)
Hezekiah Fisk (1802-1803)
William Fisk (1804-1839)
Alfred Fisk (1806-1834) - went with his father on Zions Camp, where he died from the cholera.
Huldah Louisa Fisk (1807-1890)
Hezekiah William Fisk (1807-1839)
Marvin Morris Fisk (1810-1884)
Mary Fisk (1812-1884)
Russell Walker Fisk (1814-1900)
Orra Fisk (1817-1852)
Peleg Fisk (1818-1819)
Children
Siblings
Residences
References
Footnotes (including sources)