Hopestill Bent was born 17 January 1672 in Marlborough, Middlesex County, Massachusetts, United States to Peter Bent (1629-1678) and Elizabeth Agnes Barnes (1628-1704) and died 18 August 1725 Sudbury, Middlesex County, Massachusetts, United States of unspecified causes. He married Elizabeth Brown (1677-1750) 27 November 1700 in Massachusetts, United States.
Biography
Hopestill BENT (Peter2, John1), of Sudbury, married Nov. 27, 1701, Elizabeth, daughter of Thomas Brown of Sudbury, and died Aug, 18, 1725, aged 53.
1690 King William's War
He saw service in the disastrous Canadian Campaign of 1690, in the first of the French and Indian wars, and on his tombstone in the old burial ground in what is now the town of Wayland is called an ensign.
Marriage and Family
Malborough births: BENT, Hopstill, s. Petter and Elizabeth, Jan. 17, 1672.
Sudbury marriages: BENT, Hopstill and Elizabeth Brown, Nov. 27, 170[torn].
Wayland deaths: BENT, Hopestill, Ens., Aug. 18, 1725, in 55th y. GR1
Children of Hopestill and Elizabeth:
MARTHA, b. Sept. 15, 1701; d. Dec. 22, 1722.
PETER, b. May 17, 1703.
THOMAS, b. July 29, 1706.
HOPESTILL, b. Nov. 4, 1708.
SARAH, b. April 22, 1711; m. July 10, 1729, Jeremiah Wesson of Sudbury.
ELIJAH, b. Aug. 15, 1713.
MICAH, b. April 39, 1716.
ELIZABETH, b. June 14, 1720.
(NEHGR, July, 1894)
Children
Offspring of Hopestill Bent and Elizabeth Brown (1677-1750)
Name
Birth
Death
Joined with

Martha Bent (1701-1722)




Peter Bent (1703-1761)




Thomas Bent (1706-1775)



Hopestill Bent (1708-1772)
4 November 1708 Sudbury, Middlesex County, Massachusetts, United States
1772 Sudbury, Middlesex County, Massachusetts, United States
Beulah Rice (1716-) Beulah Rice (1716-) Anna Bemis (1714-1793)


Sarah Bent (1711-1789)



Elijah Bent (1713-1797)
15 August 1713 Sudbury, Middlesex County, Massachusetts
2 May 1797 Barre, Worcester County, Massachusetts
Susannah Stone (1720-1801)


Micah Bent (1716-1760)




Elizabeth Bent (1720-)
Siblings
Vital Records
North Wayland Cemetery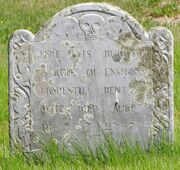 Gravestone Location:

North Wayland Cemetery

at

Wayland, Massachusetts

Gravestone Inscription :
HERE LIES BURIED ye BODY OF ENSIGN HOPESTILL BENT WHO DIED AUGU. 18 1725 IN ye 55 YEAR
References
Residences
Footnotes (including sources)