We're Getting Mutants in the MCU - The Loop
Play Sound
US Navy Flyer - World War II
US Navy Flyer -

Korean War

US Navy Flyer -

Vietnam War

Battle of Midway - 1st to Spot Enemy Carrier Fleet - 04-Jun-1944
Biography
Capt. Howard Parmalee Ady, Jr. USN was born 25 July 1917 in Colorado Springs, El Paso County, Colorado, United States to Howard Parmelle Ady (1890-1948) and Marie McCombs (1893-1978) and died 23 April 1998 Sun City West, Maricopa County, Arizona, United States of unspecified causes. He married Beverly Sue McMullen (1921-2005) 1 June 1941 in Alabama City, Etowah County, Alabama.
Captain Howard Parmelee ADY, Jr., USN,
Age 80, of Sun City West, AZ., took a final flight on April 23, 1998, from his home in Sun City West to The Kingdom of Heaven. "And he slipped the earthly bonds, put out his hand, and touched the face of God."- (High Flight by John Gillespie Magee, Jr.)
He was born July 25, 1917, in Colorado Springs to Howard Parmelee Ady, Sr. & Marie McCombs Ady. Howard & his younger brother, Joseph Wesley Ady, would walk 4 miles to school in Goldfield and often ride back home on one of the many mules abandoned by miners. Joe was also a career Naval Officer, retiring as a Commander, USN.
Howard went to high school in Malakoff, Texas and at age 15, attended North Texas Agricultural College at Arlington, Texas in Electrical Engineering at age 17. He received a Congressional Appointment to the U.S. Naval Academy in 1935, graduating in 1939, with a Bachelor of Science in Mechanical Engineering. After sea duty, he received his Naval Aviator Wings of Gold, at Naval Air Station (NAS) Pensacola, FL.
Then Lt. (j.g.) Ady married Beverly Susan McMullen of Long Beach, CA on June 1, 1941, and they had three sons, Howard P. Ady, III, in 1944, John William Ady in 1945 and Robert Joseph Ady in 1946.
He was a career Navy Officer during his 28 years in the Navy, and spent 13 of those years either in foreign or sea duty within various Navy commands. He was a graduate of the U.S. Naval Academy, Class of 1939.
Captain Ady was a highly decorated officer having received the Legion of Merit with Combat V, Distinguished Flying Cross, with gold star in lieu of Second Award, Seven Air Medals, Commendation Ribbons, DVC (Korea), the American Defense Fleet Clasp, Asiatic Pacific Stars (7), the American Command at Sea Insignia and campaign ribbons for Navy occupation, China service and the Korean theatre. [See Valor Awards at end.]
Battle of Midway
Shortly after sunrise on June 4, 1942, a PBY-5 "Strawberry 5" search Plane, flown by then, Lt. Howard P. Ady, Jr., USN, reported the sighting of a Japanese carrier force--the "Kido Butai,"-- 200 miles northwest of Midway. This warning alerted the forces in and around Midway that the long-expected Japanese attack was about to begin. Most historians and experts believed that the engagement that ensued was the pivotal battle of WW II. It was called The Battle of Midway.
Captain Ady also served as:
Commander Air Group ONE HUNDRED ONE, on the USS Kearsarge (CC-33) in 1952;
Commanding Officer, VFAW-3, NAS North Island, Coronado, CA, 1957;
Executive Officer, U.S.S, Hornet (CVA-12), NAS North Island, 1958; and
Staff, Western Sea Frontier, 12th Naval District, San Francisco, CA, 1960 until his retirement from active duty July 1, 1963.
He proudly represented the Greatest Generation throughout his distinguished military service career. We will never forget.
This granite plaque in honor of his military career is on display with over 5,000 other veterans at Mt. Soledad Memorial Association, La Jolla, CA.[1]
Marriage and Family
His first marriage ended in divorce in 1960. Both his second wife, Elizabeth "Pat" Irish & and third wife, Mary Lou Lomas predeceased him. Howard & Mary Lou gravesites are at Sunland Memorial Park & Mortuary, Sun City West, AZ.
Following retirement he worked for Montgomery Ward, in Mill Valley, CA, with later full retirement moves to Santa Cruz, CA and Glendale AZ.
Siblings
Residences
Vital Records
Arizona Gravestone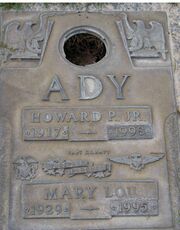 See Also
Howard Ady

Ady in El Paso County, Colorado
References
Footnotes (including sources)