Hugh Clark was born 1613 in Westhorpe, Suffolk, England to Thomas Clarke (1570-1627) and Rose Kerrich (1572-1627) and died 20 July 1693 Roxbury, Suffolk County, Massachusetts of unspecified causes. He married Elizabeth Unknown (1620-1692) 1640 in Watertown, Middlesex County, Massachusetts.
Biography
Hugh Clarke arrived in this country from England, and became an early settler in Watertown, Massachusetts. He afterwards resided at Roxbury, Massachusetts, was admitted a freeman 30 May 1660, and became a member of the Ancient and Honorable Artillery Co., 1666. He died at Roxbury 20 July 1693, and his wife, Elizabeth, died in 1692.
Hugh Clarke, settled first in Watertown, where he had three children born. Afterwards he moved to Roxbury; was admitted freeman May 30, 1660, Member of Artillery. Co., 1666, and died in Roxbury June 20, 1693
Watertown Founders Monument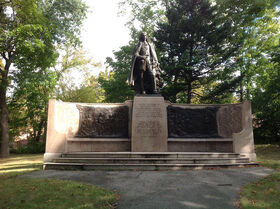 He is listed on Watertown Founders Monument, commemorating the first settlers of Watertown, Massachusetts. The town was first known as Saltonstall Plantation, one of the earliest of the Massachusetts Bay Colony settlements. Founded in early 1630 by a group of settlers led by Richard Saltonstall and George Phillips, it was officially incorporated that same year. The alternate spelling "Waterton" is seen in some early documents.
Membership in AHAC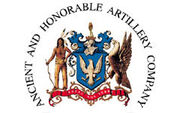 This individual is a registered member of Ancient and Honorable Artillery Company of Massachusetts (AHAC), which is the oldest chartered military organization in North America and the nineteenth oldest chartered military organization in the world. Its charter was granted in March 1638 by the Great and General Court of Massachusetts Bay and signed by Governor John Winthrop as a volunteer militia company to train officers enrolled in the local militia companies across Massachusetts. Membership in the company has traditionally been selected from the upper middle and upper classes of Boston society.
Marriage and Family
His wife was Elizabeth, but there is no credible evidence that her surname was Baldwin.
Children
Offspring of Hugh Clark and

Elizabeth Unknown (1620-1692)

Name
Birth
Death
Joined with

John Clark (1641-1695)




Uriah Clark (1644-1721)




Elizabeth Clark (1647-1692)




Ester Clark (1651-1738)
Siblings
Research Notes
Note: Hugh Clark has recently been treated in NEHGS' "Early Families of New England Study Project." (Alicia Crane Williams, Lead Genealogist.) This study by a professional genealogist confirms that the maiden name of his wife Elizabeth has not been determined.
Vital Records
References
Hugh Clarke at Find A Grave #124020841
HISTORY OF THE TOWN OF LEXINGTON MIDDLESEX COUNTY MASSACHUSETTS FROM ITS FIRST SETTLEMENT TO 1868 by Charles Hudson Boston and New York: Houghton Mifflin Do. 1913 pg. 111:
The Descendents of Hugh Clark of Watertown, Mass 1640-1866 by John Clark, A.B.
Residences
Footnotes (including sources)