Hugh Cole was born before 1627 to James Cole (1600-1692) and Marye Tibbes (bef1599-c1660) and died 22 January 1699 Warren, Bristol County, Rhode Island, United States of unspecified causes. He married Mary Foxwell (c1627-) . He married Elizabeth Lettice (1635-1693) 1 January 1689 in Swansea, Bristol County, Massachusetts. He married Abigail Davenport (c1638-) . He married Mary Tilson (c1640-) .
Son of the original settler of Cole's Hill, Hugh lived with his family in Swansea, on the banks of Cole's river, at the future site of the railroad station known for many years as Cole's Station, and now as Touisset, Massachusetts.
King Philip's War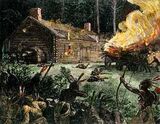 King Philip's War (1675-1678) was an armed conflict between Native American inhabitants of present-day New England and English colonists and their Native American allies. The war continued in the most northern reaches of New England until the signing of the Treaty of Casco Bay in April 1678.

"Hugh Cole was a very intimate friend of King Philip, and on the eve of the breaking out of his war King Philip sent him word by an Indian scout, telling him of his danger, and that it would be impossible to protect him after the Indian warriors were on the warpath. He left there, taking a boat with his household goods, and went down the river. He had not gone far before he looked back and saw his house burning. He seems to have left this farm to his sons Hugh and James, and he later settled on the Kickemuit river. Hugh Cole was deputy from Swansea to the General Court at Plymouth Colony in 1673-74-75 and 1680 and 1683-84-85-86-87."
Children
Siblings
Residences
Footnotes (including sources)
| | |
| --- | --- |
| ¶ Death | Warren was then "Swansea, MA". |