Hugh de Cotton was born circa 1310 in England to Alan de Cotton (c1257-) and Margaret de Acton (c1262-) and died 1360 England of unspecified causes.
Cotton Family Ancestry

The Cotton Family of Combermere Abbey has an extensive family ancestry that is directly descended from Henry II of England (1133-1189), Charlemagne (747-814) and the ancient Kings of Wessex. There are also many other notable family descendants.
Marriage and Family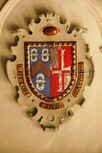 Hugh Cotton of Rudheath (c1335-) (heir, died young) but had daughter named
Margery Cotton (-aft1397) that married Sir Hugh de Venables of Kinderton, many descendants thru the Mainwaring family line.
Richard Cotton (1336-1431) - heir to estate
Perkin Cotton (c1338-) - md Margery
Children
Siblings
References
Residences
Footnotes (including sources)