We're Getting Mutants in the MCU - The Loop
Play Sound
Humility Cooper was born circa 1619 in Leiden, Zuid-Holland, Netherlands to Robert Cooper (1591-) and Joan Gresham (c1592-1619) and died after 1638 England, United Kingdom of unspecified causes.
Biography
Humility Cooper was born to English Separatists in the Pilgrim colony in Leiden, Holland. But as a baby was placed in the charge of her aunt Ann Cooper (c1584-1621) and her husband Edward Tilley (c1588-1621). It is probable that her mother recently died and this couple was her uncle and aunt.
Humility was born about 1619 in Holland to Robert Cooper and his wife Joan (Gresham) of Henlow in Bedfordshire, England. They are known to have been in Leiden with English Separatists as in a 1618 his name appears on a Leiden business agreement. She was a niece of Edward Tilley's wife Ann, and with Humility's father Robert Cooper apparently being Ann's brother, who may have been a resident of Leiden, Holland at the time of Mayflower sailing.
This couple sailed to America in 1620 on the Mayflower, but the John and Joan died that first horrible winter at Plymouth Colony. Humility was first placed in the care of Edward Winslow (1595-1655) and family (next to her cousin Henry Sampson (1604-1684)) (1623 land records) and then in the family of William Brewster (1567-1644) (1627 land records).
Humility eventually sailed back to England in about 1638 (age 19). From William Bradford's 1651 writing, she "was sent for into England" – by whom it is not known, possibly her father. Her return to England may have occurred sometime about 1638 or prior to that. She was baptized at Holy Trinity of the Minorities in London on March 17 or 19, 1638/9 with the record stating she had been born in Holland. Bradford also states that she had died by the year 1651.
Siblings
Vital Records
Bradfords Journal
Record made in 1651 about original Mayflower settlers:
"Edward Tilley, and Ann his wife; and 2 children that were their cousins; Henry Sampson and Humility Cooper."

"Edward Tillie, and his wife both dyed soon after their arrivall; and the girle Humility their cousen, was sent for unto England, and dyed there. But the youth Henry Sampson, is still liveing, and is married, & hath .7. children. John Tilley and his wife both dyed, a litle after they came ashore."
Pilgrim Monument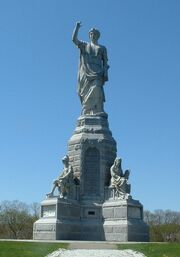 National Monument to the Forefathers, commemorates the Mayflower Pilgrims, (including this person) who came to Plymouth Colony in 1620 on the Mayflower. Dedicated on August 1, 1889, it is thought to be the world's largest solid granite monument. Located on an 11 acre hilltop site on Allerton Street in Plymouth, Massachusetts.
References
Residences
Footnotes (including sources)