Isaac Henry Burgess was born 23 April 1859 in Salt Lake City, Salt Lake County, Utah, United States to Harrison Burgess (1814-1883) and Amanda Melvina Hammond (1827-1882) and died 21 March 1939 Mesquite, Clark County, Nevada, United States of unspecified causes. He married Penelope Thomas (1859-1894) 20 March 1878 in St. George, Washington County, Utah, United States. He married Joanna Elizabeth Keyes (1872-1961) 21 November 1896 in St. George, Washington County, Utah, United States.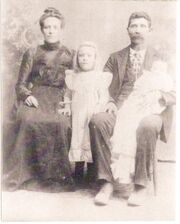 He was born to Harrison Burgess andAmanda Melvina Hammond He was the 7th of 11 children. In 1864 the family moved to Pine Valley,Washinton, Utah where he got his schooling and assisted his Father in building a house and providing for the family.At the age of 14 he lived in the united order doing the work of a man. A year later he and a small sister milked 30 cows and made butter and cheese. The cows were driven to the hills in the morning and gathered at night. Later he worked at his fathers saw mill.
He married Penelope "Pellie" Thomas 20 March 1878, they had 8 children. Isaac Henry Burgess Jr, Mahala Melvina "Millie" Burgess, Joseph Harrison, Penelope Burgess, Amanda Melissa Burgess, Raymond Burgess, Martha Ann Burgess, Nina Burgess, In 1880 They moved to Mesquite Flats with his father and others to establish a settlement. He was the 1st to raise a shovel to build irrigation ditches.They built homes, cleared the land to raise crops. When the ward was established He was called to be a counselor with Gabe Utley to Bishop Henry Branch.
Later most the people left Mesquite and returned to Pine Valley, where Isaac labored in the church and being one of the few musicians played his fiddle for dances and entertainment. They moved to Bigalow Ranch and then to Gunlock.
During these years his wife Nellie died. 3 years later he married Joanna Elizabeth Keyes, 2 Nov 1996. They had 6 more children. Lillis Burgess, Emma Sophia Burgess, Philip Hammond Burgess, Don E Burgess, Ella Mae Burgess, Isaac Harrison Burgess. They moved to Central, Utah and there lived 22 years. In 1936 they moved to St George, Utah. They have 46 grandchildren and 24 greatgrandchildren. He was a beloved father, grandfather, husband, brother and friend. Excerpts from original newspaper obituary.
Children
Offspring of Isaac Henry Burgess and Penelope Thomas (1859-1894)
Name
Birth
Death
Joined with

Isaac Henry Burgess (1879-1879)




Mahala Melvina Burgess (1880-1911)




Joseph Harrison Burgess (1882-1883)




Penelope Burgess (1884-1965)




Amanda Melissa Burgess (1886-1971)




Raymond Burgess (1889-1971)




Martha Ann Burgess (1891-1978)




Nina Burgess (1893-1974)
Siblings
Residences
Vital Records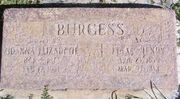 See Also
Footnotes (including sources)