Isaac Lathrop was born 1673 in Barnstable County, Massachusetts, United States to Meletiah Lathrop (1646-1712) and Sarah Farrar (1648-1712) and died 7 September 1743 Plymouth, Plymouth County, Massachusetts, United States of unspecified causes. He married Elizabeth Barnes (1677-1757) 1698 in Massachusetts, United States. Charlemagne (747-814)/s, Henry II of England (1133-1189)/s, Hugh Capet (c940-996)/s, William I of England (1027-1087)/s.
Biography
Son of Maltiah and Sarah (Farrar) Lothrop, was born in Barnstable, Massachusetts in 1673. He removed to Plymouth, Massachusetts and was sheriff of Plymouth countyfrom 1706 to 1721, judge of the Court of Common Pleas from 1721 to 1731, and from 1739 to 1743 chief justice, succeeding Chief Justice Thomas.
He married in 1698 Elizabeth, daughter of Jonathan Barnes of Plymouth, and died September 10, 1743.
source: Bench and bar of the Commonwealth of Massachusetts, Volume 2 by William Thomas Davis published by: The Boston History Company - 1895
Gravestone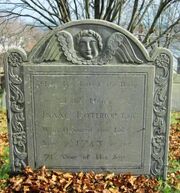 Here lyes Inter'd the Body of the Honble ISAAC LOTHROP Esqr Who Departed this Life Sept 7th 1743 in the 71st year of his age.
Epitaphs from Burial Hill by Bradford Kingman Published 1892 Epitaph #196
Note: Date of death from Bench and bar (10th) does not match date of death on gravestone.
Children
Offspring of Isaac Lathrop and Elizabeth Barnes (1677-1757)
Name
Birth
Death
Joined with
Melatiah Lathrop (1701-1771)
29 June 1701 Plymouth, Barnstable County, Massachusetts, United States
6 July 1771 Plymouth, Barnstable County, Massachusetts, United States


Elizabeth Lathrop (1705-1745)
15 April 1705 Barnstable County, Massachusetts
1 November 1745 Plymouth, Plymouth County, Massachusetts
Samuel Bartlett (1696-1759)

Isaac Lathrop (1707-1750)
13 February 1707 Plymouth, Plymouth County, Massachusetts, United States
26 April 1750 Plymouth, Plymouth County, Massachusetts, United States

Hannah Freeman (1709-1730)

 

Hannah Freeman (1709-1730)

 

Priscilla Thomas (1709-1796)
Siblings
#g1: Offspring of Meletiah Lathrop (1646-1712) and Sarah Farrar (1648-1712)
Name
Birth
Death
Joined with
Thomas Lathrop (1668-1711)
22 August 1668, Barnstable, Barnstable County, Massachusetts, United States
1711, Edgartown, Dukes County, Massachusetts, United States

Mehitable Sarson (c1670-1733)

Tabitha Lathrop (1671-1727)
3 April 1671, Barnstable, Barnstable County, Massachusetts, United States
24 July 1727, Barnstable, Barnstable County, Massachusetts, United States
Shubael Dimock (1673-1728)
Isaac Lathrop (1673-1743)
1673, Barnstable County, Massachusetts, United States
7 September 1743, Plymouth, Plymouth County, Massachusetts, United States
Elizabeth Barnes (1677-1757)
Joseph Lathrop (1675-1748)
15 December 1675, Barnstable, Barnstable County, Massachusetts, United States
26 March 1748, Barnstable, Barnstable County, Massachusetts, United States

Abigail Childs (-)

Elizabeth Lathrop (1677-1763)
15 November 1677, Barnstable, Barnstable County, Massachusetts, United States
21 February 1763, Barnstable, Barnstable County, Massachusetts, United States
Hope Lathrop (1671-1736)
Ichabod Lathrop (1680-1711)
20 June 1680, Barnstable, Barnstable County, Massachusetts, United States
29 October 1711, Barnstable, Barnstable County, Massachusetts, United States
Shubael Lathrop (1682-1711)
20 April 1682, Barnstable, Barnstable County, Massachusetts, United States
1711, Barnstable, Barnstable County, Massachusetts, United States
Sarah Lathrop (1684-1715)
5 March 1684, Barnstable, Barnstable County, Massachusetts, United States
26 October 1715, Barnstable, Barnstable County, Massachusetts, United States
References
Footnotes (including sources)