Biography
Isaac P Richards was born 23 July 1846 in Mt. Pisgah, Harrison County, Iowa to Franklin Dewey Richards (1821-1899) and Jane Snyder (1823-1912) and died 23 July 1846 Mt. Pisgah, Harrison County, Iowa of unspecified causes.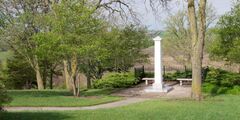 Mount Pisgah was a refugee way station from 1846 to 1852 along the Mormon Trail between Garden Grove and Council Bluffs. Today it is marked by a tall monument on a nine-acre state presertve which contains exhibits, historical markers, and a reconstructed log cabin. However, little remains from the 19th century except a cemetery memorializing the 300 to 800 emigrants who died while passing through or residing in the community.
Baby Isaac died on the same day that he was born.
Siblings
Residences
Footnotes (including sources)