British Army Officer in World War I
Recipient of French

Legion of Honour
Biography
Ivor Charles Spencer-Churchill was born 14 October 1898 in London, England, United Kingdom to Charles Richard John Spencer-Churchill, 9th Duke of Marlborough (1871-1934) and Consuelo Vanderbilt (1877-1964) and died 17 September 1956 of brain tumor. He married Elizabeth Cunningham (1914-2010) 15 November 1947 . Charlemagne (747-814)/s.

Lord Ivor Charles Spencer-Churchill was the son of Consuelo Vanderbilt Balsan, former Duchess of Marlborough and Charles Richard John Spencer-Churchill, 9th Duke of Marlborough. His older brother John Spencer-Churchill was the 10th Duke of Marlborough. He was the grandson of William Kissam Vanderbilt and Alva Erskine Smith Vanderbilt Belmont; and of George Spencer-Churchill, 8th Duke of Marlborough, and Lady Albertha Frances Anne, daughter of James Hamilton, 1st Duke of Abercorn. Lord Ivor's father was first cousin of Sir Winston Churchill. Lord Ivor is buried near both the former Prime Minister and his American-born mother who was a great granddaughter of Commodore Cornelius Vanderbilt.
Lord Ivor married (15 Nov 1947) Elizabeth "Betty" Cunningham (1914-2010), daughter of James Cyril Cunningham. Lord & Lady Ivor were the parents of Robert William Charles Spencer-Churchill (b. 7 Feb 1954).
As a young boy, Lord Ivor was often in ill health. His mother, the Duchess, took great measures to get him the proper care and living environments. He was educated at Eton College and Magdalen College, Oxford before joining the Royal Army Service Corps in 1917 and gaining the rank of lieutenant. He fought in the First World War and was decorated with the French Legion of Honour.
Lord Ivor died in London from complications of an inoperable brain tumor survived by Lady Ivor and their only son. A New York Times obituary published 18 Sep 1956 recalled of Lord Ivor as a "patron of art and like his kinsman, Sir Winston Churchill, active in fostering Anglo-French relations."
Children
Offspring of Ivor Charles Spencer-Churchill and

Elizabeth Cunningham (1914-2010)

Name
Birth
Death
Joined with

Robert William Charles Spencer-Churchill (1954-)
Siblings
#g1: Offspring of Charles Richard John Spencer-Churchill, 9th Duke of Marlborough (1871-1934) and Consuelo Vanderbilt (1877-1964)
Name
Birth
Death
Joined with
John Albert Edward William Spencer-Churchill, 10th Duke of Marlborough (1897-1972)
18 September 1897 London, England, United Kingdom
11 March 1972 Blenheim Palace, Woodstock, Oxfordshire, England, United Kingdom
Alexandra Mary Hilda Cadogan (1900-1961)


Frances Laura Charteris (1915-1990)

Ivor Charles Spencer-Churchill (1898-1956)
14 October 1898 London, England, United Kingdom
17 September 1956

Elizabeth Cunningham (1914-2010)
Vital Records
Oxfordshire Gravestone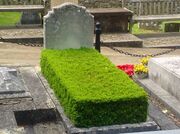 See also
Notes
Footnotes (including sources)