Obi-Wan Finale - The Loop
Play Sound
Full name
[
]
Jack Leroy Carter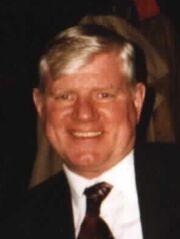 Vital statistics
[
]
Pedigree
[
]
Jack Leroy is the only child of Martha Jane Silvers (1923-2008) and Roy Ralston McCoy (1908-1977).
Half-Siblings
[
]
Judith Mae Carter (1940-2013)

James Martin Carter (living)

Georgienne Maria Ray (living)

Roger Franklin Ray (living)

Patricia Jane Ray (living)

David Allen Hiatt (living)

Barbara Ellen Ray (living)

Diane Carol McCoy (living)

Denise Maureen McCoy (living)

Douglas Brian McCoy (living)

George Clinton Ray, Jr. (living)

Kevin Alvin Ray (living)

Michael Steven Ray (living)

Shirley Ann Ray (living)

Tamera Susan Ray (living)
Spouse
[
]
Offspring
[
]
Biography
[
]
Early Life and Education
[
]
Jack obtained his high school diploma from Elmhurst High School in the mid-1970's under the GED program. He nearly completed an associates degree in automotive mechanics.
Military Service
[
]
Jack served in the US Marines from April 30, 1962 to September 30, 1966 earning the rank of sergeant.
Career
[
]
Jack worked at a warehouse for S. S. Kresge Corporation which, in 1977, became K-Mart corporation. His initial tenure ran from 19?? to 19??. From 19?? to 19?? he worked as a carpet layer for ????, then returned to the Kresge warehouse. He worked for K-Mart until the time of his death, relocating to their new distribution center in Manteno, Illinois in 199?.
Hobbies
[
]
Jack enjoyed watching sports, especially baseball. His favorite team was the Cincinnati Reds. He was able to recall a significant amount of baseball trivia easily, mostly based in the 1970s.
Spiritual Life
[
]
Jack became a Christian in approximately 1977 and made Avalon Missionary Church his home about that time. He remained a member for the duration of his life, with his funeral occurring at Northside Missionary Church in Fort Wayne, Allen County, Indiana and the funeral dinner at Avalon Missionary Church. While he lived in Manteno, Kankakee County, Illinois and Bradley, Kankakee County, Illinois, he attended College Church of the Nazarene.
Contributors
[
]
Jtc 18:51, 9 Aug 2005 (UTC)
External Links
[
]
Gravesite Maps and aerial photos