Jurassic World: Dominion Dominates Fandom Wikis - The Loop
Play Sound
Articles, images
People

Births

 •

Deaths

 •

Baptisms

 •

Marriages

 •

Divorces

 •

Burials

 •

Families

 •

Residents

Daily life

Before 1700

 •

1700-1749

 •

1750-1799

 •

1800-1819

 •

1820-1839

 •

1840-1859

 •

1860-1879

 •

1880-1899

 •

1900-1919

 •

1920-1939

 •

1940-1959

 •

1960-1979

 •

1980-1999

 •

2000-present

Research,
including queries

Jackson County, Missouri links

 •

Birth records

 •

Businesses

 •

Cemeteries

 •

Census data

 •

Census records

 •

Church records

 •

Court records

 •

Death records

 •

Directories

 •

Landowner records

 •

Marriage records

 •

Maps

 •

Military records

 •

Obituaries

 •

Probate records

 •

Queries
Jackson County

,

Missouri

Truman Courthouse in Independence, designed by

Edward F. Neild

at the request of

Harry S. Truman


Location in the state of Missouri

Missouri's location in the U.S.
Founded
December 15, 1826
Named for
Andrew Jackson
Seat
Independence and Kansas City
Largest city
Kansas City
Area
 - Total
 - Land
 - Water

616 sq mi (1,595 km²)
604 sq mi (1,564 km²)
12 sq mi (31 km²), 1.9
Population
 -  Density



Congressional districts

5th

,

6th

Time zone

Central: UTC-6/-5
Website
www.jacksongov.org
Jackson County is located in the western portion of the U.S. state of Missouri. As of the 2020 census, the population was 717,204. The estimated population in 2021 is 719,511[1] making it the second-most populous county in the state (after St. Louis County). Although Independence retains its status as the original county seat, Kansas City serves as a second county seat and the center of county government.[2] The county was organized December 15, 1826, and named for President Andrew Jackson (elected 1828). Jackson County is the most populated county in the Kansas City metropolitan area. Total employment in 2019 was 344,993.[3]
History
[
]
Early years
[
]
Jackson County was home to members of the Osage Native American tribe. The first known European explorers were French trappers who used the Missouri River as a highway for explorations and trading with Native American tribes. Jackson County was a part of New France, until the British victory in the French and Indian War in 1763 resulted in the cession of this territory to Great Britain's ally, Spain. Spain was forced by the Third Treaty of San Ildefonso in 1800 to return its Louisiana Territory (of which modern Jackson County then formed a part) to France, which in turn sold it to the United States in the Louisiana Purchase of 1803.
Explorers Meriwether Lewis and William Clark passed through Jackson County on their famous Lewis and Clark expedition in 1804. Among other items, their report indicated a "high, commanding position" along the river within the current boundaries of Jackson County that in 1808 became Fort Osage. This stockade and trading post was one of the first U.S. military installations within the Louisiana purchase territory, and remained active until 1822.
In 1821, Jackson County became part of the newly admitted state of Missouri. Jackson County was organized on December 15, 1826 and named for Andrew Jackson, U.S. Senator (and later President) from Tennessee.[4][5] Its county seat was designated as Independence, which was at the time only a minuscule settlement near a spring. However, the rapid increase in Westward exploration and expansion ultimately made Independence the starting point for three of the great Westward Trails: the Santa Fe Trail, the Oregon Trail, and the California Trail. With the American Civil War and the coming of the railroads, nearby Kansas City ultimately eclipsed Independence, though both towns remain county seats.
In 1838, a small piece of land was bought along the Missouri River in northern Jackson County by the "Town Company", which established "Westport Landing" (today the River Market district). The area outside of Westport Landing was renamed the "Town of Kansas", after the local Kanza Native Americans, in 1839. The town was chartered by Jackson County in 1850 and incorporated by the State of Missouri as the "City of Kansas" in 1853. In 1889, with a population of around 60,000, the city adopted a new charter and changed its name to Kansas City. In 1897, Kansas City annexed Westport.
Latter Day Saints
[
]
Jackson County figures prominently in the history of the Latter Day Saint movement. Although formed in upstate New York in 1830, in March 1831 Joseph Smith said that a location on the Missouri–Kansas border was to be the latter-day "New Jerusalem"[6] with the "center place" located in Independence, the county seat.[7] Traveling to the area in the Summer of 1831, Smith and some associates formally proclaimed Jackson County as the site, in a ceremony in August 1831.[8]
Joseph Smith was then told that the members of the Church should buy as much land as possible west from Independence up to the line that designated the land of the Native Americans. Learning that Jackson County Missouri was Zion meant much to Joseph Smith and the members of the Church. According to the beliefs of the Church of Jesus Christ of Latter Day Saints, Zion is a place where the pure in heart live. This can mean that Zion can be anywhere, but when God referred to Jackson County as Zion he also told Joseph that this land would be the New Jerusalem.

...The saints were eager to begin building up Zion so that they could further the preparations for the coming of Christ.

After receiving this revelation, Joseph began making arrangements to build up a city. On August 2, 1831, he helped lay the logs for the first house built in Zion. The first log was carried and placed by twelve men to represent the twelve tribes of Israel. Sidney Rigdon also was asked to dedicate and consecrate the land for the gathering of the Saints...[9]
Leadership and members of the Latter Day Saint movement began moving to Jackson County as soon as word of the August 1831 dedication ceremony was published. Open conflict with earlier settlers ensued, driven by religious and cultural differences, and the perception by pro-slavery Missourians that the "Yankee" "Mormons" were abolitionists.[10] Mobs in the public and private sector used force to drive individual Saints from Jackson to nearby counties within Missouri; eventually, Latter Day Saints were given until the end of November 6, 1833 to leave the county en masse. On November 23, 1833, the few remaining LDS residents were ordered to leave Jackson County, considering there was an active extermination order against them signed by Governor Boggs.[11] By mid-1839, following the Missouri Mormon War, the LDS were driven from the state altogether, not to return to Jackson County or Missouri in significant numbers until 1867.
Today several Latter Day Saint movement churches are headquartered in Jackson County, most notably the Community of Christ, the Church of Christ (Temple Lot), the Church of Jesus Christ (Cutlerite) and the Church of Christ with the Elijah Message. The Church of Jesus Christ of Latter-day Saints or LDS Church (the largest of the Latter Day Saint churches) has a strong presence in the county as well, though its headquarters is located in Salt Lake City, Utah. Joseph Smith prophesied that a temple would be built in Independence "in this generation". The Community of Christ remains the only one of the aforementioned (as of 2014) to have a temple in the city on part of the 66-acre (267,000 m2) larger temple area designated by Smith. Smith's original temple site, a smaller five-acre section within that 66 acres (containing stones originally placed by Smith to mark the corners of his intended structure), is currently owned by the Church of Christ (Temple Lot), which hopes to build a temple of its own sometime in the future.
Although the Kansas City Missouri Temple opened in May 2012[12] in adjacent Clay County, the LDS Church still believes that a temple will also be built on the Independence Temple Lot (currently owned by the Church of Christ (Temple Lot)) at some future time. An LDS visitors' center is currently situated adjacent to the Temple Lot, with the Community of Christ temple directly across the street.
Many early members of the Latter Day Saint movement—including Brigham Young—believed that Jackson County was the site of the biblical Garden of Eden.[13][14] Others who believed this included Heber C. Kimball, and George Q. Cannon,[15] but there are no surviving first-hand accounts of that doctrine being definitively taught by Joseph Smith himself. Official LDS Church doctrine is unclear as to the exact location of the Garden, but according to LDS tradition it is somewhere in Jackson County in the vicinity of Adam-ondi-Ahman (in nearby Daviess County).[16][17]
Civil War
[
]
During the Civil War, Jackson County was the scene of several engagements, the most notable of which was the Battle of Westport, sometimes referred to as "the Gettysburg of Missouri", in 1864. The Union victory here firmly established Northern control of Missouri, and led to the failure of Confederate General Sterling Price's Missouri expedition. Other noteworthy battles were fought in Independence in 1862, Lone Jack a few days later, and again in Independence in 1864.
Jackson County was heavily affected by Union General Thomas Ewing's infamous General Order No. 11 (1863). With large numbers of Confederate sympathizers living within its boundaries, and active Confederate operations in the area a frequent occurrence, the Union command was determined to deprive Confederate bushwhackers of all local support. Ewing's decree practically emptied the rural portions of the county, and resulted in the burning of large portions of Jackson and adjacent counties. According to American artist George Caleb Bingham, himself a resident of Kansas City at the time, one could see the "dense columns of smoke arising in every direction", symbolic of what he termed "a ruthless military despotism which spared neither age, sex, character, nor condition". The legacy of Ewing's "imbecilic" (according to Bingham) order haunted Jackson County for decades after the war.
Twentieth century
[
]
The coming of the railroads and the building of stockyards led to the rapid expansion of Kansas City in the late 19th century. During the 1920s and '30s, the city became a noted center for Jazz and Blues music, as well as the headquarters of Hallmark Cards and the location of Walt Disney's first animation studio. The county fared better than many during the Great Depression, as local political boss Thomas Pendergast worked for implementation of a $50,000,000 public works project that provided thousands of jobs. One of Pendergast's political protegés was a young World War I veteran from Independence, Harry S. Truman, who had been his nephew's commanding officer in the war. Truman was elected Presiding Judge (equivalent to a County Executive) of Jackson County with Pendergast support in 1926, then went on to become a U.S. Senator from Missouri, Vice President, and in 1945, following the death of Franklin D. Roosevelt, the thirty-third President of the United States.
Suburban sprawl became a part of Jackson County's landscape following World War II, as returning soldiers and other workers moved into new homes being built in subdivisions that increasingly encroached on rural portions of the county. Independence, Blue Springs and Lee's Summit experienced growth during this period, which continues to the present. Kansas City, on the other hand, experienced the problems of urban decay that afflicted many large American cities during this period. Recent building projects have sought to reverse this trend, including work on the city's famous City Market, the Westport district, the 18th and Vine Historic District, and most recently the Kansas City Power & Light District.[18]
Some of the county's local history is presented at the Pleasant Hill Historical Society Museum, in Pleasant Hill on the southern edge of the county.
Law and government
[
]
Jackson County was the second county to adopt a home-rule charter under the Missouri Constitution. The Jackson County Charter was adopted by the voters in 1970 and was amended in 1985 and 1986. [19]
Executive power of the county is vested in the county executive, which is a full-time salaried position. The county executive is elected by the general population of the county for a four-year term.[20]
The County Prosecutor is a full-time salaried position elected by the general population of the county for a four-year term[21]
The County Sheriff is a full-time salaried position elected by the general population of the county for a four-year term[22]
Ordinances are passed by a county legislature. The legislature is made up of nine members, six elected from smaller districts within the county and three elected "at large" from larger districts by voters of the whole county. Member terms are 4 years, beginning on January 1 following the election.[23]
| | | | |
| --- | --- | --- | --- |
| Position | Name | Party | First Elected |
| Executive | Frank White | Democratic | 2016 |
| Prosecutor | Jean Peters Backer | Democratic | 2010 |
| Sheriff | Daryl Forte | Democratic | 2018 |
| At-large Legislator | Jalen Anderson | Democratic | 2018 |
| At-large Legislator | Crystal Williams | Democratic | 2010 |
| At-large Legislator | Tony Miller | Democratic | 2014 |
| Legislator District 1 | Scott Burnett | Democratic | 1998 |
| Legislator District 2 | Ronald E Finley | Democratic | 1998 |
| Legislator District 3 | Charlie Franklin | Democratic | 2018 |
| Legislator District 4 | Dan Tarwater III | Democratic | 1994 |
| Legislator District 5 | Jeanie Lauer | Republican | 2018 |
| Legislator District 6 | Theresa Cass Galvin | Republican | 2014 |
There are 244,570 registered voters.[24]
Courts
[
]
Jackson County is the only county that falls under the jurisdiction of the 16th Judicial Circuit of the Missouri Circuit Courts. The Court seats 19 Circuit Judges and 10 Associate Circuit Judges. All Judges of the court are appointed by the Governor of Missouri, Circuit Judges serve a term of 6 years and Associate judges serve a term of 4 years. [25]
As of February 10, 2021 (2021-02-10):
Members of the 16th Circuit Court 
Judges
Year Appointed
Appointed by
Term Ends
Presiding Judge J. Dale Youngs
2009

Jay Nixon

(D)
2022
Judge Justine E. Del Muro
1993

Mel Carnahan

(D)
2024
Judge Marco A. Roldan
1999
Mel Carnahan (D)
2024
Judge John M. Torrence
2001

Bob Holden

(D)
2026
Judge David M. Byrn
2008

Matt Blunt

(R)
2022
Judge Joel P. Fahnestock
2009
Matt Blunt (R)
2022
Judge James F. Kanatzar
2011
Jay Nixon (D)
2024
Judge Charles H. McKenzie
2011
Jay Nixon (D)
2024
Judge Kevin D. Harrell
2012
Jay Nixon (D)
2026
Judge Patrick W. Campbell
2013
Jay Nixon (D)
2026
Judge Kenneth R. Garrett III
2013
Jay Nixon (D)
2026
Judge S. Margene Burnett
2013
Jay Nixon (D)
2022
Judge Bryan E. Round
2014
Jay Nixon (D)
2022
Judge Jennifer M. Phillips
2015
Jay Nixon (D)
2022
Judge Mark A. Styles, Jr.
2016
Jay Nixon (D)
2024
Judge Jalilah Otto
2017

Eric Greitens

(R)
2024
Judge Cory L. Atkins
2019

Mike Parson

(R)
2026
Judge Adam L. Caine
2020
Mike Parson (R)
2022
Judge Sarah A. Castle
2020
Mike Parson (R)
2022
Associate Judge Twila K. Rigby
1997
Mel Carnahan (D)
2022
Associate Judge Jeffrey L. Bushur
2000
Mel Carnahan (D)
2022
Associate Judge Mary F. Weir
2013
Jay Nixon (D)
2022
Associate Judge Jeffrey C. Keal
2013
Jay Nixon (D)
2024
Associate Judge Janette K. Rodecap
2014
Jay Nixon (D)
2024
Associate Judge Susan E. Long
2015
Jay Nixon (D)
2022
Associate Judge Kyndra J. Stockdale
2019
Mike Parson (R)
2024
Associate Judge R. Travis Willingham
2019
Mike Parson (R)
2022
Associate Judge Jessica Agnelly
2020
Mike Parson (R)
2022
Associate Judge Kea S. Bird-Riley
2020
Mike Parson (R)
2022
Jackson County also has a municipal court with one judge. The Municipal Judge is appointed by the County Executive with approval by the County Legislature and they serve a 4-year term.[26]
Geography
[
]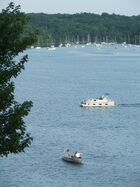 According to the U.S. Census Bureau, the county has a total area of 616 square miles (1,600 km2), of which 604 square miles (1,560 km2) is land and 12 square miles (31 km2) (1.9%) is water.[27]
Notable Lakes include
Longview Lake

Lake Jacomo

Blue Springs Lake

Lake Lotawana

Prairie Lee Lake

Lake Tapawingo
The Missouri River comprises Jackson County's northern border (with the exception of one small portion north of the river around the intersection of Highways 210 and 291 as well as all of the 291 bridge). The county has historically been a major traveling point for American river travel.
Adjacent counties
[
]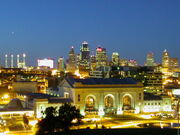 Major highways
[
]
National protected area
[
]
Harry S Truman National Historic Site
Demographics
[
]
Historical populations
Census
Pop.
%±
1830
2,823

—

1840
7,612

169.6

%
1850
14,000

83.9

%
1860
22,913

63.7

%
1870
65,011

183.7

%
1880
82,825

27.4

%
1890
160,510

93.8

%
1900
195,193

21.6

%
1910
283,522

45.3

%
1920
367,846

29.7

%
1930
470,454

27.9

%
1940
477,828

1.6

%
1950
541,035

13.2

%
1960
622,732

15.1

%
1970
654,558

5.1

%
1980
629,266

−3.9

%
1990
633,232

0.6

%
2000
654,880

3.4

%
2010
674,158

2.9

%
U.S. Decennial Census[28]
1790-1960[29] 1900-1990[30]
1990-2000[31] 2010-2019[1]
2010 census
[
]
As of the 2010 census Jackson County had a population of 674,158. The racial and ethnic makeup of the population was 63.3% non-Hispanic white, 23.7% non-Hispanic black, 0.5% Native American, 1.6% Asian, 0.4% Pacific Islander alone or in combination with one or more other races, 0.1% non-Hispanic from some other race, 3.8% reporting two or more races and 8.4% Hispanic or Latino.[32]
2000 census
[
]
As of the census of 2000, there were 654,880 people, 266,294 households, and 166,167 families residing in the county. The population density was 1,083 people per square mile (418/km2). There were 288,231 housing units at an average density of 476 per square mile (184/km2). The racial makeup of the county was 70.10% White, 23.27% Black or African American, 0.48% Native American, 1.28% Asian, 0.18% Pacific Islander, 2.43% from other races, and 2.25% from two or more races. 5.37% of the population were Hispanic or Latino of any race. 16.7% were of German, 9.1% American, 8.9% Irish and 8.8% English ancestry.
There were 266,294 households, out of which 29.90% had children under the age of 18 living with them, 43.40% were married couples living together, 14.70% had a female householder with no husband present, and 37.60% were non-families. 31.20% of all households were made up of individuals, and 9.90% had someone living alone who was 65 years of age or older. The average household size was 2.42 and the average family size was 3.05.
In the county, the population was spread out, with 25.80% under the age of 18, 9.10% from 18 to 24, 31.10% from 25 to 44, 21.50% from 45 to 64, and 12.50% who were 65 years of age or older. The median age was 35 years. For every 100 females, there were 92.90 males. For every 100 females age 18 and over, there were 89.00 males.
The median income for a household in the county was $39,277, and the median income for a family was $48,435. Males had a median income of $35,798 versus $27,403 for females. The per capita income for the county was $20,788. About 9.00% of families and 11.90% of the population were below the poverty line, including 16.40% of those under age 18 and 8.70% of those age 65 or over.
Religion
[
]
According to the Association of Religion Data Archives County Membership Report (2010), Jackson County is sometimes regarded as being on the northern edge of the Bible Belt, with evangelical Protestantism being the most predominant religion. The most predominant denominations among residents in Jackson County who adhere to a religion are Roman Catholics (19.51%), Southern Baptists (17.96%), and non-denominational evangelical Christians (11.52%).
Politics
[
]
Jackson County has been a Democratic stronghold for most of its history, most of it's democratic base is located in Kansas City, while the rest of Jackson County is a bit more conservative. During the 2008 election, for example, John McCain won this part of the county by about 1%, while Obama won the county as a whole by about 25%.[33] Only five Republican presidential candidates have managed to win the county from 1888 to the present, most recently Richard Nixon in 1972 as part of his landslide victory nationwide. However, the county backed the national winner in every presidential election from 1912 to 1948, as the period featured the only time a Republican won the county in consecutive elections. Kit Bond in his 1998 reelection campaign is the last time a Republican would win the county in a US Senate race. 2014 is the last time a Republican would win the county in a statewide election when Tom Schweich was handily reelected for State Auditor.
United States presidential election results for Jackson County, Missouri

[34]
Year

Republican

Democratic

Third party

No. 
%
No. 
%
No. 
%

2020

126,535
37.88%
199,842
59.82%
7,678
2.30%

2016

116,211
38.14%
168,972
55.46%
19,504
6.40%

2012

122,708
39.32%
183,953
58.95%
5,400
1.73%

2008

124,687
36.75%
210,824
62.14%
3,755
1.11%

2004

130,500
41.30%
183,654
58.12%
1,839
0.58%

2000

104,418
38.38%
160,419
58.96%
7,225
2.66%

1996

85,534
34.26%
140,317
56.20%
23,807
9.54%

1992

78,611
26.96%
145,999
50.06%
67,027
22.98%

1988

107,810
42.02%
147,964
57.67%
793
0.31%

1984

132,271
49.48%
135,067
50.52%
0
0.00%

1980

106,156
41.36%
135,805
52.91%
14,726
5.74%

1976

101,401
43.07%
130,120
55.27%
3,920
1.66%

1972

129,989
58.34%
92,830
41.66%
0
0.00%

1968

91,086
39.22%
112,154
48.30%
28,980
12.48%

1964

78,766
32.81%
161,290
67.19%
0
0.00%

1960

123,589
46.38%
142,869
53.62%
0
0.00%

1956

122,182
47.78%
133,522
52.22%
0
0.00%

1952

133,093
48.88%
138,792
50.97%
412
0.15%

1948

86,471
38.17%
139,186
61.44%
870
0.38%

1944

95,406
45.51%
113,803
54.29%
423
0.20%

1940

101,568
42.46%
137,285
57.39%
366
0.15%

1936

79,119
26.79%
215,120
72.84%
1,080
0.37%

1932

83,214
32.39%
172,456
67.13%
1,215
0.47%

1928

126,589
56.59%
96,703
43.23%
385
0.17%

1924

91,141
51.79%
76,002
43.19%
8,839
5.02%

1920

79,875
50.49%
76,791
48.54%
1,548
0.98%

1916

32,943
41.68%
44,556
56.38%
1,530
1.94%

1912

5,618
8.89%
32,209
50.97%
25,367
40.14%

1908

26,998
45.18%
31,461
52.65%
1,301
2.18%

1904

25,794
53.16%
20,582
42.42%
2,145
4.42%

1900

21,581
47.74%
22,542
49.87%
1,083
2.40%

1896

18,711
46.94%
20,705
51.94%
446
1.12%

1892

11,044
39.02%
15,825
55.90%
1,438
5.08%

1888

14,350
46.64%
15,663
50.91%
752
2.44%
Education
[
]
Archives
[
]
Jackson County Historical Society[35]
Libraries
[
]
Kansas City Public Library

Linda Hall Library

Mid-Continent Public Library
Museums
[
]
American Jazz Museum

National World War I Museum and Memorial

Nelson-Atkins Museum of Art

Negro Leagues Baseball Museum

Harry S. Truman Library and Museum

Harry S Truman National Historic Site

Jackson County Jail and Marshal's House

National Toy and Miniature Museum

Kemper Museum of Contemporary Art

Kansas City Museum

Missouri Town 1855

Vaile Mansion

Fort Osage National Historic Landmark

Owens-Rogers Museum
Communities
[
]
Cities
[
]
Buckner

Grain Valley

Greenwood

Independence (co-county seat)
Kansas City (partly in Platte and Clay counties and a small part in Cass County; co-county seat)

Lake Lotawana

Lake Tapawingo

Levasy

Lone Jack

Oak Grove

Pleasant Hill (Mostly Cass County, but partly in Jackson County)

Sugar Creek
Villages
[
]
River Bend

Sibley

Unity Village
Census-designated places
[
]
Blue Summit

Tarsney Lakes
Unincorporated communities
[
]
Atherton

Blue Mills

Blue Summit

Cockrell

Courtney

Hiler

Hicks City

Oakland

Pink Hill

Sni Mills

Tarsney
See also
[
]
National Register of Historic Places listings in Jackson County, Missouri
References
[
]
External links
[
]

Wikimedia Commons has media related to:
 State

of

Missouri

Topics

Government

Delegations

Geography

People

Battles

Visitor attractions

Society

Crime

Demographics

Economy

Education

Politics

Regions

Boonslick

Bootheel

Crowley's Ridge

Henry Shaw Ozark Corridor

Honey Lands

Lead Belt

Lincoln Hills

Loess Hills

Mid-Missouri

Mississippi Embayment

Missouri Rhineland

Platte Purchase

Pony Express

St. Francois Mountains

Westplex

Metro areas
Largest cities
Counties and
independent cities
Coordinates: 39°01′N 94°20′W / 39.01, -94.34