James Adair was born 15 May 1752 in Clinton, Laurens County, South Carolina, United States and died 18 August 1818 Laurens County, South Carolina, United States of unspecified causes. He married Hannah Adair (1750-1826) in South Carolina.
Children
Siblings
Residences
Research Notes
South Carolina Patriots
The book "Roster of South Carolina Patriots in the American Revolution," by Bobby Gilmer Moss, lists the following James Adairs. The first James appears to be a conglomeration of two or three persons with the last part of the entry perhaps being the author James Adair's son. I am not who are the other James Adairs but they may be the same as others elsewhere in this particular note. I do not have the abbreviation list as to the sources the author give:
"James Adare, Sr., S9264, b. 8/15 May 1752, Bucks Co., Pennsylvania, d. 18 Aug 1818, m. Hannah ___. He entered the service during 1776, while residing in York District, and served under Capt. Frank Ross and Col. Neel. In the same year, he joined a unit under Capt. John McCool and Col. Hopkins. In 1777, he was under McCool and Hopkins and was wounded at Horseshoe Battle on War Woman Creek. He was discharged as a result. Later, he appears in Picken's brigade as one who recovered horses lost at Briar Creek. During 1782, he was under Capt. James Dillard, Col. Casey and Gen. Pickens. He supplied food for distressed widows and families for Casey's unit and was a wagon master for Col. James Williams from 29 March to 20 May 1780. A.A. 21; Patriot Index."
Vital Records
Duncan Creek Gravestone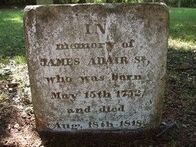 Duncan Creek Presbyterian Church Cemetery, Laurens County, South Carolina
In memory of JAMES ADAIR SR. who was born May 15th 1752 and died Aug. 18th, 1818.
Research Notes
FindAGrave Error
Duncan Creek Adair Family Memorial
[Note: This is for a different family James Adair]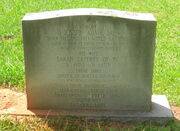 Duncan Creek Presbyterian Church Cemetery, Laurens County, South Carolina
IN MEMORY OF JOSEPH ADAIR, SR. BORN IRELAND 1711 - DIED S.C. 1789
ELDER OF DUNCAN CREEK CHURCH - 40 YRS, AMERICAN REVOLUTIONARY PATRIOT
HIS WIFE SARAH LAFERTY OF PA, B. c1715 - D. c1770
THEIR SONS JOSEPH JR., JAMES & BENJAMIN ALL WERE REVOLUTIONARY SOLDIERS
THEIR DAUGHTERS JEAN RAMAGE, SARAH ADAIR,
* MARY OWENS & * ROBERT LONG
SECOND WIFE SUSANNA LONG
* STEPCHILDREN
References
See Also
Footnotes (including sources)