Biography
Rev & Dr. James Bayley was born 12 September 1650 in Newbury, Essex County, Massachusetts to John Bayley (1613-1691) and Eleanor Emery (1624-1700) and died 17 January 1706 Roxbury, Suffolk County, Massachusetts of unspecified causes. He married Mary Carr (1651-1688) 17 September 1672 in Newbury, Essex County, Massachusetts. He married Mary Lamb (1644-1702) 1690 in Newbury, Essex County, Massachusetts.
James graduated at Harvard College in 1669. He was a physician and clergyman. James died in Roxbury in June 1707, and was listed as a physician at the time of his death. His estate was settled in December 1710. His second wife, Mary Swan, survived him and was a widow for 10 years. She died in October 1717.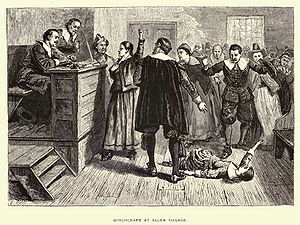 The Salem witch trials were a series of hearings and prosecutions of people accused of witchcraft in colonial Massachusetts between February 1692 and May 1693. More than 200 people were accused, nineteen of whom were found guilty and executed by hanging (fourteen women and five men). One other man, Giles Corey, was pressed to death for refusing to plead, and at least five people died in jail. It was the deadliest witch hunt in the history of the United States.
James was a preacher in Salem Village (now Danvers) in 1671 at the age of 22. He became as prominent as a Reverend and preached throughout Massachusetts, even in Boston. He was a preacher in Salem a few years leading to the 'witchcraft delusion', serving from 1673 to 1681. "His Ministry at Salem Village 'was the cause of much dissension and which indirectly added to the bitterness of the witchcraft persecution'". He took the oath of a Freeman in May 1673. He called himself "of Newbury" and had his children baptized there, while at the same time he was the preacher at Salem.
He was a preacher in Salem village (now Danvers). Salem Village (present-day Danvers, Massachusetts) was known for its fractious population, who had many internal disputes, and for disputes between the village and Salem Town (present-day Salem). Arguments about property lines, grazing rights, and church privileges were rife, and neighbors considered the population as "quarrelsome". In 1672, the villagers had voted to hire a minister of their own, apart from Salem Town.
The first two ministers, James Bayley (1673–79) and George Burroughs (1680–83), stayed only a few years each, departing after the congregation failed to pay their full rate. It is probably a good thing the family left Salem, as the next minister, George Burroughs, was actually himself accused of witchcraft and executed.
"Rev. James Bayley who came to Salem Town to minister found himself in a town full of discontent. In the book "Salem Possessed" it tells about how he was favored and given land to build upon and more discontent arose saying, "...James Bayley himself. Specifically, Bayley was accused of neglecting his church duties and omitting family prayers in his own household." Charges never held and his friends denied any wrong doing on Bayley's part. The central issue became who was the authority to call or dismiss a minister in Salem Village? In other words it became political. It came down to Salem Village was not a town so those in the village did not have the power to "call" a certain minister.
In the 1690's Bailey relatives were involved with the "witchcraft delusion". James youngest sister in law, Ann Carr, had visited the Bailey's when she was young and that is where she met her husband Thomas Putnam. Both Ann and Thomas were very prominent in the witchcraft trials especially the persecution of Mrs. Bradbury, whom they accused of bewitching their daughter. Mrs. Bradbury was also accused of bewitching Mary Carr's brother John. Two of Mary's brothers testified against Mrs. Bradbury, but Mary's brother, William, testified that her brother John became "meloncholy and at times insane" after his attachment to a young lady was broken up by their father.
In 1682, James moved to Killingsworth, Connecticut, where he remained 10 years. Also in 1682 James Father in Law died and James was involved in settling his estate. James also served as a minister at Killingsworth. While he was in Connecticut, his wife, Mary died in 1688. James married again, his second wife being Mary Swan.
In the 1680's, James studied medicine and about 1692 he settled in Roxbury, Massachusetts. In Roxbury he was both clergyman and physician.
Marriage and Family
James married Mary Carr in September 1672. They were the parents of 9 children; Mary 1673, James 1675, John 1676, John 1678, Samuel 1679, Isaac 1681, Sarah 1683, Joshua 1685, and Sarah 1686. Sarah 1683 died when she was just 22 days old.
Children
Offspring of Rev & Dr. James Bayley and Mary Carr (1651-1688)
Name
Birth
Death
Joined with

Mary Bayley (1673-1683)




James Bayley (1675-1715)




John Bayley (1676-1677)




John Bayley (1678-1750)




Samuel Bailey (1679-)




Isaac Bayley (1681-1711)




Sarah Bailey (1683-1683)




Joshua Bailey (1685-1752)




Sarah Bayley (1686-1783)
Siblings
#g1: Offspring of John Bayley (1613-1691) and Eleanor Emery (1624-1700)
Name
Birth
Death
Joined with

Rebecca Bayley (1641-1731)

,
,

John Bayley (1643-1663)

,
,
Sarah Bayley (1644-1714)
17 August 1644, Newbury, Essex County, Massachusetts, United States
26 October 1714, Newbury, Essex County, Massachusetts, United States
Daniel Cheney (1633-1694)

Joshua Bayley (1647-1651)

,
,

Joseph Bayley (1648-1723)

,
,
James Bayley (1650-1706)
12 September 1650, Newbury, Essex County, Massachusetts
17 January 1706, Roxbury, Suffolk County, Massachusetts
Mary Carr (1651-1688)

+

Mary Lamb (1644-1702)

Joshua Bayley (1652-1652)

,
,

Isaac Bayley (1654-1740)

,
,

Joshua Bayley (1657-1722)

,
,

Rachel Bayley (1662-1754)

,
,

Judith Bayley (1665-1668)

,
,
References
Residences
Footnotes (including sources)