Biography
James Howe, Jr. was born 23 March 1632 in Bishops Stortford, Hertfordshire, England to James Howe (1598-1702) and Elizabeth Dane (1607-1694) and died 15 February 1702 Ipswich, Essex County, Massachusetts of unspecified causes. He married Elizabeth Jackson (1637-1692) 13 April 1658 in Ipswich, Essex County, Massachusetts.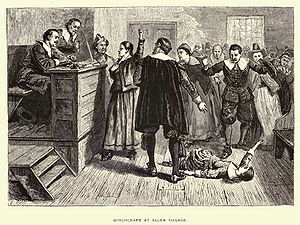 The Salem witch trials were a series of hearings and prosecutions of people accused of witchcraft in colonial Massachusetts between February 1692 and May 1693. More than 200 people were accused, nineteen of whom were found guilty and executed by hanging (fourteen women and five men). One other man, Giles Corey, was pressed to death for refusing to plead, and at least five people died in jail. It was the deadliest witch hunt in the history of the United States.
James wife, Elizabeth Jackson Howe (1637-1692), was one of those accused and hanged in 1692 for Witchcraft.
Children
Siblings
Residences
See Also
James Howe

Howe in Hertfordshire

Howe in Essex County, Massachusetts
Footnotes (including sources)