Jane Ballantyne Taylor was born 11 April 1813 in Earlston, Berwickshire, Scotland, United Kingdom to David Ballantyne (1748-1829) and Annie Bannerman (1789-1871) and died 26 December 1901 Salt Lake City, Salt Lake County, Utah, United States of unspecified causes. She married John Taylor (1808-1887) 25 February 1844 in Nauvoo, Hancock County, Illinois.
Siblings
Vital Records
Salt Lake Gravestone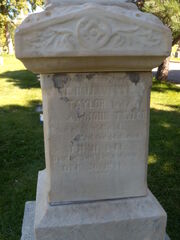 Gravestone with 1901 death date.
References
Residences
Footnotes (including sources)