Jane White Tinker was born circa 1585 in Norfolk, England and died circa 1621 onboard the Mayflower, Provincetown Harbor, Plymouth Colony, Massachusetts of unspecified causes. She married Thomas Tinker (-1621) 26 June 1609 in Thurne, Norfolk, England.
Children
Siblings
Vital Records
Cole's Hill Memorial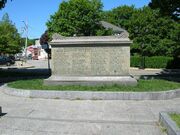 A large monument was erected in 1921 on Cole's Hill in Plymouth, Massachusetts to honor the many pilgrims who came to Plymouth Colony in the Mayflower but died during the first terrible winter and were buried here. This person is one of those person's listed thereon.
Pilgrim Monument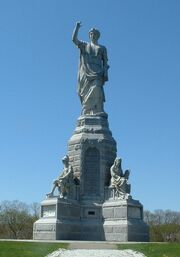 National Monument to the Forefathers, commemorates the Mayflower Pilgrims, (including this person) who came to Plymouth Colony in 1620 on the Mayflower. Dedicated on August 1, 1889, it is thought to be the world's largest solid granite monument. Located on an 11 acre hilltop site on Allerton Street in Plymouth, Massachusetts.
References
Residences
Footnotes (including sources)