Jurassic World: Dominion Dominates Fandom Wikis - The Loop
Play Sound
Articles, images
People
Daily life

Before 1700

 •

1700-1749

 •

1750-1799

 •

1800-1819

 •

1820-1839

 •

1840-1859

 •

1860-1879

 •

1880-1899

 •

1900-1919

 •

1920-1939

 •

1940-1959

 •

1960-1979

 •

1980-1999

 •

2000-present

Research,
including queries

Jefferson County, Illinois links

 •

Birth records

 •

Businesses

 •

Cemeteries

 •

Census data

 •

Census records

 •

Church records

 •

Court records

 •

Death records

 •

Directories

 •

Landowner records

 •

Marriage records

 •

Maps

 •

Military records

 •

Obituaries

 •

Probate records

 •

Queries
Jefferson County

,

Illinois


Location in the state of Illinois

Illinois's location in the U.S.
Founded
1819
Seat
Mount Vernon
Largest city
Mount Vernon
Area
 - Total
 - Land
 - Water

583.71 sq mi (1,512 km²)
570.96 sq mi (1,479 km²)
12.76 sq mi (33 km²), 2.19%
Population
 - (2010)
 - Density

38,827
70/sq mi (27/km²)

Time zone

Central: UTC-6/-5
Jefferson County is a county located in the southern part of the U.S. state of Illinois. As of 2010, the population was 38,827. The county seat is Mount Vernon[1].
Jefferson County is part of the Mount Vernon Micropolitan Statistical Area.
Geography
[
]
According to the 2000 census, the county has a total area of 583.71 square miles (1,511.8 km2), of which 570.96 square miles (1,478.8 km2) (or 97.82%) is land and 12.76 square miles (33.0 km2) (or 2.19%) is water.[2]
Major highways
[
]
Adjacent counties
[
]
History
[
]
The first settler in Jefferson County is believed to have been Andrew Moore. In 1810, he settled near the southeast corner of the county, near where the Goshen Road emerges from the forest of Hamilton County into what is now known as Moore's Prairie. It is interesting that Moore arrived from the Goshen Settlement, near Edwardsville. His migration was therefore retrograde, from the west toward the interior of the State.
In 1814 Andrew Moore departed with his eight-year old son for Jordan's settlement, a journey from which he never returned. A skull that was believed to have been Moore's was found several years later about two miles from his cabin. Jordan's Settlement, also called Jordan's Fort, was southeast of modern Thompsonville, Illinois, about twenty miles south of Moore's cabin. This episode occurred during the War of 1812 when many of the Indian tribes were allied with the British.
In 1816, Carter Wilkey, Daniel Crenshaw and Robert Cook settled in Moore's Prairie. Daniel Crenshaw moved into Moore's cabin. This settlement is believed to be the first permanent settlement in the County.
Jefferson County was organized in 1819, out of parts of White, Edwards and Franklin Counties. It was named in honor of Thomas Jefferson, principle draftsman of the Northwest Ordinance, among other things. The baseline along the northern border of the County crosses the Third Principal Meridian at the northwest corner of the County.
Demographics
[
]
Historical populations
Census
Pop.
%±
1900
28,133

—

1910
29,111

3.5

%
1920
28,480

−2.2

%
1930
31,034

9.0

%
1940
34,375

10.8

%
1950
35,892

4.4

%
1960
32,315

−10.0

%
1970
31,446

−2.7

%
1980
36,552

16.2

%
1990
37,020

1.3

%
2000
40,045

8.2

%
2010
38,827

−3.0

%
IL Counties 1900-1990
As of the census[3] of 2010, there were 38,287 people, 15,365 households, and 10,561 families residing in the county. The population density was 70 people per square mile (27/km²). There were 16,990 housing units at an average density of 30 per square mile (11/km²). The racial makeup of the county was 88.4% White, 8.4% Black or African American, 0.2% Native American, 0.6% Asian, 0.01% Pacific Islander, 0.8% from other races, and 1.6% from two or more races. 2.1% of the population were Hispanic or Latino of any race. 25.0% were of American, 20.5% German, 12.8% English and 9.6% Irish ancestry according to Census 2000. 97.5% spoke English and 1.5% Spanish as their first language.
There were 15,374 households out of which 31.1% had children under the age of 18 living with them, 55.3% were married couples living together, 9.9% had a female householder with no husband present, and 31.30% were non-families. 27.6% of all households were made up of individuals and 13.0% had someone living alone who was 65 years of age or older. The average household size was 2.44 persons and the average family size was 2.96 persons.
In the county the population was spread out with 24.2% under the age of 18, 8.8% from 18 to 24, 28.4% from 25 to 44, 23.3% from 45 to 64, and 15.3% who were 65 years of age or older. The median age was 38 years. For every 100 females there were 104.1 males. For every 100 females age 18 and over, there were 104.1 males.
The median income for a household in the county was $33,555 and the median income for a family was $41,141. Males had a median income of $34,089 versus $21,015 for females. The per capita income for the county was $16,644. About 9.1% of families and 12.30% of the population were below the poverty line, including 14.0% of those under age 18 and 11.8% of those age 65 or over.
Cities and villages
[
]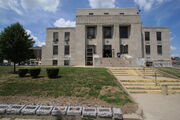 Cities
[
]
Villages
[
]
Belle Rive

Bluford

Bonnie

Dix

Ina

Waltonville

Woodlawn
Unincorporated places
[
]
Bakerville

Boyd

Camp Ground

Divide

Drivers

Idlewood

Marcoe

Marlow

Miller Lake

Opdyke

Roaches

Summersville

Texico
Townships
[
]
Jefferson County is divided into sixteen townships:
Bald Hill

Blissville

Casner

Dodds

Elk Prairie

Farrington

Field

Grand Prairie

McClellan

Moore's Prairie

Mt. Vernon

Pendleton

Rome

Shiloh

Spring Garden

Webber
Climate and weather
[
]
Climate chart for Mount Vernon, Illinois
J
F
M
A
M
J
J
A
S
O
N
D

temperatures in °C

•

precipitation totals in mm


source: The Weather Channel[4]
In recent years, average temperatures in the county seat of Mount Vernon have ranged from a low of 19 °F (−7 °C) in January to a high of 88 °F (31 °C) in July, although a record low of −21 °F (−29.4 °C) was recorded in January 1994 and a record high of 114 °F (46 °C) was recorded in July 1936. Average monthly precipitation ranged from 2.45 inches (62 mm) in January to 4.58 inches (116 mm) in May.[4]
See also
[
]
National Register of Historic Places listings in Jefferson County, Illinois
References
[
]
Municipalities and communities of

Jefferson County, Illinois

,

United States

Cities

Villages

Belle Rive | Bluford | Bonnie | Dix | Ina | Waltonville | Woodlawn

Townships

Bald Hill | Blissville | Casner | Dodds | Elk Prairie | Farrington | Field | Grand Prairie | McClellan | Moore's Prairie | Mt. Vernon | Pendleton | Rome | Shiloh | Spring Garden | Webber

Unincorporated
communities

Bakerville | Boyd | Camp Ground | Cravat | Dareville | Divide | Drivers | Emerson City | Harmony | Idlewood | Marcoe | Marlow | Miller Lake | Opdyke | Roaches | Scheller | Shields | Shirley | Spring Garden | Stratton | Summersville | Texico | Williamsburg

Footnotes

‡This populated place also has portions in an adjacent county or counties
 State

of

Illinois

Topics

Index

Census areas

Delegations

Economy

Energy

Geography

Government

Law

Music

People

Politics

Protected areas

Sports

Windmills

Regions

American Bottom

Central Illinois

Corn Belt

Fox Valley

Metro Lakeland

North Shore

Northern Illinois

Northwestern Illinois

Peoria metropolitan area

River Bend

Rockford metropolitan area

Southern Illinois

Streatorland

Wabash Valley

Cities,
towns
and villages
Counties
Coordinates: 38°18′N 88°55′W / 38.30, -88.92